Obama Shows Support For Ukraine's New Leader Poroshenko, While Separatists Take Two Military Bases In Luhansk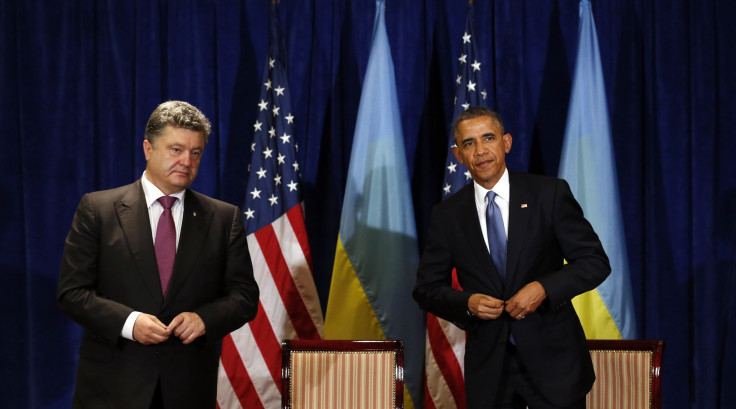 U.S. President Barack Obama met Ukraine's President-elect Petro Poroshenko in Warsaw on Wednesday and discussed how the U.S. could help, with the exception of supplying weapons, in its fight against pro-Russia separatists who have waged a violent uprising against Ukraine's newly elected government over the past few weeks.
Obama met Ukraine's leader in Poland, where he is attending events celebrating 25 years of the end of communism in the region, but his visit comes at a time when the relationship between U.S. and Russia is at its lowest point since the end of the Cold War. On Tuesday, Obama announced $1 billion in aid to Poroshenko's government to improve its military, and followed it up on Wednesday with $5 million in non lethal aid, BBC reported.
"I have been deeply impressed by his vision," Obama told media Wednesday, according to the New York Times. "The United States is absolutely committed to standing behind the Ukrainian people, not just in the coming days and weeks but in the coming years.
"The I.M.F. package and the international assistance, including ours, that has been forthcoming is going to be critical, I think, in these early months of the new government's efforts to solidify its position and also to reach out to skeptics and say there's the prospect for a better life," Obama said, according to the Times.
While Obama is on a three-nation visit to the region and will leave for Brussels later Wednesday to meet with other international leaders for a G-7 summit from which Russia has reportedly been excluded, a meeting between Russian President Vladimir Putin and Poroshenko, who have reportedly talked in the past, has not yet been fixed, the Times reported.
"We will not accept Russia's occupation of Crimea or its violation of Ukraine's sovereignty. Our free nations will stand united so that further Russian provocations will only mean more isolation and costs for Russia," Obama said, according to CNN, adding: "Ukraine must be free to choose its own future, for itself and by itself."
Meanwhile, the situation in eastern Ukraine remained tense as clashes continued between pro-Moscow rebels and Ukraine's troops. On Wednesday, separatists took over two Ukrainian military bases in Luhansk, near the eastern region of Slovyansk, following an air attack Monday that killed several civilians.
As rebel forces grew in size and strength and beat back government forces, Ukraine's government "redeployed to safer places" its personnel in the base at the Luhansk border, the BBC reported, citing the border service website.
© Copyright IBTimes 2023. All rights reserved.