Obama Thanksgiving Turkey Pardon Live Stream 2015: Watch America's Weird Tradition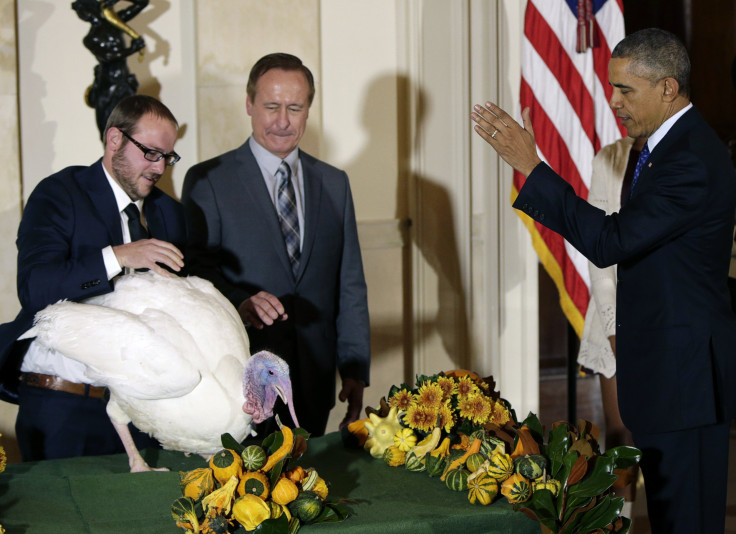 President Barack Obama will pardon a turkey Wednesday because, well, America is just that weird. Ahead of the Thanksgiving 2015 holiday, Obama will hand-select a turkey to save from the oven or deep-fryer in an annual tradition that began in 1947. The pardoned turkey gets to live out the rest of its days "peacefully on a farm," the White House said.
"It is a little puzzling that I do this every year," Obama said last year, "but I will say that I enjoy it, because with all the tough stuff that swirls around in this office, it's nice once in a while to just say, 'Happy Thanksgiving.'"
As if the whole ceremony didn't already seem odd enough, in recent years the White House has allowed the American public to vote on which of two turkeys gets to become the nation's special bird. People cast votes this year on Twitter, the White House said. Don't fret. Both turkeys will be housed at a Virginia farm after the contest.
The White House has set up a live stream of the pardon. Watch live below:
This year's birds come from Foster Farms, an industrial turkey farm in Modesto, California. They have names, too. Call them Tom One and Tom Two, NPR reported.
Foster Farms manager Joe Hedden said Tom One was a clear winner because of his sassy personality. The turkey traveled on a first-class flight to Washington called, wait for it, Turkey One.
"We want to present the president with a well-mannered and socially skilled turkey that's going to act right on the big day," Hedden said.
The Toms probably won't live long, despite the pardon. Every pardoned turkey has died except for one. Because the birds have been fattened up with a protein-rich diet of corn and soybeans, they are too big and their organs fail if they're kept alive too long, NPR found.
While the ceremony has been around for decades, George H.W. Bush was actually the first president to formalize the turkey pardoning ceremony. His efforts have seen writers at the Washington Post and Vox dub the pardon "America's dumbest" and "most absurd holiday tradition."
© Copyright IBTimes 2023. All rights reserved.