Obama Faces Challenges Forging Unity With Europeans Over Russia Sanctions At G7 2015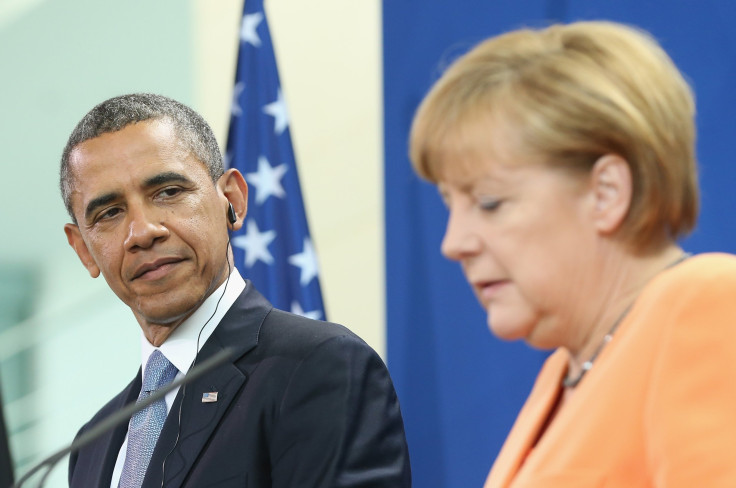 President Obama is expected to push world leaders to present a united front on maintaining sanctions against Russia when he attends the G7 Summit in Germany today. He faces challenges, however, in shoring up support from allies unsure about the efficacy of the sanctions regime, and in smoothing over anger at U.S. spying in Europe.
Obama faces increasing public hostility toward the U.S. in Germany, fueled by revelations that the NSA had tapped Chancellor Angela Merkel's phone, and that the country's intelligence service, the BND, had helped the U.S. spy on European companies, including German giant Siemens AG, and officials for years.
"While we tend to view a lot of the impact of the NSA revelations in Europe as subsided, they have not subsided in Germany," Heather Conley, the director of the Europe Program at the Center for Strategic and International Studies in Washington, told the Guardian. "This issue is being used in multiple ways to increase, I think, anti-Americanism in Germany and to weaken the chancellor."
While Obama and Merkel reportedly have a good personal relationship, both have acknowledged the effect the spying revelations have had on relations between the two countries. In a bid to put the affair behind them, the pair plan to open his visit to Germany with a public display of friendliness, delivering remarks about the U.S.-German alliance before taking a walk through the picturesque alpine village of Krün, the paper added.
Problems with Germany aside, Obama must also contend with a wider unease among some of his European allies that the sanctions regime targeting Russia has failed to significantly alter the country's policy.
Despite the clear toll the sanctions, along with the drop in oil prices, have taken on the Russian economy, they have not forced President Vladimir Putin to give up his designs on Ukraine or to surrender Crimea. Some analysts, cited by the New York Times, believe Putin is playing a waiting game on the assumption that he can outlast Euro-American solidarity, raising concerns about the efficacy of the sanctions policy.
Earlier this year, Italy's foreign minister called for sanctions against Russia to be lifted, and Spain and Italy both refused to reach an early agreement to extend the sanctions regime earlier this year, citing fears that such a move would undermine peace negotiations.
Despite the bloc's solidarity in deciding to exclude Putin and Russia from the G7 (formerly G8) last year, Obama may struggle to marshal that kind of unity again.
© Copyright IBTimes 2022. All rights reserved.
FOLLOW MORE IBT NEWS ON THE BELOW CHANNELS