Obama Urges House GOP To Prevent Tax Hike On First $250,000 [VIDEO]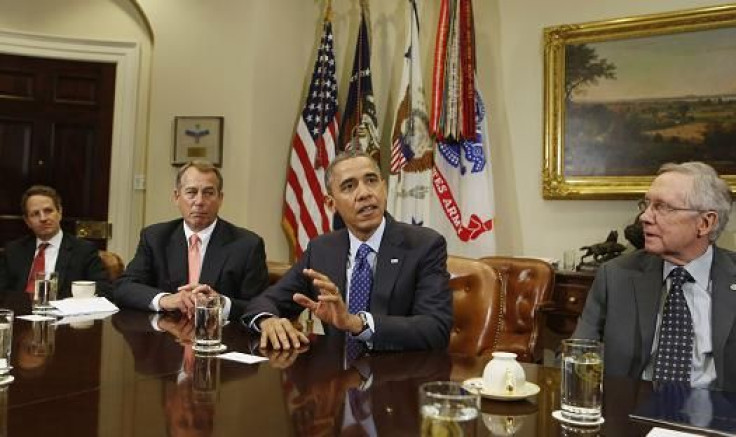 As the nation fast approaches the so-called "fiscal cliff," President Barack Obama is urging House Republicans to help pass a law preventing a tax hike on the first $250,000 of individual income.
If there's no agreement by the end of the year, income taxes will automatically increase for everyone beginning Jan. 1 as the Bush tax cuts expire, along with deep spending cuts that economists predict will cause a recession and raise unemployment. Some $500 billion would be sucked out of the ailing economy in 2013 if there is no agreement.
Obama met with congressional leaders Friday to begin talks to avert the fiscal cliff, cut federal spending and boost revenue. He is insisting on raising tax rates for the wealthy, which Republicans are resisting.
On the tax front, the president said in his weekly address Saturday that two pathways are available. The first is letting the automatic tax increase happen for all, including the 98 percent of Americans making less than $250,000 a year.
"Our economy just can't afford that right now," Obama said. "You can't afford that right now. And nobody wants that to happen."
The second pathway is for House Republicans to sign onto the law the Senate already passed and House Democrats are ready to support, to prevent a tax hike on the first $250,000 of anyone's income.
"That means all Americans – including the wealthiest Americans – get a tax cut," the president said. "And 98 percent of Americans, and 97 percent of all small business owners, won't see their income taxes go up a single dime.
"All we need is for Republicans in the House to come on board," he continued. "We shouldn't hold the middle class hostage while Congress debates tax cuts for the wealthy. Let's begin our work by actually doing what we all agree on. Let's keep taxes low for the middle class. And let's get it done soon – so we can give families and businesses some good news going into the holiday season."
Treasury Secretary Timothy Geithner has expressed confidence that an agreement can be reached within weeks to avert the fiscal cliff.
"It was a good meeting, and the tone was very good," Geithner told Bloomberg TV. "I think this is doable within several weeks."
© Copyright IBTimes 2023. All rights reserved.