Obama Warns Russia On Military Intervention In Crimea, Ukraine While US And European Leaders Mull Whether To Skip G8 In Sochi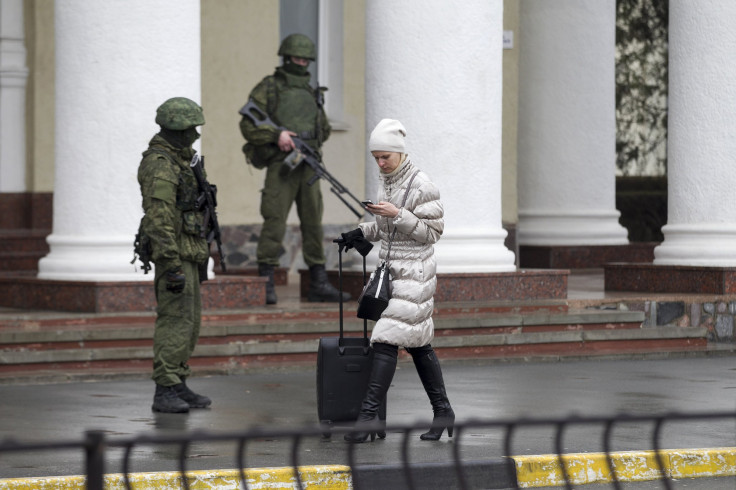 U.S. president Barack Obama warned Russia not to begin a military intervention in Crimea and that he and some other Eurpoean leaders were mulling the option to skip the upcoming G8 meeting in Sochi, if reports suggesting Russia's forces landing in Crimea were proven accurate, news reports stated.
According to the Agence France-Presse, or AFP, the president met some senior officials after concluding that the Russian forces were active in Ukraine. The acting president in Ukraine, Oleksandr Turchinov, had said Friday that the movements on the Russian naval base in Crimea resembled the situation in 2008, when Russia had sent troops into Georgia over the breakaway regions of Abkhazia and South Ossetia. Other Ukrainian officials accused Russia of "naked aggression."
"The United States will stand with the international community in affirming that there will be costs for any military intervention in Ukraine," Obama reportedly said in Washington on Friday, and warned Russia that any violation of Ukraine's sovereignty would be "deeply destabilizing."
About 13 Russian aircraft with 2,000 troops had landed at a military base near Simferopol," BBC reported citing Sergiy Kunitsyn, a Ukrainian official.
"They are implementing the scenario like the one carried out in Abkhazia, when after provoking a conflict, they started an annexation of the territory," Turchinov reportedly said Friday, according to BBC.
Russian ambassador to the United Nations, Vitaly Churkin, denied reports of an intervention in Ukraine and said that the military movements were within Russia's arrangement with Ukraine on the deployment of military assets.
"We are acting within the framework of that agreement," Churkin reportedly said, after a closed-door meeting of the UN Security Council, according to BBC.
"The United States calls on Russia to pull back the military forces that are being built up in the region, to stand down and to allow the Ukrainian people the opportunity to pursue their own government, create their own destiny and to do so freely without intimidation or fear," Samantha Power, Washington's envoy to the UN, said at the meeting, according to AFP.
Ukraine's crisis started with a $15 billion bailout that the former Ukrainian president, Viktor Yanukovych, signed with Russia rather than a trade deal to be signed with the European Union. Protests against Yanukovych started in Kiev and ended on a violent note with his ouster and an arrest warrant for "mass murder." Yanukovych appeared in Moscow on Thursday and gave a press conference Friday stating his support for the Russian government, which had agreed to give him protection.
"I think Russia should, and is obliged, to act, and knowing the character of Vladimir Vladimirovich Putin, I am surprised he is so restrained and keeping silent," Yanukovych reportedly said in a press conference Friday. He added that Russia should not "sit in the corner and not act," according to the Guardian.
© Copyright IBTimes 2023. All rights reserved.