Obama-Xi Meeting Update: South China Sea Tension Looms At Nuclear Security Summit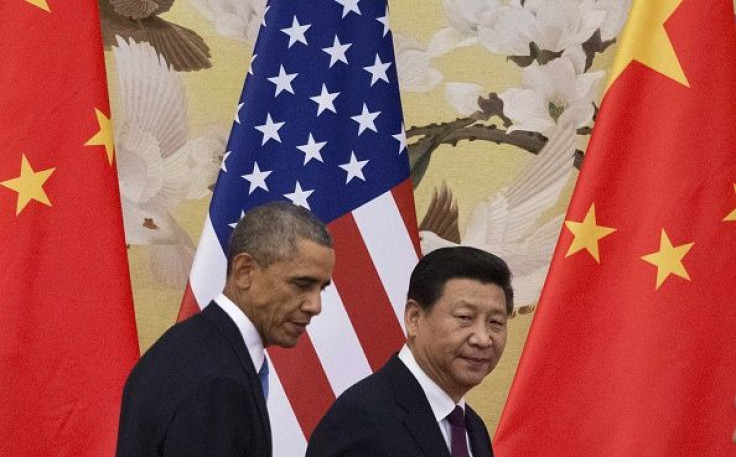 U.S. President Barack Obama and Chinese President Xi Jinping met on the sidelines of the Nuclear Security Summit in Washington Thursday amid heightened tensions in the South China Sea — with disagreements over cybersecurity and human rights also looming.
Xi warned Obama against encroaching on China's sovereignty in the contested waters of the South China Sea, Reuters reported, citing China's Xinhua News Agency. The Chinese leader said he would not accept any American actions under the "disguise of freedom of navigation."
American freedom of navigation patrols fall within international laws that allow a country's ships to navigate international waters without interference from other nations. The U.S. has accused China of heightening tensions in the region by militarizing the area. Among these actions, Beijing deployed surface-to-air missiles to the disputed Paracels' chain last month.
The U.S. said Wednesday it would not recognize Beijing's self-proclaimed "exclusion zone" in the South China Sea and would continue to navigate where international law allows. Brunei, China, Malaysia, the Philippines, Taiwan and Vietnam have all laid claims to different areas of the sea. Each year more than $5 billion worth of trade passes through the contested waters, and there are believed to be vast undersea resources.
Islands Disputed in the South China Sea | Graphiq
Ahead of their private talk, Obama highlighted American concerns over cybersecurity and Chinese hacking that has targeted the U.S.
"We have deep concerns about our ability to protect the intellectual property of our companies," Obama said. Xi said in his remarks China was ready to explore "deepening cooperation" on cybersecurity and emphasized the two nations would need to have an open dialogue on contentious issues.
China's assistant foreign minister said the meeting between the two leaders was "positive, constructive and fruitful." The two presidents did find common ground on the nuclear threat posed by North Korea. Obama has long urged China to be more forceful with Pyongyang.
"President Xi and I are both committed to the denuclearization of the Korean Peninsula," Obama said. "We're going to discuss how we can discourage actions like nuclear missile tests that escalate tensions and violate international obligations."
© Copyright IBTimes 2023. All rights reserved.
FOLLOW MORE IBT NEWS ON THE BELOW CHANNELS