South China Sea Controversy Update: Obama And Xi Jinping To Meet After US Refuses To Recognize China's Exclusion Zone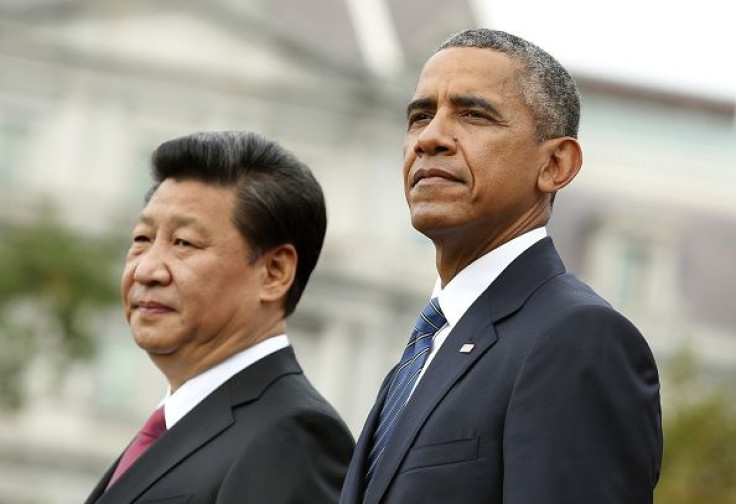 President Barack Obama is scheduled to meet with Chinese President Xi Jinping on Thursday, and that conversation could prove to be awkward. The U.S. said Wednesday it would not recognize China's exclusion zone in the South China Sea, further raising tensions over the contested waters.
"We don't believe they have a basis in international law, and we've said over and over [that] we will fly, sail and go wherever international law allows," said U.S. Deputy Secretary of Defense Robert Work, Reuters reported. "We would prefer that all of the claims in the South China Sea be handled through mediation and not force or coercion."
The statement from the U.S. comes at a moment of high tensions in the South China Sea. China declared an air defense identification zone (ADIZ), or an airspace area where Beijing holds control over civilian aircraft under the pretext of national security, in the East China Sea in 2013. The U.S. fears Beijing could declare another ADIZ in the South China Sea in the coming weeks. The Philippines has challenged China's territorial claims, and an international court verdict is expected in late April or early May.
The U.S. has raised concerns about China's militarization of the South China Sea in recent months following reports that Beijing deployed surface-to-air missiles to the disputed Woody Island in the Paracels' chain. Both Vietnam and Taiwan have laid claim to the island.
"There is every evidence, every day that there has been an increase of militarization of one kind or another," U.S. Secretary of State John Kerry said last month. "It's of serious concern."
Islands Disputed in the South China Sea | Graphiq
China has consistently issued statements that its actions are for self-defense and within their rights. Beijing has also accused the U.S. of heightening tensions through freedom of navigation patrols in the contested waters. The American patrols fall under international law that allow ships flying their country's flag to pass through waters without interference from other countries.
Xi, who is attending a nuclear security summit in Washington, D.C., is the only world leader in attendance who will meet one-on-one with Obama. The two are scheduled to speak for 90 minutes, the New York Times reported. During a September 2015 bilateral summit held between the two nations, Xi said Beijing had no plans to militarize artificial islands in the South China Sea.
Brunei, China, Malaysia, the Philippines, Taiwan and Vietnam have all made claims over different areas of the South China Sea. Over $5 billion worth of trade passes through the waters each year.
© Copyright IBTimes 2023. All rights reserved.
FOLLOW MORE IBT NEWS ON THE BELOW CHANNELS