Obama's EPA Chief: Failing To Address Climate Change, Curb Emissions Could Hurt US Economy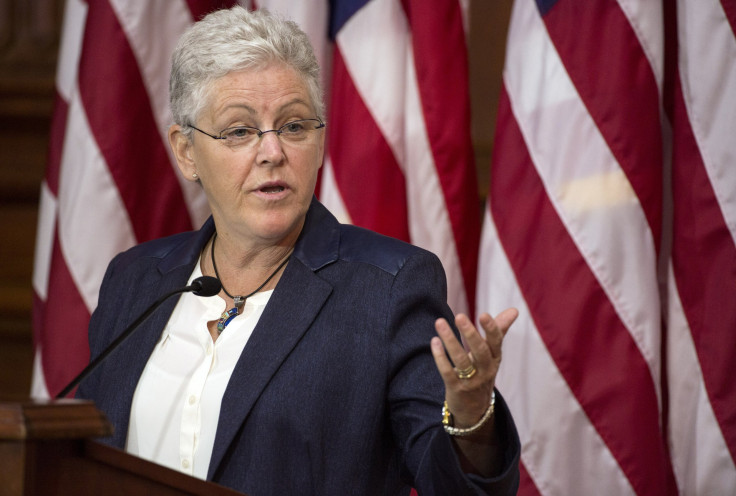 The Obama administration's top environmental official says failing to address climate change could hamstring the U.S. economy. Gina McCarthy, the Environmental Protection Agency administrator, warned Thursday that public health, property and domestic industry could suffer from climate effects like extreme weather and rising seas, unless the U.S. and other nations can rein in greenhouse gas emissions.
"When it comes to climate change, the most expensive thing we can do is nothing," McCarthy said at a Resources for the Future event in Washington, D.C. She said aggressive climate policies -- such as the EPA's proposed power plant regulations -- can ultimately benefit the economy by fueling clean energy industries and protecting communities from the most catastrophic impacts of global warming.
"Climate action is not a defense play. We can turn our challenge into an opportunity to modernize our power sector and build a low-carbon economy that will fuel growth for decades to come," she said at the event.
McCarthy's address echoed the flurry of messages delivered this week in New York at the United Nations climate change summit and the parallel Climate Week NYC, an annual forum for business leaders. Both events drew what observers say was an unprecedented turnout by private-sector players, including multinational corporations and institutional investment firms.
Many business leaders say they showed up to pressure government officials into taking decisive action against global emissions. Companies said that while they're already investing in low-carbon technology and making their supply chains more efficient, they need an international climate policy to reduce the costs and risks of investing in alternative approaches. A World Bank-led coalition, for instance, is calling for a global price on carbon dioxide emissions, which would make it more expensive to burn oil, coal and natural gas and improve the competitiveness of renewable and energy efficient technologies.
"Businesses and investors need clearer market signals," Jeremy Oppenheim, global program director of the New Climate Economy project, said earlier this month. His group, which includes global government and finance leaders, said in a recent report that building low-carbon energy systems, strengthening infrastructure from storms and higher seas and restoring degraded forests and lands will spur economic growth, not slow it down.
The private sector showing in New York also signals that corporations are increasingly aware of the risks their operations face from a warming planet, observers said.
Dan Bena, who directs PepsiCo Inc.'s sustainability operations, said the food and beverage giant is especially vulnerable where water is concerned. The company guzzles some 100 billion liters (26.4 billion gallons) of water each year in its direct operations, while about 40 percent of its operations are located in places with some level of water stress. As climate change worsens droughts and reduces rainfall in certain areas, the company's supply chain could face severe shortages, he said in an interview this month ahead of Climate Week NYC.
To hedge against that risk, the company is adopting water conversation measures at its facilities and agricultural sites and investing in data tools, including the HydroBID water modeling program. So far, PepsiCo has boosted its water use efficiency by over 20 percent, Bena said.
At the Thursday event, McCarthy argued that the Obama administration's Clean Power Plan could similarly stoke innovation and entrepreneurship in the U.S. economy as states build more wind farms and solar installations and re-engineer existing buildings to consume less energy. The cleaner air would in turn drive down health-related costs associated with asthma attacks and heart problems related to air pollution.
Critics of the proposed power plant rules, however, dispute the EPA's argument that it would help, not hurt, the economy. Legislators from coal-producing states like West Virginia and Wyoming say the rules would decimate their local industries and leave thousands without jobs. Other states argue that imposing regulations will drive up the costs of electricity, which will make it harder to manufacture goods or operate a business within the U.S., and will force consumers to cut down on spending as they spend more disposable income on electricity bills.
The EPA acknowledges that coal consumption will shrink under the requirements, which would force states to reduce emissions to 30 percent below 2005 levels by 2030. If enacted, the plan would reduce U.S. electricity from coal plants to about 30 percent of the overall mix, down from about 40 percent today, according to EPA estimates.
Amid a swell of pushback from coal-state lawmakers and industry lobby groups, the EPA delayed the process for implementing the power plan earlier this month. The agency pushed the public comment period back by 45 days, to Dec. 1. McCarthy said the EPA has so far received more than 1 million comments on the rule.
© Copyright IBTimes 2023. All rights reserved.