UN Climate Change Summit: Obama Says US, China Have A 'Special Responsibility' To Fight Global Warming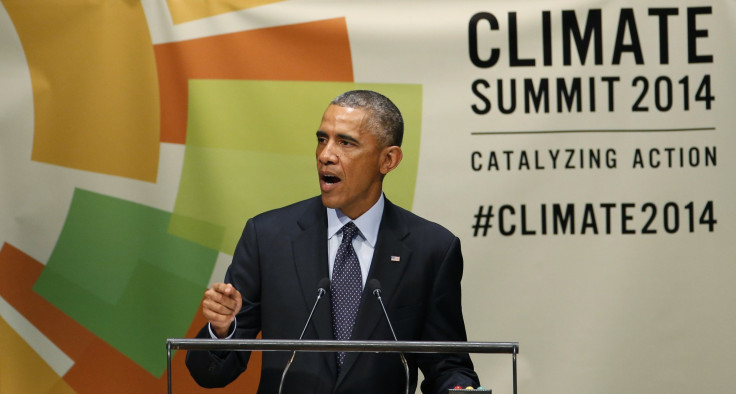 President Barack Obama said Tuesday the United States and China have a "special responsibility to lead" the global fight against climate change. As the two largest economies and biggest polluters, the nations should be doing more to curb greenhouse gas emissions and to help other countries adapt to climate change effects, the president said in an address to the United Nations General Assembly.
"We can only succeed in combating climate change if we are joined in this effort by every nation, developed and developing alike. Nobody gets a free pass," the president said at the New York summit.
The U.S. and China have long disagreed over the role that each nation should play in U.N. climate negotiations. The Obama administration has been reluctant to adopt legally binding emissions targets unless major players like China also follow suit. The Chinese have argued that rich nations -- not emerging economies -- should be the ones that first commit to stricter standards.
Together, the U.S. and China account for roughly 45 percent of total carbon dioxide emissions.
In recent months, however, the ice has started to thaw like a melting Arctic iceberg between the two superpowers as political momentum builds for a global agreement. Under U.S. Secretary of State John Kerry, talks between Washington and Beijing have reportedly intensified, and both countries seem reluctant to derail progress at a formal U.N. climate conference in Paris in December 2015.
"We have to set aside old divides. We have to raise our collective ambition," Obama said in his 14-minute address. "Nobody can stand on the sidelines on this issue."
The Tuesday summit was not part of the formal climate negotiations process. Instead, heads of state used the forum of the annual General Assembly opening to announce their strategies for reducing emissions and investing in clean energy technologies. Those plans are expected to form part of a global emissions pact that countries agreed to negotiate in Paris.
"There should be no question that the United States of America is stepping up to the plate," Obama said. "We recognize our role in creating this problem. We embrace our responsibility to combat it. We will do our part and we will help developing nations to do theirs."
He said the U.S. would meet its voluntary target to cut greenhouse gases to 17 percent below 2005 levels by 2020, thanks in part to Obama's proposed regulations to curb emissions from existing power plants. By early next year, the president said he will announce more ambitious emissions-reduction targets that reflect "our confidence in the technological entrepreneurs and scientific innovators to lead the way" on low-carbon technologies.
The White House on Tuesday also announced a series of initiatives to help vulnerable communities build resilience against climate effects such as rising sea levels that erode shorelines, extreme weather events that threaten to clobber homes and infrastructure, longer droughts that hamper global food production and acidifying oceans that destroy fish and seafood populations. The administration will also direct all federal agencies to "factor climate resilience into the design of their international development programs and investments," according to a statement.
The announcement builds on an earlier plan to dole out $1 billion in federal aid to help U.S. states and cities to prepare ahead of time for climate impacts.
China, for its part, made its boldest policy statement yet on reducing greenhouse gas emissions. Speaking after Obama at the summit, Vice Premier Zhang Gaoli said his country will "try to bring about the peaking of total CO2 [carbon dioxide] emissions as early as possible."
Zhang's comment marked a "significant" advance in Chinese policy, Alden Meyer, an observer of U.N. climate talks for more than two decades, told Bloomberg News. Until now, China had only sought to reduce its "carbon intensity" -- the amount of carbon emitted for every unit of energy consumed -- rather than its actual emissions.
"Politically this was a major advance in China saying they are trying to move out of the carbon intensity model to an absolute economy-wide model," Meyer said. "It doesn't say we are committed to bring about a peak, but it certainly raises expectations on the international stage."
Zhang added that China is "ready" to collaborate with other countries on climate change and will make an "even greater effort" to reduce its emissions, "commensurate to national conditions and capabilities." He reiterated the country's goal to reduce carbon intensity by up to 45 percent by 2020 over 2005 levels.
Policy observers say the back-to-back statements by Obama and Zhang are an encouraging sign. They "send a clear signal that both countries will work seriously to put in place climate solutions domestically and reach an ambitious international agreement in Paris next year," Jennifer Morgan, who directs the climate and energy programs at the World Resources Institute, said in a statement.
© Copyright IBTimes 2023. All rights reserved.