Obama's Regulators Killed $370B In Large Corporate Deals To Protect Competition And US Tax Base, Analysis Shows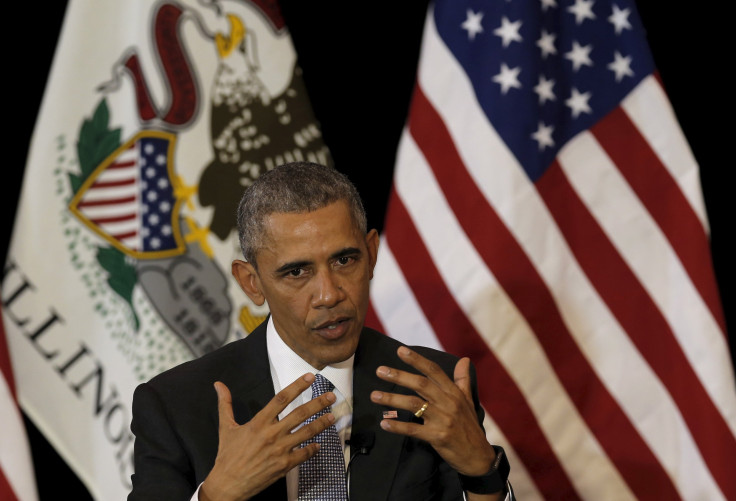 Regulators under President Barack Obama have blocked more major corporate deals than the two previous administrations combined, an analysis by the Financial Times shows. Since 2009, corporations in the U.S. have given up on mergers and acquisitions worth $370 billion after various sections of the Obama administration intervened.
Most recently, pharmaceutical company Pfizer's plan to take over Irish drugmaker Allergan ended abruptly Tuesday after the U.S. Treasury issued new rules limiting inversions, a tactic where companies move their tax addresses abroad and pay lower taxes. Pfizer's plan to merge with Allergan was just such an inversion and would have cost the United States billions of dollars in taxes.
The Financial Times' analysis looked at deals worth more than $10 billion and found the George W. Bush administration blocked one corporate deal and the Bill Clinton administration, two. Under Obama, five so far have been stymied. Administration officials say the current climate is one of unprecedented corporate dealmaking.
In 2011, after a lawsuit from the U.S. Department of Justice, AT&T withdrew a $39 billion offer for T-Mobile U.S. The same year, Nasdaq rescinded an $11 billion bid for the New York Stock Exchange after the Justice Department said it would file an antitrust lawsuit challenging the merger.
US Corporate Inversions Since 1996 | Graphiq
In 2015, a $71 billion deal between Comcast and Time Warner Cable fell through, also following opposition from the Department of Justice. And a year earlier, because the U.S. Treasury was expected to issue rule changes, Chicago-area drugmaker AbbVie nixed a $55 billion deal with Shire, a pharmaceutical company based in Ireland, that would have resulted in an inversion similar to the one Pfizer had pursued.
These corporations have criticized the Obama administration as targeting industries, charging it with building an "artificial prison for pharmaceutical companies, rather than dealing with the underlying issue" of high corporate taxes in the U.S., as one biotech investor told the Financial Times.
"The rules are focused on the wrong thing: Our government should be focused on making America competitive on a global stage, not building a wall locking companies into an uncompetitive tax situation," Allergan CEO Brent Saunders told the Wall Street Journal after the Treasury Department released its newest rules on inversions.
But administration officials counter these rules and lawsuits are necessary to protect not just American consumers and their interests, but also competitiveness in industries.
"Consolidation among major competitors — especially in already concentrated industries — raises serious concerns about higher prices, lower output, diminished quality and flagging innovation," Attorney General Loretta Lynch said Wednesday during an address at an antitrust meeting of the American Bar Association.
© Copyright IBTimes 2023. All rights reserved.