Occupy AIPAC Protests Outside White House During Obama/Netanyahu Meeting [PHOTOS]
As President Barack Obama and Israeli Prime Minister Benjamin Netanyahu met at the White House Monday afternoon, about 200 Occupy AIPAC protesters demonstrated against war in Iran and for Palestinian rights.
The afternoon protest in Lafayette Park, across Pennsylvania Avenue from the White House, was just one of a few that Occupy AIPAC, a coalition of about 130 organizations, was planning during the three-day annual conference of the pro-Israel lobby, the American Israel Public Affairs Committee.
Papier-mache figures of Obama and Netanyahu dressed as prisoners, as well as people in cardboard boxes dressed as settlements and signs declaring Zionism = racism decorated the lawn. Although the focus of this year's AIPAC conference has been about the threat of Iran's nuclear program, there were chants against bombing Iranian nuclear sites as well as against Jewish settlements and Israeli checkpoints on the West Bank.
Netanyahu is a war criminal responsible for the deaths of hundreds of Palestinians and the oppression of the entire population, said Alli McCracken, one of the protest's organizers and a member of Code Pink, a women-led anti-war group.
The Occupiers weren't the only people shouting outside the White House. They were slightly outnumbered by a demonstration for a group called Human Rights for Vietnam; more than 60,000 Vietnamese-Americans recently signed a petition opposing expanded U.S. trade with the communist country. Occupy had taken up the right side of the lawn, while Human Rights for Vietnam were on the left, holding yellow and red flags of the former South Vietnam.
McCracken admitted she was a bit distracted by the Vietnamese demonstrators, but said she was really disoriented by the fact police had pushed the protesters down the lawn close to H Street to make space for the Israeli leader's motorcade to come through.
Unfortunately Netanyahu trumps free speech, Briggs said.
A few AIPAC attendees stopped by to check out the protests, but most did not want to comment. One said he didn't want to feed the flame. One Israeli-Australian named Ari Briggs, holding a large Israeli flag, appeared to be the only counter-protester at the time (See picture in slideshow.)
Briggs said he was attending the AIPAC conference but felt compelled to stop by the White House and support Israel.
These protests happen all around the world. There are ignorant people and there are people convinced by false messages all around the world, and it saddens me, he said. My family came [to Israel] from Australia after having been decimated during the Holocaust and I can imagine these protests happening in 1933 in Nazi Germany when people talked about kicking Jews out of here and Jews out of there.
In addition to press conferences and demonstrations on Sunday and Monday morning, Occupy AIPAC was planning a creative action outside the gala banquet that evening where Netanyahu is expected to speak about the threat posed by Iran's nuclear program.
(Photo credit: All photos by IBT/Sara Dover.)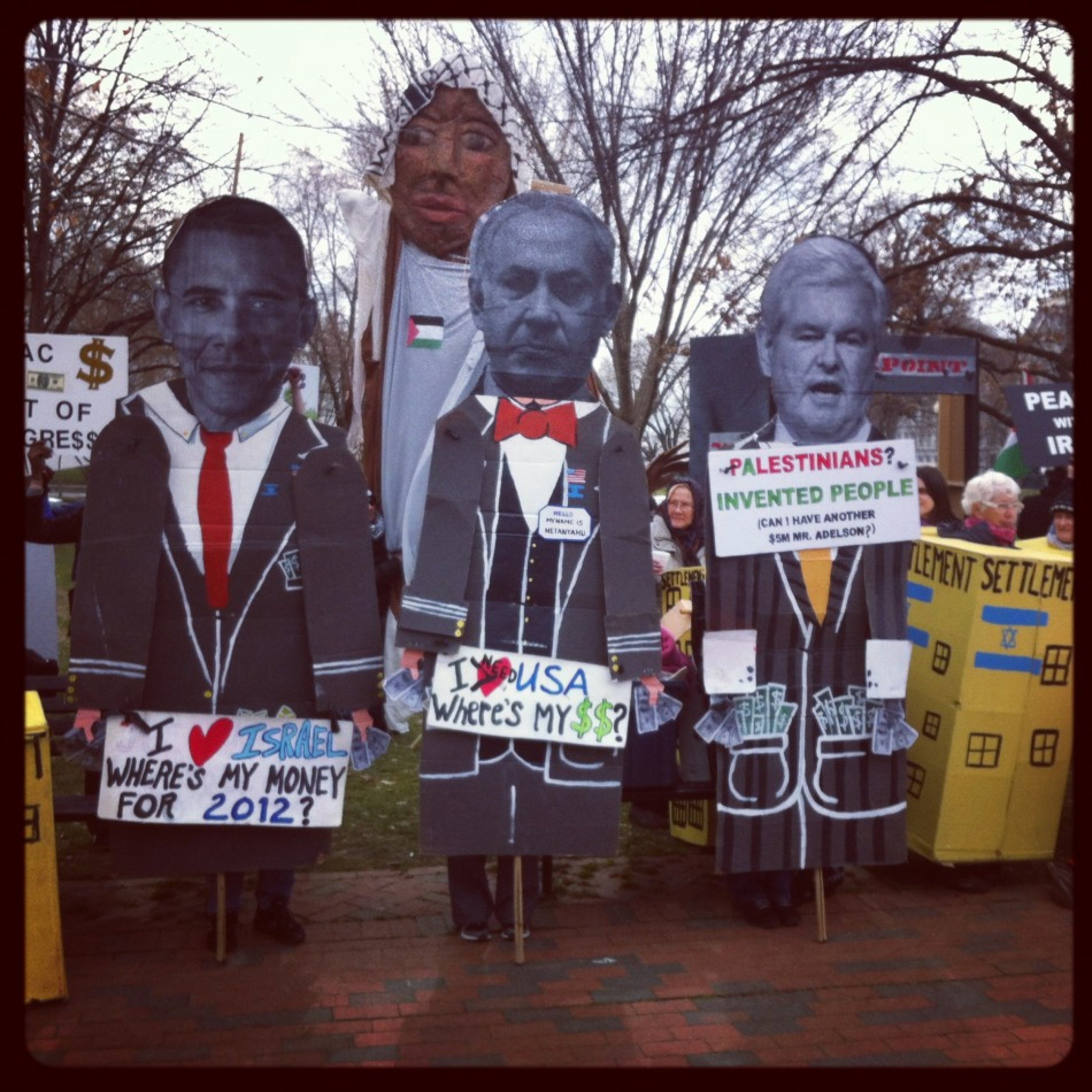 © Copyright IBTimes 2023. All rights reserved.