Occupy Wall Street Anniversary: Police Crackdown On Movement Cost New York $1.5 Million Over 4 Years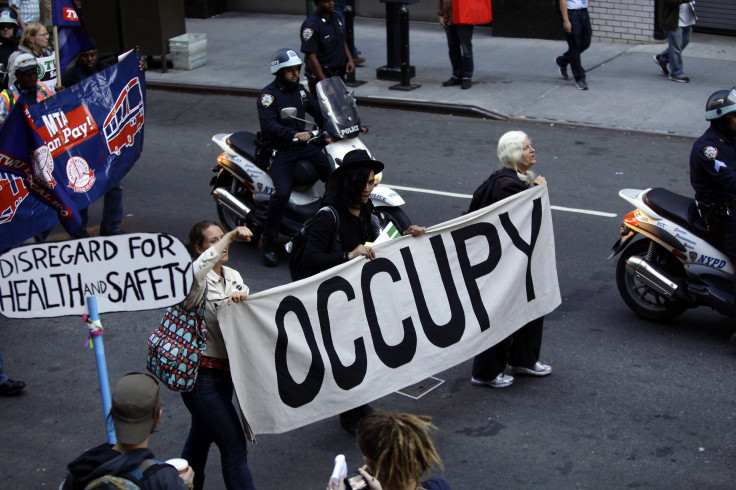 Paul Manheim strained Thursday to elicit excitement for a special occasion in Manhattan's busy Financial District. "It's our fourth birthday," he told several passers-by, who didn't seem bothered by the low-key afternoon gathering.
Manheim and other activists were expected to march Thursday night in celebration of the Occupy movement's fourth anniversary at Zuccotti Park in New York City. The park was once the site of a two-month-long encampment staged by about 200 protesters whose anti-Wall Street message helped spawn similar groups around the world before it was driven out by city police.
Four years ago, activists' calls for economic policy reforms that favor the 99 percent of Americans over the richest 1 percent started a national conversation about inequality. As some activists debate whether the movement harnessed immense media attention, it garnered real political influence. New York City, however, continued to feel the effects of a costly police crackdown on the encampment four years after the movement put down roots at Zuccotti.
"Occupy really does have some limitations, but the spirit is really with the people," said Marni Halasa, a protester in Zuccotti Park on Thursday.
The movement is still trying to attract people who haven't awoken to the perils of systemic inequalities, said Manheim, who distributed Occupy fliers Thursday morning in downtown Manhattan. "Our audience is still the same," he said. "We're trying to reach the anarchists, the socialists, the Republicans, the Tea Partiers and the Democrats -- everybody but the 1 percent."
In New York, the 2,644 Occupy-related arrests in 2011 resulted in 409 guilty pleas or convictions, according to the New York Daily News. The city has paid out $1.5 million to settle 80 lawsuits, with dozens more still pending. That cost doesn't include legal fees and overtime for officers who were required to patrol streets around Zuccotti Park during the two months that it was occupied.
The Occupy movement attracted Art Brown, a former analyst for the bank JP Morgan Chase, to the park Thursday. Although he left his banking job two years ago, the New York City resident said the Occupy message still resonates because the protesters have been right about inequality all along.
"But I don't think we're going to destroy Wall Street," he told activists in Zuccotti Park on Thursday morning. "You are opposing forces that have a tremendous amount of power."
Zuccotti Park is a relatively small, privately owned recreational space with shade trees, a few plants and stone benches, which activists on Thursday utilized as tables to spread out messages on issues ranging from universal healthcare and legalization of medical marijuana, to student debt and public housing. Thursday's modestly sized gathering was dwarfed by a large, silent police presence. Officers were stationed strategically as far as four blocks away from the park and metal barricades blocked protesters from approaching the nearby New York Stock Exchange building on Wall Street.
Elloit Crown, who came to Zuccotti Park dressed as Uncle Sam, criticized the police presence as the reason why protesters decried the wealthy class. "There is plenty of money [and police] to support the system," said Crown, who conjectured that police officials wanted to be ready to crack down on protesters if their numbers grew later in the evening. "If the Occupy camp started back up tomorrow, the same thing would happen again," he said.
The occupation of Wall Street ended abruptly and violently on Nov. 15, 2011, when riot police burst through the park at night and declared the park a "frozen zone." Dozens of protesters were injured and many others were arrested and cited on a myriad of misdemeanor offenses. Similar crackdowns against Occupy occurred in Oakland, California, and Tampa Bay, Florida, under the supervision of the FBI and the Department of Homeland Security.
It was probably a good thing that the initial Occupy movement was broken up, Halasa said. She prefers the smaller groups of committed activists that have a laser focus on specific issues. Dressed as Satan with a trident and a boa of faux $100 bills during Thursday's gathering, Halasa said economic policies were still the main issue for her.
"I think the big banks need to be broken up," she said. "If that could happen, that would be amazing."
The Occupy protesters said they planned to camp out all night to protest homelessness. "Maybe we'll manage to get a couple of people to think about something that they didn't think about before," Manheim said.
FOR FREE to continue reading
✔️ Unlock the full content of International Business Times UK for free
offer available for a limited time only
✔️ Easily manage your Newsletters subscriptions and save your favourite articles
✔️ No payment method required
Already have an account?
Log in
© Copyright IBTimes 2023. All rights reserved.