Occupy Wall Street: At Zuccotti Park, Signs of Increasing Sophistication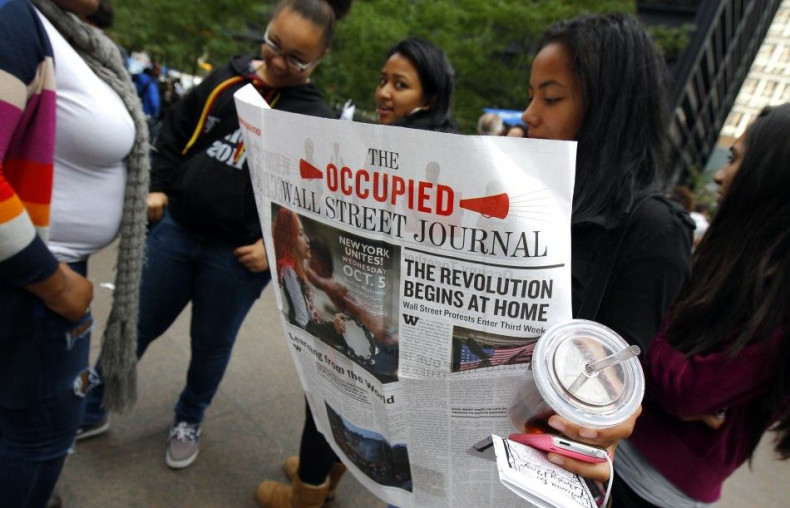 When the Occupy Wall Street protestors first claimed Zuccotti Park as their base camp more than two weeks ago, they were mostly treated with a mixture of disdain and amusement -- and regarded as too disorganized to sustain a movement.
Yet they are still there. And on the morning after a massive, union-fortified protest underscored Occupy Wall Street's scope and tenacity, the scene at Zuccotti Park reflected how the movement has evolved since its Sept. 17 beginning.
There is more media attention now -- yellow press badges flashed around journalists' necks, and cameramen lugging heavy equipment trailed reporters with carefully coiffed hair. They encountered a far more organized operation than in the frenetic early days, with a newly created sign bearing the word Press directing them to a spokesman.
Other signs advertised a range of services, from Info to Private and Municipal Unions to Outreach and Organizing Volunteers Needed. A steady stream of people stopped by the last table and added their names to a list of volunteers who would be called upon to canvass, hand out fliers and work on Occupy Wall Street's publication, the Occupy Wall Street Times.
We are trying to organize better so everyone can join, said Manuel Levin, 22. Winter's coming, so we need to build up strong structures before we will be forced to leave this camp.
Many of the people signing up were dressed in suits and ties, among them a 53-year-old workers' compensation lawyer named Dan Morrin who was at Zuccotti Park for the first time since the protest began.
I feel that there is a need for all kinds of people from all walks of life to get involved in this movement, Morrin said. Whatever I can do to help.
Packages containing food, blankets and other supplies have been flowing in from around the country. A group of protestors was at work unpacking and logging a heap of cardboard boxes -- one contained the note Colorado stands with you, and a young woman dutifully entered the sender's information on a list that included addresses from Alabama and Washington. A man handed a box full of cereal bars to another protestor, sending him toward a table piled high with donations of bagels, pizza and sandwiches wrapped in wax paper.
To the kitchen, he said.
City Councilman Jumaane Williams stopped to chat with people near the Media Center, where protestors tapped away at laptops powered by portable generators.
These guys are walking the walk while most of us are just talking the talk, Williams said. Seeing the energy from all these young people, it's very exciting.
There have been some growing pains. Ari Cowan, who has been at the protests since the beginning, acknowleged that the recently formed alliance with organized labor posed a risk of compromising the movement's collectivist structure, although he said that so far, the unions have been good at standing in solidarity with us and not trying to co-opt the movement.
The protestors eschew any sort of structured leadership, making decisions through a nightly general assembly. Cowan said that a constant influx of new people has expanded the meetings to more than a thousand people some nights. Many of the newcomers are unfamiliar with the system of consensus building, and Cowan said there can be an adjustment period.
We have to unlearn the system of hierarchies we grew up in, Cowan said. There are always going to be people who want to take up space, who want to be in charge, so part of that is making sure there's a space where the move to hierarchies can be addressed.
You can contact the reporter at j.white@IBTimes.com