Oil Tanker Train Derailment Causes Explosion In West Virginia, Sends Train Cars Into River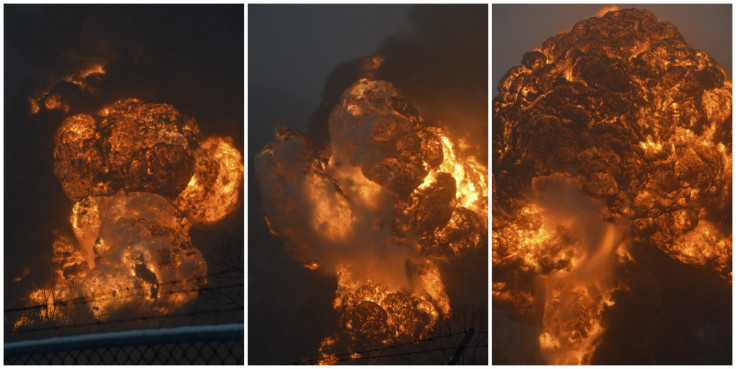 2nd UPDATE: 8:25 p.m. EST: According to WSAZ News reporter Michael Clouse, emergency officials in the area say that as many as 2,400 local residents could be displaced as a result of the train derailment. While it's unclear how long residents will be displaced, though some expect that those living in the immediate area could be away from their homes for weeks. Bu for those within a few blocks, it will likely be a "day or two," reports Clouse.
UPDATE: 7:45 p.m. EST: A CSX freight train jumped the tracks and burst into flames Monday in Fayette County, West Virginia, forcing the evacuation of residents of nearby towns. Several of the cars fell into the Kanawha River after 25 cars of the 109-car freighter derailed around 1:17 p.m. EST, ABC reported.
At least 14 oil tankers were burning, the Associated Press reported. The fireball went 300 feet into the air, witnesses said.
West Virginia Gov. Earl Ray Tomblin declared a state of emergency.
Original post:
A freight train carrying crude oil derailed in Fayette County, just east of Montgomery, West Virginia, on Monday, sending several tanker cars into the Kanawha River and triggering an explosion that set at least one house on fire, the West Virginia MetroNews reported.
No injuries had been reported so far, the Fayette County Sheriff's Department said. Local news station WSAZ reported that more than one home and more than one train car were on fire.
The CSX train jumped the tracks around 1:20 p.m. on Monday, sources said. Officials evacuated residents of the area, known as Mount Carbon-Adena Village, shortly after. Water systems from Montgomery and other areas downstream from the river have reportedly closed their intakes, and officials are urging area residents to conserve water.
According to West Virginia state public safety spokesman Larry Messina, emergency crews were facing difficulty accessing the scene due to poor road conditions from a snowstorm, and also due to smoke and debris from the derailment.
© Copyright IBTimes 2023. All rights reserved.