Olympics 2012: Oscar Pistorius Just Wants To Compete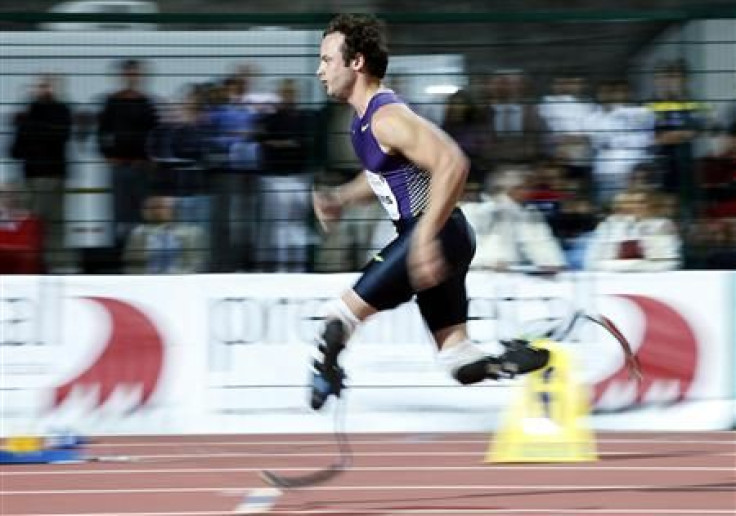 "The Blade Runner," as he sometimes referred to as, is a world-class athlete and simply wants to do what athletes do: push their bodies to the limits in fierce competition.
On July 4, 2012, after years of struggles, Pistorius, who is a double amputee, was finally allowed to do just that. "The fastest man on no legs," became the first man with no legs to ever qualify for an Olympic event when he was named by the South African Sports Confederation and Olympic Committee to compete in the London Games.
It has been a long road to get to this point, and Pistorius was legless throughout it. Born on November 22, 1986, in Pretoria, Pistorius was diagnosed with a congenital absence of the fibula in both of his legs. At his doctor's request, his parents elected to amputate his legs from the mid-shin down at 11 months old.
Two months later, he was fitted with his first prosthetics, and four months after that, the future Olympian was walking. Pistorius spent his youth competing in any way possible, playing tennis, wrestling, and participating in both rugby and water polo while in high school.
A knee injury during a rugby game in 2003 left his knee severely damaged, but that did not deter him from competition. As a part of his rehabilitation, Pistorius got involved with athletics.
In his first ever Paralympic Games, at age 17, Pistorius secured a gold medal and world record in the 200-meter sprint for athletes with at least one amputated leg, and a bronze medal in the 100-meter dash.
That was the beginning to a tremendously successful Paralympic career. Pistorius has topped his 200-meter record multiple times, eventually setting it at 21.58 seconds at the 2007 Nedbank Championships for the Physically Disabled. He has added four more Paralympic gold medals to his collection since then.
With Paralympic sports sufficiently conquered, Pistorius set his sights on Beijing and a spot on the South African Olympic team. He was not selected to the team in 2008, and as a result of his efforts, the International Association of Athletics Federations (IAAF) started its long-running mission to have Pistorius relegated back to the Paralympics.
It began with a rule change in March 2007, stating, "any technical device that incorporates springs, wheels or any other element that provides a user with an advantage over another athlete not using such a device," would lead to disqualification of the user. The federation claimed the rule was not specifically aimed at Pistorius, but the timing of the rule change was quite suspicious.
Pistorius, running on a Cheetah Flex-Foot by Ossur, did not believe he had any advantage over other athletes, so later that year, he submitted himself to IAAF invited testing at Cologne Sports University. The tests would determine whether or not the aspiring athlete had an advantage with his disability.
Dr. Peter Bruggemann, who headed the testing, brought back results that would serve as yet another hurdle to Pistorius's dream. He stated that Pistorius "has considerable advantages over athletes without prosthetic limbs who were tested by us."
The work at Cologne led the IAAF to rule Pistorius ineligible for all competitions held under its rules (Olympics included). The January 2008 decision stood as a deterrent to Pistorius's quest to compete with the world's best.
He would not let the decision stand in the way of his ambition, and vowed to continuously fight the IAAF. Within a month, he had hired a legal team to help overturn the decision. Pistorius submitted to testing once again, this time at Rice University by Hugh Herr and Rodger Kram.
After more testing, Pistorius's new team took their appeal to the Court of Arbitration for Sport in May of 2008. The data submitted by Pistorius's team led to the IAAF's decision being immediately revoked by a unanimous decision.
The new testing had found that Pistorius had disadvantages that at the very least offset the advantages of his prosthetic legs. According to these new tests, Bruggemann had only tested biomechanics at full-speed in a straight line. His testing did not, however, incorporate the disadvantage in balance and acceleration that Pistorius must endure to compete.
The end result was a ruling that there was no net advantage, not one that could be proven anyway.
A great battle was won, but Pistorius knew he hadn't won the war yet. A great challenge loomed.
"I look forward to continuing my quest to qualify for the Olympics," Pistorius said.
In a last ditch effort to keep Pistorius out, the IAAF asked the South African Olympic Committee to deny him a spot on the Olympic team, "for reasons of safety." The IAAF claimed that Pistorius was a danger to himself and other athletes in the relay race due to his prosthetics.
The committee did not appease IAAF, but Pistrorius was unable to qualify anyway, and participated in the 2008 Summer Paralympics instead, where he won gold in the 200 and 400-meter races.
From then on, Pistorius began his four year quest to be a part of the South African team in 2012. He participated in many able-bodied races over that span, and was able to qualify for the Olympics at a race in Lignano, Italy, in which he put up a 45.07 time in the 400-meter sprint. In Aug. 2011, Pistorius announced that he would be running for his home country in the World Championships.
It was at this tournament that Pistorius earned the first-ever able-bodied medal awarded to a Paralympian. His 4 x 400 relay team placed second overall, even though Pistorius was not allowed to run in the final.
The team that ran in the final was actually slower than the one Pistorius was a part of in earlier heats, but manager Magda Botha insisted that he included the "four best athletes" to run in the most important race.
Pistorius was disappointed, but still thrilled to even be included, and proud of his teammates. Still, the competitive fire raged on inside him.
After the race, he posted on Twitter: "Well done to the SA 4x400m team. Was really hard watching, knowing I deserved to be part of it."
The silver medal was not nearly enough for "The Blade Runner," and he continued to work towards the top of the mountain of athletics: the Olympics.
Eventually, Pistorius was able to earn a spot on the South African Olympic team, earlier this summer. This development means that he will also become the first person to participate in the Olympics and Paralympics in the same year.
After years of struggling, Pistorius has finally achieved his dream. He will be running in the Olympics, side-by-side with some of the best athletes the world has to offer.
According to BBC Sport, Pistorius hopes to make at least the semi-finals and set a personal best. His current best is about a second behind American Lashawn Merritt, a favorite to win the 400 meters, who also happens to be an athlete to openly questioned Pistorius's eligibility.
Pistorius has maintained all along that he believes he should be allowed to compete. The scientific and sports worlds both seem to be split on the issue, and therefore he has been allowed to try his hand at Olympic sprinting.
According to Pistoriu in a worldsport.tv interview, the prosthetic limbs have poor balance, and lactic acid builds up more quickly in his muscles since he has less blood than able-bodied athletes.
Pistorius acknowledged that he uses 25 percent less energy at top-speed, but that his legs do not give off more energy than the amount that is put into it, unlike how muscles and tendons do.
More evidence of advantages comes from the weight of his carbon-fiber legs. Each one weighs about one pound, while the average human leg weighs in at 20 pounds.
Overall, there doesn't appear to be conclusive evidence that says Pistorius should be denied his chance to run. For all the evidence saying he has an unfair advantage, there is just as much evidence pointing to it as a disadvantage.
Some argue that this story will open the door for "bionic athletes" in the future that enjoy unrealistic advantages over their opponents. With the advancements that technology sees every year, that movement may be on its way, but Pistorius is hardly "The Six Million Dollar Man."
Pistorius just an athlete, proving that no matter what gets in your way, a true athlete gives it everything he can and strives to be the best in the world.
FOLLOW MORE IBT NEWS ON THE BELOW CHANNELS