OSCE Reports Intense Fighting Between Ukraine And Pro-Russian Rebels As Foreign Ministers Meet In Berlin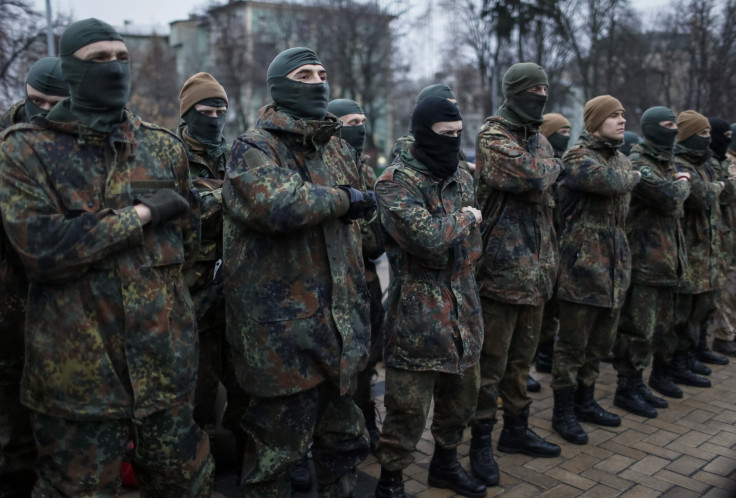 As foreign ministers of Germany, France, Russia and Ukraine prepared to meet in Berlin Monday to push for a lasting peace deal in eastern Ukraine, fighting on the ground intensified. The Organization for Security and Cooperation in Europe reported areas around the rebel-held city of Donetsk and the contested village of Shyrokyne near Mariupol have witnessed "intensive fighting." The organization, which is responsible for overseeing the conditions of the February ceasefire between Ukraine and pro-Russian forces are met, reported more than 1,100 explosions in areas near Donetsk and hundreds of instances of artillery and mortar fire around the southern port city of Mariupol.
While it has yet to gain access to the area, the OSCE has previously reported shelling increasing on the edges of Shyrokyne, with experts saying fighting there could result in a return to the sort of intense warfare seen across the Donbass region before the ceasefire took effect Feb. 15.
Speaking at the end of March, Ertuğrul Apakan, chief monitor of the OSCE special monitoring mission to Ukraine, said he was "profoundly disappointed that, in the face of mounting deaths and injuries among the civilian population, the calm that prevailed in Shyrokyne for two days has not endured."
The OSCE brokered a local ceasefire, but it collapsed after two days.
News of the fighting came as the foreign ministers of the nations known as the Normandy Four prepare to meet in Berlin to discuss the conflict. While political leaders across Europe have preferred to suggest the ceasefire element of February's Minsk II agreement is largely holding, other elements of the deal, such as how the People's Republics of Donetsk and Luhansk would be administered, have caused disagreements.
The fighting in Donetsk is firmly on the rebels' side of the contact line, an area each side promised in the Minsk II agreement not to breach. The OSCE's Special Monitoring Mission reported it witnessed 1,166 explosions from 9:35 a.m. to 3 p.m. Sunday. It said an "intensive armed clash was underway with the use of tanks, heavy artillery, automatic grenade launchers, mortars, heavy machine-guns, and small arms and light weapons." The OSCE mission said it could not verify whether the Ukrainian forces or the pro-Russian rebels were shooting, or both.
Meanwhile, military deployments along the border between NATO nations and Russia continue. The Western alliance has begun artillery exercises in Lithuania, which shares a border with the Russian exclave of Kaliningrad. The exercises, known as Flaming Thunder, will involve forces from Lithuania, Poland, Portugal and the U.S. and will last until April 24.
© Copyright IBTimes 2023. All rights reserved.