Ottawa Shooting: Attack Highlights Government Security Vulnerabilities With Post-9/11 Terrorism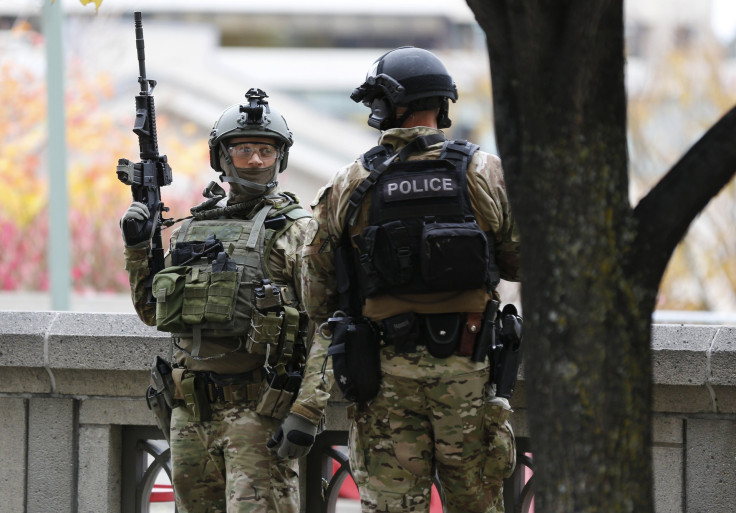 Canada is facing major government security questions following a brazen attack on its seat of government in Ottawa Wednesday. The shooting rampage that resulted in two deaths raised questions about security at some of the world's most targeted government structures as Western leaders across the globe have warned of potential terrorist attacks.
More than 14 years after terrorists crashed a plane into the Pentagon on Sept. 11, 2001, the Ottawa attack is the latest incident in a larger phenomenon of "lone wolf" attacks by self-radicalized Westerners, many of which were spurred by the Islamic State militant group active in Syria and Iraq to commit "demonstration killings." 18-year-old Numan Haider stabbed two counterterrorism officers while carrying the black flag of the Islamic State group in Melbourne, Australia, last month. There were similar attacks by home-grown Islamic extremists in France and Great Britain last year. With these attacks in mind, Australian authorities announced they would boost security around the Parliament House in Canberra on Thursday.
In the U.S., security concerns were raised after several intruders were able to enter the White House property in recent years despite it being heavily guarded. Government buildings aren't the only potential target. Iraqi Prime Minister Haider al-Abadi described in September "credible" details about potential terror plots by natives who trained with the Islamic State on New York and Paris subway systems.
"The challenge with the attacks like the one in ... Ottawa is that when you have a single individual that radicalizes on their own, it becomes a much harder law enforcement and anti-terrorism challenge to tackle," Simon Palamar, a researcher at the Centre for International Governance Innovation, told International Business Times. Self-radicalized individuals especially pose a challenge for national counterterrorism efforts because it's harder for authorities to predict what they might do. Unlike the terrorist cells that authorities focused on post-9/11, there's usually no paper trail or associates for authorities to track, Palamar said. The attacks appear to be random.
In Canada, questions over the preparedness of security on the grounds of Parliament Hill have hovered for years. Michael Zehaf-Bibeau's seemingly random attack Wednesday was exactly the type of emergency Canadian security authorities weren't prepared for. A 2012 report from the Auditor-General noted potential communication issues between the four police agencies that split duties at Parliament Hill: The Royal Canadian Mountain Police, the House of Commons Security Services, the Senate Protective Services and the Ottawa Police Service.
Canadian authorities and some legislators have long resisted implementing strict security measures at Parliament Hill in favor of maintaining a sense of openness. The public were free to hang out on the front lawn at Parliament Hill. Vickers said in a recent interview for an academic paper that he believed it to be "fundamental to our democracy that citizens have access to their place, their building."
That's going to change, according to John Ibbitson, a senior fellow at the Centre for International Governance Innovation. "The days of breezily walking in the main door at the Centre Block and flashing your press pass are over," Ibbitson said. "It's going to get much more difficult to get in. The people's parliament is going to be much more off limit to the people."
Canadian Prime Minister Stephen Harper said Thursday he would immediately seek to strengthen laws and police powers in areas of surveillance and security, but did not specify what those changes would be. Canada military authorities urged members of the armed forces to not wear their uniforms out in public and for bases to beef up security because both Zehaf-Bibeau and Rouleau's attacks this week were aimed at service members. Australian authorities did the same.
World leaders promised similar security measures after the 2001 terrorist attacks in New York and Virginia and subsequent attacks at foreign consulates and embassies belonging to Western allies of the U.S. in the ongoing fight against Islamic militants in the Middle East. But the attacks have continued. In one of the deadliest incidents, four suicide bombers struck central London's transport system, killing 52 people and injuring more than 770 in 2005.
In Washington, government buildings were left seemingly open to the public after 2001, but a visitor's center was built under the main plaza, directing tourists to enter through a security screening area. Previously, visitors all entered the main building. The underground visitors center features heavy blast-proof doors separating the screen area from the interior of the building.
© Copyright IBTimes 2022. All rights reserved.
FOLLOW MORE IBT NEWS ON THE BELOW CHANNELS