Over 30 Decomposed Bodies Of Suspected COVID Patients Found Floating In River
KEY POINTS
Officials said the bodies had been in the water for at least 5-7 days
The bodies will be cremated after clinical autopsies are performed
The incident has triggered panic among people
In a shocking incident, over 30 decomposed and bloated bodies, suspected to be that of COVID-19 patients, have been found floating in a river.
The incident happened Monday in the Indian state of Bihar. The neighboring states of Bihar and Uttar Pradesh are still struggling with the COVID-19 outbreak and witnessing long queues in front of crematoriums due to the surge in death cases.
Locals blame those living on the banks of Ganga, the sacred river, for dumping bodies into the water after running out of firewood at crematoriums. However, the bodies flowed in from the neighboring state of Uttar Pradesh, authorities said as per The Times Of India.
"The bodies are of people infected with Covid-19. From the time I am here since morning, I have seen 30-35 bodies. Some people immersed the bodies in the river, others disposed of half-burnt bodies in the water," a resident of the village of Buxar, where the bodies were washed up, told the news outlet.
While the locals claim that 40-45 bodies were spotted, officials peg the number at 30-35. The bodies were retrieved and initial examination revealed that they were days old.
"The dead bodies are bloated. They seem to have been in the water for at least 5-7 days. It needs to be investigated from where they've come," a senior district official told The Hindu, adding that the bodies could be from the nearby cities of Varanasi or Allahabad.
The bodies will be cremated later after post mortem examination.
Social activist and lawyer Ashwini Varma told The Hindu that stray dogs had fed on the bodies. "Nearly 30-40 dead bodies can be seen in the Ganga and there are stray dogs roaming around. Yes, most of them are likely to be those of COVID-19 victims," he said.
The exorbitant cost of cremation could have forced the poor to leave bodies in the river, he added. "So the poor people prefer to push bodies into the river Ganga. Stray dogs are devouring these bodies which could be of COVID-19 victims. It will spread the virus as well," Varma further told the publication.
The shocking discovery of the bodies has triggered a panic among villagers, who fear that it will result in the spread of the virus. The officials have intensified river patrolling and threatened strict action against people who dump bodies in the water.
India continues to reel under the coronavirus outbreak. Despite a slight dip in cases, the country continues to record a high number of infections. On Monday alone, India lodged a single-day rise of 366,161 cases. According to the data from the ministry, the death count stands at 246,116.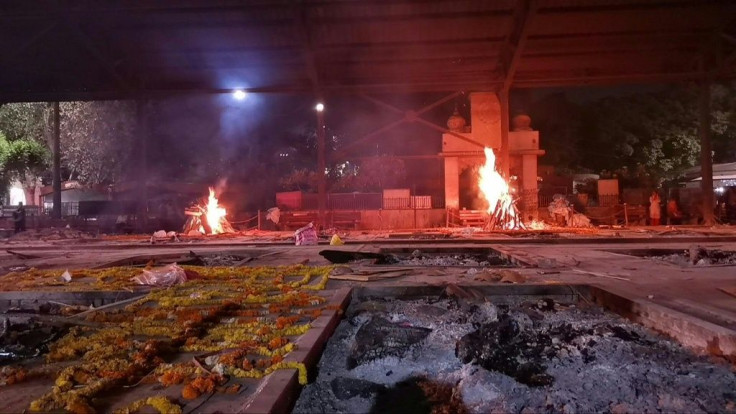 © Copyright IBTimes 2023. All rights reserved.