Will Mexico Surpass Brazil As Latin America's Largest Economy? Steadier Growth And Credit Ratings Suggest The Answer Is Yes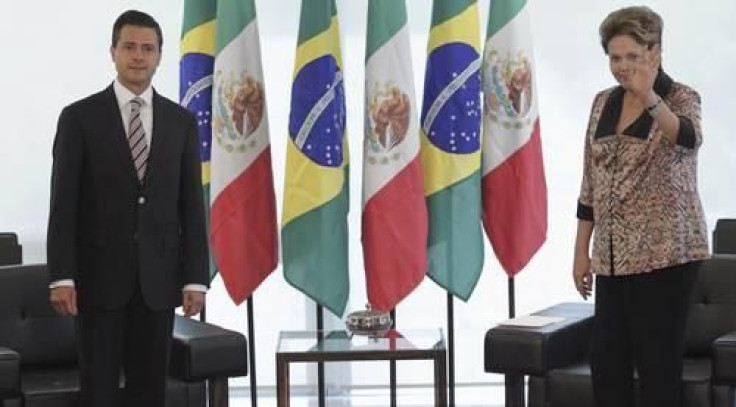 MEXICO CITY - For a long time, Mexico and Brazil were like two sides of a the same coin. Both had strong emerging economies, both were oil rich, and both were working hard on their international trade relationships. However, historically, whereas Brazil has been the traditional darling of the global economy -- Mexico has always been the bad son.
Relative to Mexico, Brazil had always been the bearer of good news, of expanding companies and a rising middle class. Mexico, on the other hand, was a focus of problems, of desperate people sneaking past the northern border and an outdated economy. As it could not have been otherwise, the global financial crisis slowed Brazil's economy, whereas it made Mexico plummet into one of the worse recessions in its history.
However, in the last year the tide has started to turn. Brazil's GDP grew a mere 1 percent in 2013, even going into a recession in the third quarter; meanwhile, Mexico's GDP growth, while not being spectacular, was more steady throughout the year. Economic growth this year is predicted to be 4 percent for Mexico, while Brazil is looking at another disappointing year of just under 2 percent growth.
Furthermore, analysis firms have been placing Mexico above Brazil in their credit ratings. Moody's elevated Mexico's score on Thursday from Baa1 to A3, making it the second country in the region to reach A status – just after Chile. Brazil, on the other hand, has had a Baa2 rating for the last few years – and Moody's has already warned that it might cut its rating further if the economy disappoints in the first half of 2014.
Standard & Poor's elevated Mexico's rating to BBB+ in December – the first firm to recognize the country's economic progress. Brazil's rating with S&P, currently at BBB, could be downgraded this year or next, given that the firm assigned a negative rating outlook last June.
Is this becoming, as some analysts have said, "the new normal"? Is Mexico on the brink of surpassing Brazil as largest economy in Latin America?
Several watchers have already pointed that Mexico will surpass Brazil as Latin America's largest economy in less than a decade. "The recent development of Mexican economy has brought euphoria to international analysts, who keep comparing it to Brazil's growth model," wrote Daniel Gallas in BBC Mundo.
Brazil's model has been, for the last decade, a focus in export of basic commodities, like raw materials – a model that many economists believe to be on the verge of ending, thus justifying the slower growth Brazil has experienced in the last three years.
Mexico, on the other hand, has focused on renewing its industry and making it suitable for more robust exports. President Enrique Peña Nieto's administration, which has been in power for a little more than a year, has shown its determination to shake the country's economic pillars with a slew of reforms, from energy to fiscal. That has not gone unnoticed by international economic players – both Moody's and S&P mention this reformist trend as reasons behind their new ratings.
Mexico has also kept busy cultivating new trade partners. In their focus stands particularly China, which last June signed the "Tequila Agreement," a hefty bilateral commerce contract that aimed at leveling the quantity of exports and imports with the Asian giant – currently at 80-20, with the balance tilting towards Mexico in amount of imports.
In the meantime, Brazil's efforts have been focused on staying afloat. Among social protests and international quarrels, for the last year the country switched into survival mode. The country has joined the list of the "Fragile Five," together with South Africa, Turkey, India and Indonesia – economies that, while still emerging, might suffer a setback in the next five years.
On top of it all, in the next few years Brazil is playing host to not one, but two of the largest sporting events on the planet: the World Soccer Cup, which commences June 12, 2014; and the summer Olympics in 2016. And whereas both events are a surefire way to bring visitors, advertising and international attention, it also means a significant initial investment that has to be shouldered by Brazil and Brazil only – which not only has pierced the country's GDP, but has also infuriated its citizens, who last summer started protests the size of which had never been seen in the country.
But whereas Mexico might be rising against a sluggish Brazil in the next decade, it is not all good news for the country: analysts pointed out at the end of 2013 that both countries have been performing under their potential.
Furthermore, they have been slowing Latin American down: the region's joint GDP grew a mere 2.7 percent in 2013, down from 2.9 percent the year before, as reported by the International Monetary Fund (IMF)– had Mexico and Brazil been taken out of the equation, the growth would have been 3.5 percent.
This year should be better, though, as the IMF projects a 3.1 percent growth for Latin America. In its report, the institution recommended more long-term plans and a switch from consumer-driven and commodities-export orientation to investment-based economies to ensure solid growth – recommendations that would suit both Mexico and Brazil well.
FOR FREE to continue reading
✔️ Unlock the full content of International Business Times UK for free
offer available for a limited time only
✔️ Easily manage your Newsletters subscriptions and save your favourite articles
✔️ No payment method required
Already have an account?
Log in
© Copyright IBTimes 2023. All rights reserved.