Paid Sick Leave Wins Approval In Vermont As Advocates Anticipate National Momentum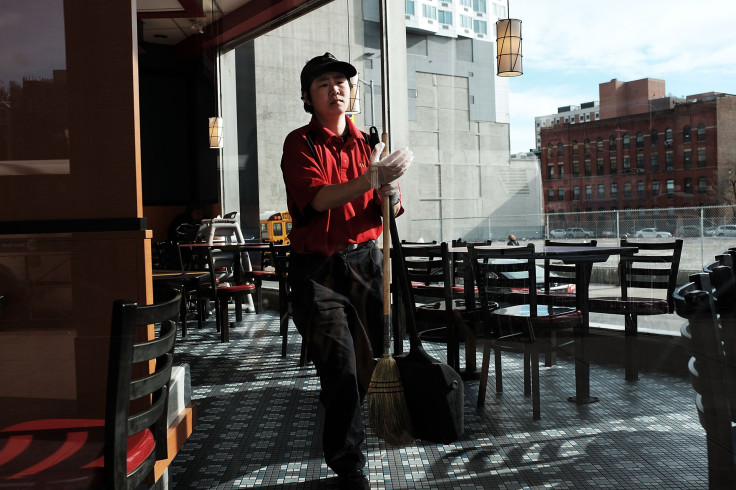 Vermont could soon join a growing group of states and municipalities that require employers to provide paid sick leave to workers. That would be quite a lift for people like Chris Barron, a food service worker who submitted testimony to a state House of Representatives committee earlier this month.
"I've gone to work sick because if I can get out of bed and go to work, then I'm not going to take the day off," Barron wrote. "I need all the hours I can get, especially in the winter when hours are being cut and my gas bill is really high."
On Wednesday night, the Vermont House gave preliminary approval to legislation that mandates businesses provide employees with at least three days of paid sick time. Two years after taking effect, the bill, which exempts temporary and seasonal employees, would extend the requirement to five days of paid leave. The House is expected to give its final approval Thursday, after which the measure would advance to the state Senate.
Support From Governor
Passage is not imminent. Observers say the Democratic-majority Senate is likely to take up the legislation next year, during the second half of the biennial session. But Michelle Fay, a former state representative and director of Vermont's Paid Sick Days Campaign, said she anticipates approval from the upper chamber, too. The bill already has support from Democratic Gov. Peter Shumlin, who said it successfully balances the concerns of workers and employers.
About 60,000 Vermonters -- including about half of people who work at companies with fewer than 20 employees -- do not have access to paid sick days, a 2013 study from the state's Labor Department says. They're among the 43 million people in the United States who lack the benefit, or about 40 percent of the workforce, the National Partnership for Women & Families says.
If legislators give the thumbs-up, Vermont would join California, Connecticut and Massachusetts as the only states in the nation that mandate some form of paid sick leave. In the absence of federally guaranteed leave, these three states and more than a dozen municipalities, including San Francisco and New York City, have enacted their own such policies over the last decade. The federal Family and Medical Leave Act allows employees to take time off after the birth of a child or during sickness, but workers are not guaranteed compensation for their time off.
"It is astounding," said Vicki Shabo, vice president of the National Partnership for Women & Families. "We're an outlier in terms of other economically competitive countries."
In addition to giving relief to workers, advocates say the measures come with common-sense public health benefits. About three-quarters of workers in the food service and hotel industries, for instance, do not have access to paid sick days, the National Partnership for Women & Families says. By failing to extend the benefits, advocates say, policymakers are encouraging more episodes like the gruesome 2008 norovirus outbreak in Kent, Ohio: A sick employee at a Chipotle restaurant was suspected of spreading the virus to more than 400 patrons.
'Nanny State Mandate'
Opponents of the policies often cite its cost for business. In Vermont, state Rep. Joey Purvis, a Republican, decried "another nanny state mandate that will hurt small business and result in job loss." Even in solidly liberal Vermont, a handful of Democrats voted against the bill, presumably out of concern for employers. That came even after supporters toned down the original bill by extending, up to a year, a waiting period for new hires to benefit from the policy.
The Vermont Chamber of Commerce did not respond to a request for comment. Nor did the National Restaurant Association, which has opposed such efforts in the past. The restaurant group has also supported bills that seek to prevent local governments from adopting their own paid sick leave requirements.
The Vermont Joint Fiscal Office, which provides nonpartisan financial analyses to the state Legislature, says the new mandate could cost businesses between $6.2 million and $14.3 million annually once fully implemented.
Shabo, though, said the economic arguments against paid sick leave are "the same arguments that have been trotted out over time" against other pro-worker reforms, from the Social Security Act of 1935 to the Americans with Disabilities Act of 1990.
Jessica Milli is a senior research associate at the Institute for Women's Policy Research, which also supports mandatory paid sick leave. Her side of the debate is gaining traction, in part, she said, because it can easily defy critics by pointing to on-the-ground success: In places like San Francisco or Connecticut, "it's not this doom and gloom scenario" that opponents warn about.
President Barack Obama voiced support for paid sick leave in his most recent State of the Union address. Although opposition from the Republican majority in Congress means federal legislation is unlikely to pass anytime soon, Milli remains optimistic.
"We're pretty sure there's going to be a federal policy soon," she said. "We're just not sure when."
State representatives in Oregon and Washington have also voted to advance paid sick leave legislation this year.
© Copyright IBTimes 2023. All rights reserved.
FOLLOW MORE IBT NEWS ON THE BELOW CHANNELS