Palestinian FM Seeks ICC War Crimes Case Against Israel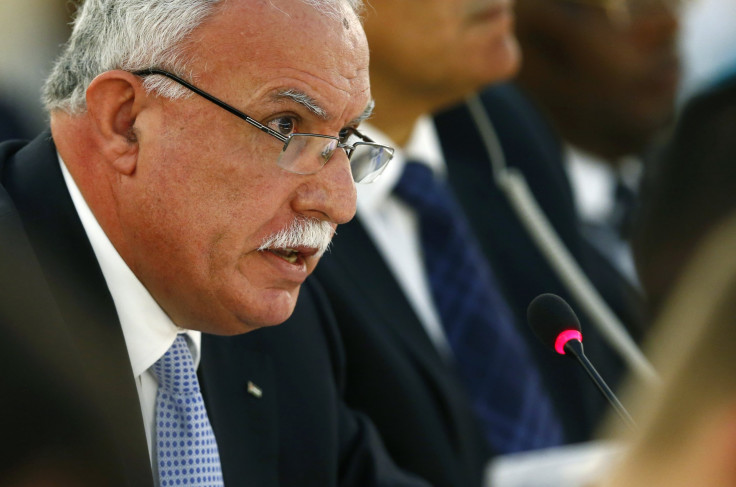 THE HAGUE (Reuters) -- Palestinian Foreign Minister Riad al-Malki said there was "clear evidence" of war crimes by Israel during its offensive in Gaza as he met International Criminal Court prosecutors on Tuesday to push for an investigation.
Malki visited The Hague shortly after Israel and the Palestinian Islamist Hamas movement that rules Gaza entered a 72-hour truce mediated by Egypt in an effort to pave the way for an extended cease-fire.
Malki said the Palestinian Authority wanted to give the ICC jurisdiction to investigate alleged crimes by all sides and had discussed a timeline with prosecutors to join the court. He did not provide details.
By joining the court, the Palestinian territories would automatically open themselves up to possible investigations into crimes within their borders and could also grant jurisdiction to investigate crimes dating back to July 1, 2002, during the bloody Second Intifada.
"If it entails action committed by Palestinian groups, then we are ready to accept that," Malki said. "But nothing compares to the atrocities, the carnage, committed by Israel."
Israel and the Palestinians traded accusations of war crimes during the Israeli military onslaught into Gaza, during which Hamas kept up rocket fire into the Jewish state. Both sides defended their actions as consistent with international law.
Last week, the United Nations launched an inquiry into human rights violations and crimes alleged to have been committed by Israel during the offensive given the far higher toll of civilian deaths and destruction on the Palestinian side.
POSSIBLE ISRAELI COUNTER-SUIT
Malki, visiting the court to lobby for action against Israel over its Gaza incursion, said the Palestinians aimed to formally joint the ICC to open the legal avenue for an investigation.
"Everything that has happened in the last 28 days is clear evidence of war crimes committed by Israel, amounting to crimes against humanity," he told reporters in The Hague. "There is no difficulty for us to show or build the case. Evidence is there ... Israel is in clear violation of international law."
Israel declined public comment, but a senior Israeli official who asked not to be identified said any ICC legal action against Israel over the Gaza conflict would prompt an Israeli counter-suit at the ICC against the Palestinians.
However, as neither Israel nor the Palestinians are members of the ICC, the court has no jurisdiction over Gaza at this time. This could be granted in a U.N. Security Council resolution, but Israel's main ally, the United States, would have the power to veto any such proposal.
Israel has said it does its utmost to avoid civilian casualties in conflict with the Palestinians but has accusedHamas of putting its people in harm's way by launching rockets from within densely populated areas of Gaza.
Membership of the ICC opens countries to investigations both on their behalf and against them. Several major powers, including the United States, as well as Israel have declined not to ratify the court's founding treaty, theRome Statute, citing the possibility of politically motivated prosecutions.
The ICC, created more than a decade ago to prosecute individuals for war crimes, is a court of last resort, meaning that it will only intervene when a country is found to be unwilling or unable to carry out its own investigation.
ICC prosecutors declined to investigate allegations against Israel relating to its 2012 incursion into Gaza to counter Hamas rocket salvoes, citing the unclear status of Palestinians' quest for statehood recognition at theUnited Nations.
Gaza officials say 1,834 Palestinians, most of them civilians, have been killed in the latest Gaza war. Israel maintains that almost half of those killed were militants.
Israel has put its own death toll at 64 soldiers and three civilians.
Amnesty International appealed to the United States on Monday to halt transfers of fuel shipments to the Israeli military. It said there was mounting evidence of war crimes from both Israel and the Palestinians and an ICC investigation would be crucial in stopping the cycle of violations.
© Copyright IBTimes 2023. All rights reserved.