Paris Officials Ban Cars Registered Before 2000 To Fight Pollution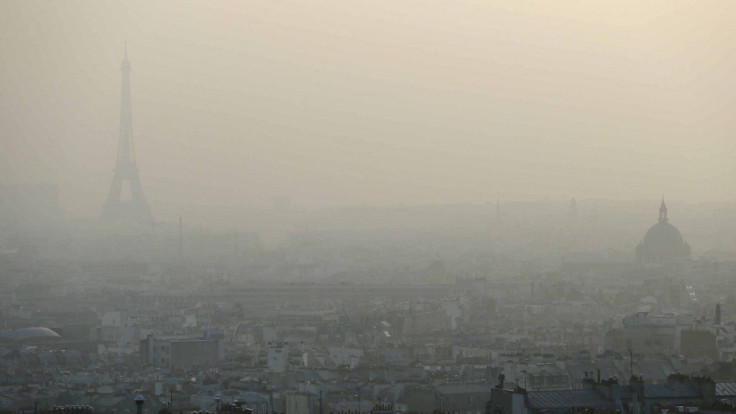 Recent pollution spikes in Paris are forcing officials to take drastic measures in an effort to improve air quality. Motor vehicle traffic and home heating are the cause of two thirds of the recent pollution in Paris according to Charlotte Songeur, an engineer and press officer at Airparif.
Paris officials have developed a five level labeling system which groups all cars into different categories. Level 1 cars are the most eco friendly and level 5 cars are the most harmful. Diesel cars developed between 1997-2000 are considered level 5 and are now banned from Paris roads. Nearly six percent of cars owned in Paris are registered between 1997-2001 and officials hope to ban all cars registered before 2005 in the near future according to The Independent.
Buses and trucks registered before 2001 and vehicles registered before 1997 are also prohibited from driving in the city between 8 a.m. and 8 p.m.
Pollution spikes have steadily decreased since 2012 in which there were "44 days of very high air pollution," according to Songeur. Only 15 days of very high air pollution were recorded in 2016. However, 2017 is off to a bad start with three days of very high pollution already reported by Airparif.
In a recent statement given by Paris Mayor Anne Hidalgo, she said, "To tackle the source of the problem is notably encouraging motorists to change their modes of transport to reduce motor traffic." To provide an incentive, authorities offered a "pollution ticket" on Monday which provided an entire day of free travel on public transportation in Paris.
"The real challenge is finding a solution to fighting air pollution throughout the year," said Songeur in an interview with France 24. "Not just when we face pollution peaks and everyone is suddenly concerned." For now, Paris officials are hoping that more citizens will begin to use public transportation while a solution is being researched.
© Copyright IBTimes 2023. All rights reserved.