Paris Terror Attack: The Kouachi Brothers Were On France's Radar Before Charlie Hebdo Shooting, So Why Weren't They Stopped?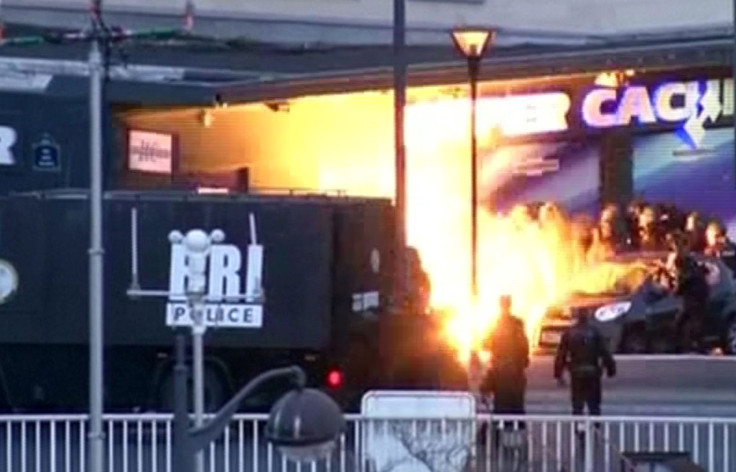 French brothers Said and Chérif Kouachi had been on French intelligence's radar for years, were on a U.S. no-fly list and had ties to known terrorist groups. At least one of them had traveled to Yemen and may have trained with al Qaeda insurgents. Despite these and other red flags, the gunmen behind Wednesday's Charlie Hebdo massacre were not treated as priority targets by French counterterrorism agencies.
Since the fatal shootings, authorities in France have faced increasing pressure to justify how two supposed Islamic extremists were able to slaughter 12 people and wound several others at the headquarters of Charlie Hebdo, a satirical magazine whose caricatures of the Prophet Muhammad are thought to have provoked the attack. "In France, they have quite aggressive counterterrorism practices," said Raffaello Pantucci, director of international security studies at the Royal United Services Institute in London. "They are, in some cases, more aggressive than other European countries."
France's counterterrorism agencies focus heavily on stopping the recruitment of French nationals into terrorist groups, an agenda that leans heavily on a network of local intelligence and less on automated methods of observation like phone tapping, a 2012 report by the New York Times found. Intelligence is far more centralized than in the U.S., a system that makes France better informed but "less able to 'connect the dots' than the Americans," according to the Times report.
A series of bombings in Paris in 1995 that killed eight people and wounded more than 100 pushed the government to shore up its anti-terrorism efforts. France has the largest Muslim population in Europe and is easily accessible to North Africa and the Middle East. Human contacts and frequent raids of extreme Islamic networks and mosques have been the mainstays of French intelligence gathering. Such infiltrations have not been without controversy and have often led to allegations of civil rights abuses and racial profiling.
France's domestic intelligence agency is the Direction Générale de la Sécurité Intérieure, or General Directorate for Internal Security in English. The French National Police's primary anti-terrorism unit is a special force team known as Recherche Assistance Intervention Dissuasion, or RAID – the French equivalent of the U.S. SWAT team.
Even with what experts have said is a relatively robust anti-terrorism apparatus, resources get stretched thin, and those who wish to do harm to others may simply slip through the cracks. "If you're' looking at 200 people … you have to make choices in that selection" about who to monitor more closely, Pantucci said. While the Kouachi brothers certainly had the French government's attention, authorities probably had other, supposedly more dangerous people to target, Pantucci said.
French intelligence had long suspected that Said and Chérif Kouachi had ties to international terrorists, but one reason they may have fallen off the radar was that the brothers had kept a fairly low profile in recent years, despite earlier run-ins with the law. In 2005, police stopped then-22-year-old Chérif Kouachi from leaving France after authorities discovered he had prepared to fight alongside Iraqi insurgents. He was later arrested and questioned, but not charged, in 2010 in connection to an alleged plan to free an imprisoned Islamic militant serving a life sentence for bombing a Paris train in 1995.
Said Kouachi, 34, was thought to have fought for al Qaeda in Yemen and may have been in the Arabian country until 2012. The brothers were born in France and raised in Paris. Their parents were Algerian and died in 1994.
Interpol maintains a Stolen and Lost Travel Documents database that it makes available to countries all over the world, but reports have previously shown that many documents end up not getting screened against the database. The agency currently tracks roughly 40 million stolen or lost passports. Last year, a report by Interpol found that 40 percent of travel documents are not screened against its database. The study estimated that in 2013, there were 1 billion instances in which travelers did not have their passports checked against Interpol's database while boarding.
The brothers have not been linked to using stolen passports to go abroad, but they did appear on the U.S. no-fly list. That doesn't mean foreign governments necessarily recognize those classifications. France does not have a no-fly list like the U.S., although Pantucci said there is probably some "overlap" in whom the French government monitors.
Recruitment of potential terrorists from Western countries is a mounting problem for European and U.S. leaders. An estimated 3,000 Europeans have traveled abroad to fight with the Islamic militant group ISIS, also known as the Islamic State, according to the European Union's counterterrorism chief Gilles de Kerchove. "The challenge is for each member state to assess each and every returnee, assess their dangerousness and provide the adequate response," de Kerchove said in September.
France is among the countries from which foreign terrorist organizations recruit the most. Other European countries with high rates of recruitment include Belgium, Britain, Denmark, Germany, the Netherlands and Sweden. An estimated 20 to 30 percent of these fighters have returned to their home countries, according to Kerchove.
"We must be thinking differently about how kids are being recruited," Farah Pandith, the U.S. State Department's first-ever special representative to Muslim communities, said in a call with reporters on Friday. "They're not recruiting people over the age of 40. They're recruiting young, nimble people." Often, these recruits can lay low for years without partaking in overt activity that would necessarily put them on an intelligence agency's radar.
Said and Chérif Kouachi stormed the offices of Charlie Hebdo on Wednesday, killing several employees and two police officers. The attack kicked off a massive manhunt that ended Friday with both suspects being killed after they were traced to the town of Dammartin-en-Goële 40 kilometers (25 miles) north of Paris, where they were holed up at a printing company with a hostage. A third suspect in the attack on the Paris offices, 18-year-old Hamyd Mourad, surrendered to authorities on Thursday.
In the wake of the attacks, European Union officials are vying for newer and stricter databases for monitoring travel in and out of Europe, a responsibility that falls on the shoulders of the Council of the European Union, specifically its counterterrorism department Europol.
Several EU countries have called for stricter border checks on suspected terrorists flying home to Europe. "More structured and more uniform use of databases [are required] in order to ensure better control and detection in order to monitor movement of potential foreign fighters," said a confidential document intercepted by the Telegraph.
"We need to do more," Polish Prime Minister Donald Tusk, the president of the European Council, said Friday during a press conference in Riga, Latvia. "Next week in Strasbourg [France] I will appeal to the European Parliament to speed up work on the EU passenger name record system. I hope that it can help in detecting the travel of dangerous people after this tragic attack in Paris."
© Copyright IBTimes 2023. All rights reserved.
FOLLOW MORE IBT NEWS ON THE BELOW CHANNELS