Passenger Aircraft Crash Lands At Nairobi Airport; Landing Gear Problem Reported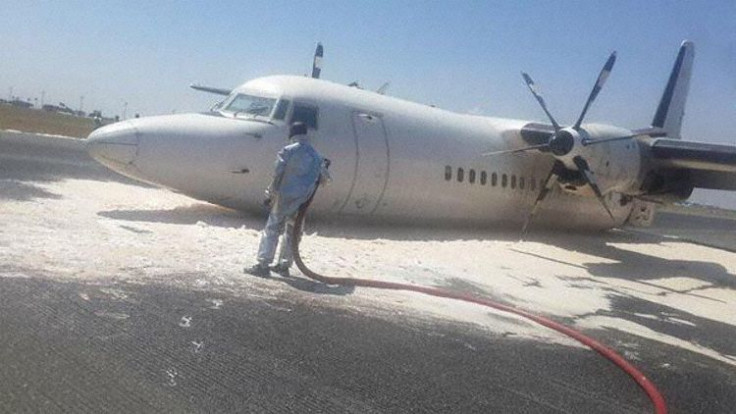 A passenger jet crashed landed at Nairobi airport Sunday, forcing the suspension of all flights into the city. Officials at the Jomo Kenyatta International Airport reported no deaths or injuries, the BBC reported.
"Our very experienced crew performed a very difficult maneuver and undertook a successful belly landing on JKIA's runway 06 at 11:02 [a.m.], local time, with no injuries to anyone [either] in the aircraft and on the ground," said Emil Arao, director of Skyward International, owner of the aircraft.
The Kenyan press reported the Fokker 50 turboprop was hit by two birds on takeoff, one of which lodged in the landing gear mechanism. The landing gear then failed, forcing the plane to land on its belly on arrival in Nairobi. The plane was carrying six passengers. Emergency services were scrambled for the landing.
"On approaching Nairobi Wilson Airport and extending the landing gear, the nose wheel and the right main landing gear extended; but the left main landing gear did not extend as its door was wedged shut by the remains of the bird," representatives of Skyward told local media. "After extensive troubleshooting and use of the emergency gear extension to lower the gear, the crew realized that nothing could lower the left main landing gear."
All flights into the capital were diverted to the port city of Mombasa for around five hours. Later in the day the airport, one of Africa's busiest, serving 19,000 passengers a day, was cleared and the runway was reopened.
The aircraft was traveling from the northeastern town of Wajir when the incident occurred. Skyward said the flight had originated in Somalia.
A major fire caused the airport to shut for three days in 2013.
© Copyright IBTimes 2023. All rights reserved.