PC Sales To Recover In 2015 While Tablet Market Continues To Mature Worldwide: Gartner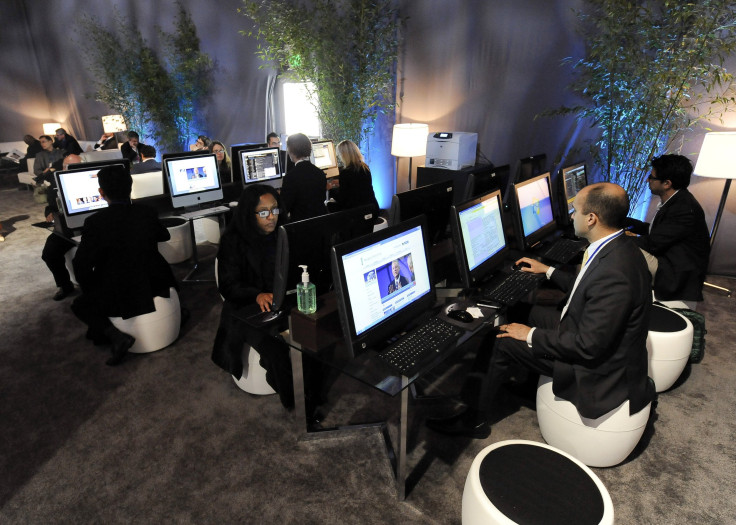 After years of decline, the personal computer, or PC, segment is on course to experience a modest uptick in 2015 while growth in tablet shipments is expected to slow down slightly this year, according to a new report released by Gartner Inc. (NYSE:IT) on Monday.
Although the number of PC units shipped is projected to fall to about 308 million units in 2014 from 317 million units in the previous year, sales are expected to rebound next year by crossing the 316 million mark, mainly due to software upgrades. This year, the PC market -- including desk-based PCs, notebooks and premium ultramobiles devices such as a hybrid of a tablet and a laptop -- is expected to shrink only 2.9 percent as compared to last year's 9.5 percent decline.
"2014 will be marked by a relative revival of the global PC market," Ranjit Atwal, a research director at Gartner, said in a statement. "Business upgrades from Windows XP and the general business replacement cycle will lessen the downward trend, especially in Western Europe. This year, we anticipate nearly 60 million professional PC replacements in mature markets."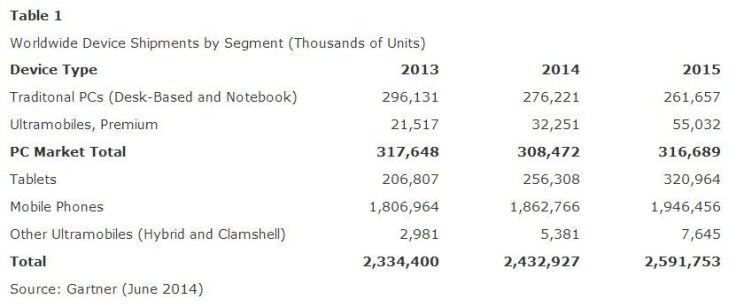 Overall, according to Gartner, the worldwide combined shipments of devices, including PCs, tablets, ultramobiles and mobile phones, are estimated to reach 2.4 billion units in 2014, a 4.2 percent increase from 2013, while shipments are likely to reach nearly 2.6 billion units in 2015. However, shipments of tablets alone are estimated to see slower annual growth in 2014 to reach 256 million units.
"As with any devices, adoption goes through phases from the early to the late adopter; tablets are currently moving onto the latter part of that curve in mature markets," the Gartner report said. "Lower demand from users for tablets with smaller screens, some in favor of larger screens, in mature markets, and the shift towards phablets in South-East Asia are slowing global tablet penetration."
Meanwhile, the report was optimistic about mobile-phone sales, predicting that total shipments in this segment are expected to reach nearly 1.9 billion units in 2014, a 3.1 percent increase over 2013. The report also added that smartphone sales will represent 88 percent of worldwide mobile-phone sales by 2018, up from 66 percent in 2014.
Among operating systems, Google Inc.'s (NASDAQ:GOOGL) Android and Apple Inc.'s (NASDAQ:AAPL) iOS are expected to drive growth with a 30 percent and 15 percent annual increase respectively, in 2014, while Microsoft Corporation's (NASDAQ:MSFT) Windows Phone is also estimated to record strong growth over the next four years.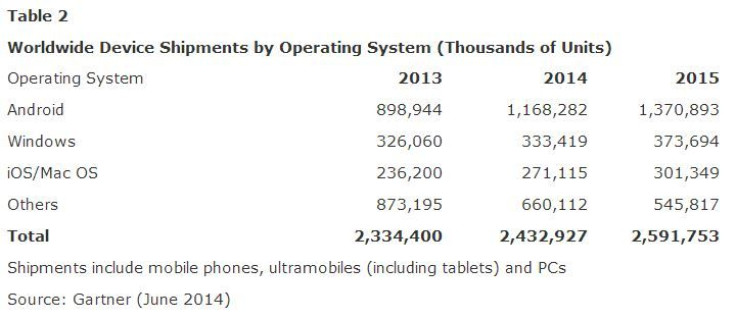 "We expect the announcement of the new Apple iPhone 6 will attract pent-up demand for users who want a larger screen," Annette Zimmermann, a research director at Gartner, said in the statement. "Windows phones will exhibit strong growth from a low base in 2014, and are projected to reach a 10 percent market share by 2018 — up from 4 percent in 2014."
© Copyright IBTimes 2023. All rights reserved.
FOLLOW MORE IBT NEWS ON THE BELOW CHANNELS