Perry Comes Out Swinging at GOP Debate, Scorns Social Security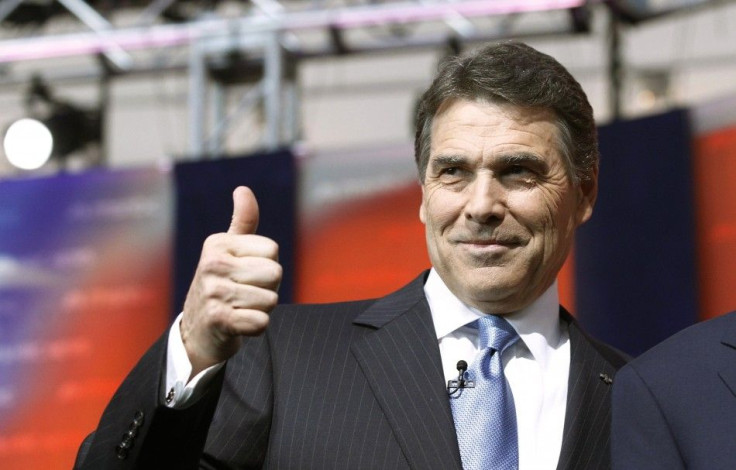 Texas Gov. Rick Perry came out swinging in his national debut on Wednesday, all but calling President Barack Obama a liar, describing Social Security as a fraud and attacking his main Republican rival in the presidential race.
Perry, a conservative Tea Party favorite, traded barbs with closest competitor Mitt Romney over who has created more jobs.
Their testy exchange in Perry's first presidential debate was proof that the fight to determine the 2012 Republican challenger to Democrat Obama is becoming a two-man contest.
The Republicans battled with each other to promote their records on jobs, a day before Obama makes a crucial speech to Congress on his plan to bring down the 9.1 percent jobless rate.
Perry, who entered the race only a month ago and has leapfrogged over Romney in Republican polls, was full of confidence but may be forced to defend some blunt comments.
Using harsh language, he said Obama is an abject liar if he really believes the U.S. border with Mexico is stronger.
And Perry declared Social Security a Ponzi scheme, the kind of comment that Democrats can seize on as proof that the Texas governor would try to dismantle the popular government-run retirement program.
Anybody that's for the status quo with Social Security today is involved with a monstrous lie to our kids, and it's not right, said Perry.
It was up to former Massachusetts Gov. Romney to defend the program and allow him to appeal to independent voters who may well decide the 2012 election.
You can't say that to tens of millions of Americans who live on Social Security and those who have lived on it, Romney said.
The Perry-Romney fireworks largely overshadowed the six other candidates in the debate, reducing almost to spectators Minnesota Rep. Michele Bachmann, seen as the third-placed contender, and the gaggle of other longshot candidates.
TWO-MAN RACE
The debate at the Ronald Reagan presidential library, a shrine to the Republican president, was the first in a series in the next six weeks likely to help define the Republican race with early voting states to begin choosing early next year.
Basically this is another affirmation that the race has become a two-man contest, said Matthew Dowd, a former campaign strategist for President George W. Bush. Perry met the threshold and Romney stays in.
Of Bachmann, Dowd said: she disappeared off the podium.
The event, sponsored by NBC News and Politico, was only minutes old when Perry charged Romney with having one of the worst records creating jobs in Massachusetts in history.
This was an attempt to undermine Romney's argument that he can rebuild the U.S. economy better than the struggling Obama. The president is to unveil a jobs plan on Thursday to try to bring down America's chronically high unemployment rate, the main issue in the 2012 campaign.
As a matter of fact, we created more jobs in the last three months in Texas than he created in four years in Massachusetts, Perry said, fending off a question over whether many of those Texas jobs are low wage.
Wait a second, Romney interjected when the moderator sought to ask another question. Romney said Perry benefited from vast reserves of oil in a state that has no income tax, unlike Massachusetts.
Governor Perry doesn't believe that he created those things, Romney said. If he tried to say those things, it would be like Al Gore saying he invented the Internet. The reality is there are differences between states. I came into a state that was in real trouble... I'm proud of what we were able to do in a tough situation.
Democrat Gore was famously forced to defend himself during the 2000 presidential campaign for saying he helped create the Internet.
Perry fired back, comparing Romney to Democrat Michael Dukakis, the former governor of Massachusetts who lost the presidential campaign in 1988 to Republican George H.W. Bush.
Michael Dukakis created jobs three times faster than you did, Mitt, Perry said.
The exchange showed Perry capable of defending himself among rivals trying to knock him off his perch.
I kind of feel like the pinata here, Perry said when Bachmann challenged him.
Obama may well have been the pinata as well as the candidates repeatedly questioned his economic policies.
While praising Obama for the successful mission to kill Osama bin Laden, Perry hit Obama over high government spending, and Romney declared Obama in over his head on the economy.
We have a crisis in confidence in part because we have an absence of leadership, said Romney.
Romney shied away from aligning himself directly with the Tea Party, the conservative movement that has been a driving force in Republican politics over the past year. This further reflected an attempt not to alienate independent voters.
If the Tea Party is for keeping government small and spending down and helping us create jobs then, hey, I'm for the Tea Party, he said.
© Copyright Thomson Reuters 2023. All rights reserved.