Philippines, US Hold Joint Sail In South China Sea As 'Testament To A Robust Maritime Cooperation'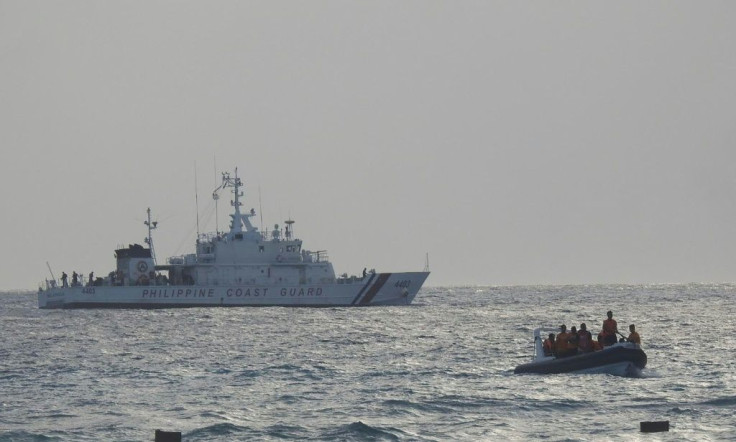 KEY POINTS
The activity saw two advanced warships from both sides sail together in the waters west of Palawan island
This was the first joint sail carried out by Manila and Washington, the Philippines armed forces said
The aim was to enhance interoperability between the two navies
The navies of the Philippines and the United States conducted a joint sail in parts of the South China Sea with the aim of enhancing maritime cooperation.
The Armed Forces of the Philippines' (AFP) Western Command said that naval vessels from both sides cruised through the waters lying west of Palawan island in the bilateral sail activity carried out by Manila and Washington.
The joint sail saw two advanced warships — the Philippine Navy's guided-missile frigate BRP Jose Rizal (FF150) and the U.S. Navy's Arleigh Burke-class guided missile-destroyer USS Ralph Johnson (DDG 114) — cruise side by side Monday "as a testament to a robust maritime cooperation," AFP said in a statement.
The aim of the activity is "enhancing interoperability between the two navies," the statement further said, adding, "In particular, this event aims to provide an opportunity for the Philippine Navy and the U.S. Indo-Pacific Navy to test and refine existing maritime doctrine and demonstrate their defense capabilities in line with the shared commitment of upholding peace and security in the Indo-Pacific Region."
"The AFP shall continue to be involved in bilateral and multilateral activities that will contribute to the AFP's capability development to perform its mission of protecting the country's national sovereignty and national territory," it said.
Commander Ariel Coloma, the spokesperson for the AFP Western Command (WESCOM), said the one-day bilateral sail activity was not related to issues with China.
Territorial disputes in the South China Sea continue to strain relations between Manila and Beijing.
"This particular activity ... has been agreed upon by both forces of the U.S. and the Philippines and as host country, we actually have the leeway to do this as long as it is both planned by two forces to develop and further strengthen our cooperative ties and also interoperability with our foreign counterparts," Coloma said.
The Philippines has accused China, which has militarized manmade islands in the disputed South China Sea, of displaying aggressive acts in the region. Manila's complaints include an Aug. 5 incident accusing the Chinese Coast Guard of using a water cannon against a Philippine vessel that was involved in a resupply mission.
The U.S. showed support for the Philippines following the August incident.
"The United States stands with our Philippine allies in the face of dangerous actions by the Coast Guard and maritime militia of the People's Republic of China (PRC) to obstruct an August 5 Philippine resupply mission to Second Thomas Shoal in the South China Sea," the U.S. Department of State said at the time.
© Copyright IBTimes 2023. All rights reserved.