'Pink Slime' Factories Brace For Permanent Shutdown, BPI Slashes 650 Jobs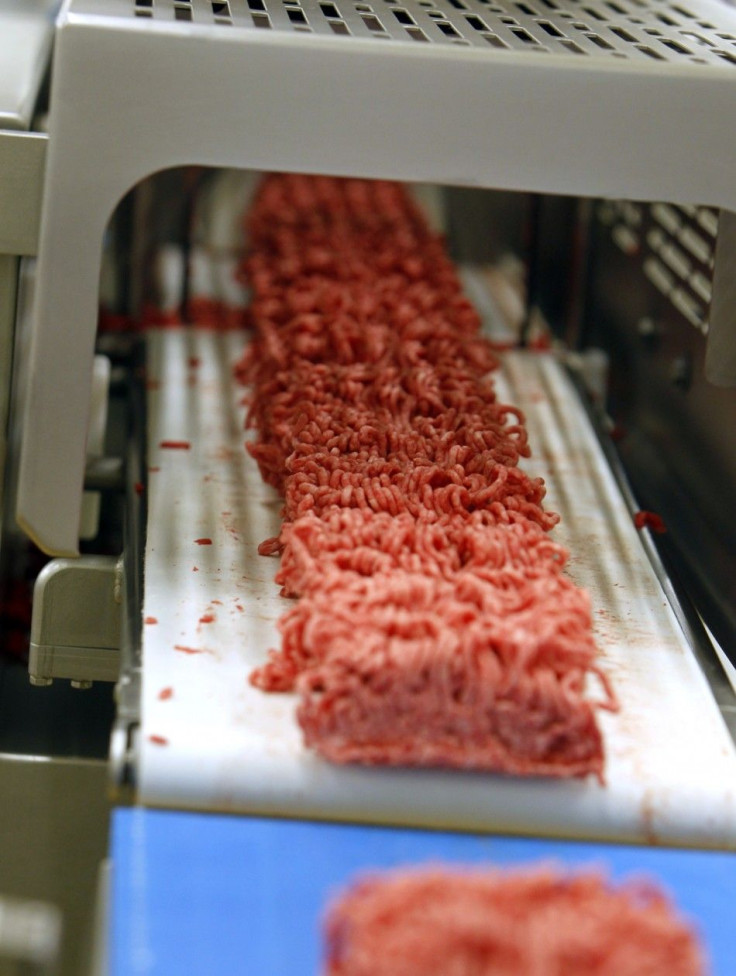 The makers of the meat product infamously labeled pink slime have reportedly decided to close three of its beef processing plants, following months of criticism against the use of the meat filler in food products.
Beef Products Inc. (BPI), the South Dakota-based company that has produced the ammonia-treated meat for decades, announced Monday that the plant closures in Texas, Kansas and Iowa would take place on May 25 and that the shutdown would yield a loss of 650 jobs, the Associated Press reported.
These three plants have had operations suspended since March. Operations at the fourth plant in South Sioux City, Nebraska, will continue but at a declined rate, which the company hopes will pick up if market conditions for the product improve.
BPI officials believe that business recovery may be unlikely in the near future, and that those employees laid off have received salaries in full. The company has not revealed any financial details, the AP said.
We will continue communicating the benefits of BPI's lean beef, but that process is much more difficult than (countering) the campaign to spread misinformation that brought us to this point, company's spokesperson Rich Jochum said Monday in a press statement, according to the AP.
Several politicians, including Terry Branstad, Rick Perry, Sam Brownback, Rick Sheehy and Matt Michels, have taken the stand for BPI and cited the shutdown as a result of a smear campaign that seeks to sabotage the company's reputation.
BPI is a good family-owned business, and we will continue to work with them in an effort to continue to promote their safe and healthy beef,' Nebraska Governor Dave Heineman said, according to the report.
The controversial meat filler has been repeatedly disparaged as a chemical-packed product that is deemed unfit for human consumption.
The filler was allegedly found to be a nasty concoction of meat trimmings washed in ammonium hydroxide to kill pathogens, and was served in the guise of burger patties to the unsuspecting public at fast food joints and even school cafeterias across the country.
Business took a hit once critics got wind of the kind of ingredients involved in processing the textured meat, following which unpleasant photos of the gooey substance were brandished all over the media.
The controversy led to several restaurant chains and school districts banning the product from their menus, thereby affecting production and business in large. AFA Foods, a US company that processes over 500 million pounds of ground beef products annually, filed for bankruptcy early April citing severe loss in business on account of the pink slime scandal, earlier reports said.
On the other hand, Tyson Foods Inc, another meat-processing company, reported that its second quarter earnings climbed to 4.4 percent despite suffering a $1 million operating loss. Tyson's high priced meat was said to have evened out the declined volumes of sales which slid down by 11 percent. Revenue rose 3.4% to $8.3 billion, up from the previous year's second quarter at $8 billion, the LA Times said Monday.
Donald J. Smith, Tyson CEO, believes that the worst is over for the food service industry and that sale in beef products at restaurants were improving. However, the publication cited inflation and not volume as the possible reason for spike in meat sales.
With consumer optimism gradually gaining traction, BPI hopes to reopen its plants in about two months, according to KCRG news website.
© Copyright IBTimes 2023. All rights reserved.