Pink Slime Scandal: Ammonia Used In Cheese, Chocolate, Baked Goods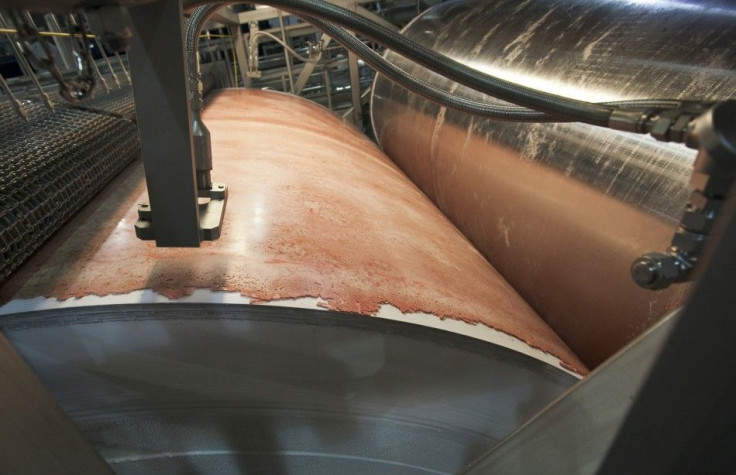 The pink slime scandal has gripped Americans who are disgusted about the use of ammonia in ground beef, but ammonia is also used in the production of many other foods including cheese, chocolate, baked goods and more.
The widespread use of pink slime, a type of meat product treated with ammonia and known in the beef industry as lean finely-textured beef (LFTB) or boneless lean beef trimmings (BLBT), has come as a shock to millions of consumers who are appalled that their hamburgers often include the reviled product.
But increased scrutiny of the world of technologically-advanced food production has revealed that the federal government approved the use of ammonia in a wide range of foods almost four decades ago. Ammonia, a caustic chemical often used as a cleaning agent, is approved to be used in cheese, and related chemicals are used in baked goods and even chocolate, according to Reuters.
Ammonia compounds are used by some companies to leaven baked goods, while they are also used to control acidity in cheese and chocolate, according to the UK's Daily Mail newspaper. The pink slime scandal arose when a whiste-blower made very public the fact that ammonium hydroxide is used to kill pathogens such as E. coli in ground beef.
In significant amounts, ammonia, which is immediately recognizable by its strong scent, is very toxic when consumed by humans, but food producers say they only use small amounts of the chemical, which is one of many used in foods the vast majority of the public would never assume include such compounds.
And the U.S. government has declared that the use of small amounts of ammonia in food production is acceptable, despite any blowback caused by the massive outrage that arose out of the pink slime scandal.
As word continues to spread about the pink slime scandal, a whole spate of new information about odd chemicals being found in foods is emerging.
New York Times columnist Nicholas D. Kristof wrote this week about a whole range of chemicals that new studies show have been used in the raising of chickens, from benadryl to banned antibiotics and even arsenic.
And the weird, gross and bad news keeps coming as the public gets more and more aware of the industrialized nature of food production in the United States.
Since the pink slime scandal, fast food restaurants and school districts have banned the foods from their offerings, inquiries have been launched, and Beef Products Incorporated -- a key producer of LFTB -- has had to halt production at some of its factories, while another producer, AFA Foods filed for bankruptcy Monday after its business suffered in large part due to the pink slime scandal.
The food industry is trying to fight the charges that ammonia is a bad thing to add to food, and the Daily Mail reports that Gary Acuff, the director of the Texas A&M University Center for Food Safety said the following at a recent event hosted by Beef Products Incorporated:
Ammonia's not an unusual product to find added to food, Acuff said. We use ammonia in all kinds of foods in the food industry.
And much of the time, the FDA and other federal agencies don't require ammonia and similar additives to be listed on ingredient lists. In other words, be careful what you eat, but you'll likely be eating ammonia even if you do cut beef out of your diet. The pink slime scandal continues to get ickier.
© Copyright IBTimes 2023. All rights reserved.