Plotting To Destroy America? There's An App For That Or At Least There's An Apple Mac For That; Kim Jong Un's Favorite Apple Computer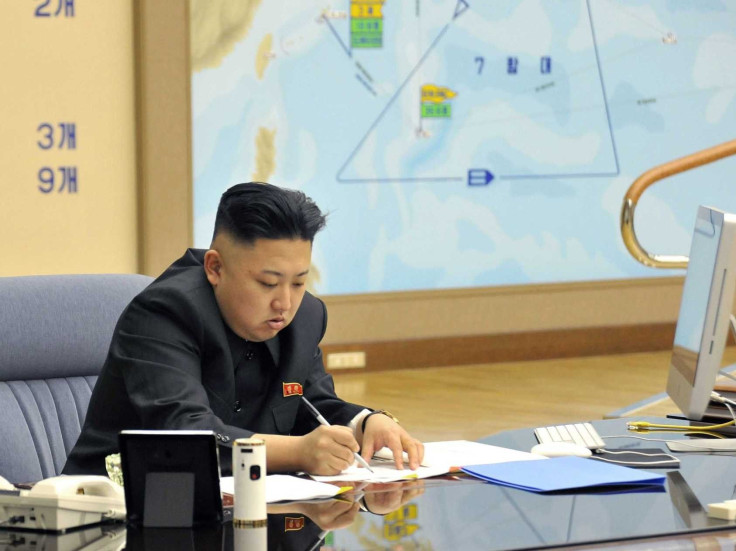 Pictures released last night have finally confirmed long-held suspicions that, when it comes to plotting the demise of America, North Korean leader Kim Jong Un prefers to use a Mac.
The series of photographs, taken in a military command center, show the North Korean leader surrounded by generals as he signs an order to put rockets on standby to attack the U.S. mainland.
And among the shots of charts and missile trajectories, Kim is pictured sitting while signing papers with the distinctive Apple iMac computer perched on his desk.
According to NKNews.org, the shot shows: "A 21.5 inch aluminum unibody iMac is on Kim Jong Un's desk, confirming long-held rumors of the Kim family's passion for Apple Macs."
The news comes as Kim ordered the country's rockets on stand-by to target the U.S. and South Korea following the flight of two American stealth bombers over the Korean Peninsula on Thursday.
The state-run Korean Central News Agency (KCNA) said: "[Kim] convened an urgent operation meeting on the Korean People's Army's Strategic Rocket Force's performance of duty for firepower strike at the Supreme Command at 00:30 Friday."
The North Korean leader said the time has come to "settle accounts" with the U.S. North Korea views that the recent flight of nuclear-capable B-2s, as part of a military drill, has gone "beyond the phase of threat and blackmail".
Once again stepping up the threats against the U.S. and South Korea, Kim said: "If they make a reckless provocation with huge strategic forces, the Korean People's Army should mercilessly strike the U.S. mainland, their stronghold, their military bases in the operational theatres in the Pacific, including Hawaii and Guam, and those in South Korea."
© Copyright IBTimes 2023. All rights reserved.