Pokémon Go Generates $500 Million In Revenue In Record Time, Even As Usage Slows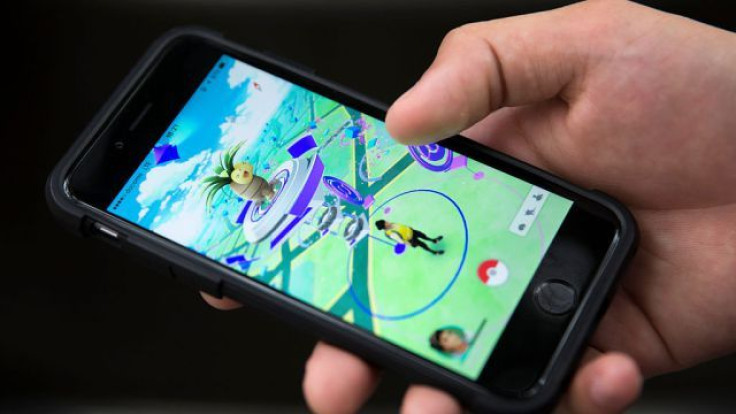 Pokémon Go has generated over $500 million in revenue and is anticipated to make a billion dollars by the end of the year, according to a new report from business intelligence firm App Annie. The game is just over 60 days old—after first debuting on July 6—and is now the fastest game to have reached $500 million in revenue, despite a continued decline in both downloads and usage.
"Now, after debuting in early July, Pokémon GO has surpassed $500 million in worldwide customer spending for Google Play and the iOS App Store," reads the App Annie report. "This puts the game solidly on track to hit $1 billion in revenue by the end of 2016, as we predicted the month of its launch."
That $500 million may sound like a lot of money (okay, it is a lot of money), but it gets split among developer Niantic, the Pokémon Company and Nintendo, along with app-store owners Apple and Google. Apple and Google take a 30 percent cut of all in-app purchases. Of what's left, the breakdown is a bit more convoluted, since both Nintendo and Google's parent company Alphabet have ownership stakes in Niantic and Nintendo owns a third of the Pokémon Company. One early estimate put Nintendo's total take at no more than 10 percent.
This isn't the first milestone for Pokémon Go, as the app was quick to set records from being the most downloaded app in the first week of an app release to the fastest app to reach 50 million installs on Google Play. The app's ability to set records should come as no surprise since Niantic Labs found that Pokémon Go has been downloaded 500 million times around the globe.
The App Annie report also found high retention rates by looking at Android users. "We looked at the top Android phone apps by monthly active users (MAU) in the US to see which games had the top 30-day retention rates," reads the report. "While Pokémon GO is behind the highly addictive Words With Friends, it is ahead of mega-hits Clash of Clans, Clash Royale, and Candy Crush Saga."
Echoing these findings is engagement data from mobile app intelligence firm SensorTower, which found that Pokémon Go players spent an average of 32 minutes on the game in August, down only slightly from 33 minutes back during the game's July peak. Time spent on the game is higher than that on popular social media platforms (users spend an average of 22 minutes on the Facebook app, 18 minutes on Snapchat and 17 minutes on the Twitter app) but lower than other games like Game of War and Candy Crush Saga—users spend an average of two hours a day on the former and 43 minutes on the latter.
In fact, reaching the $500 million mark in such a short time is a significant accomplishment when taking into consideration how much time players spend on games like Candy Crush and how long it took the mobile game to making $500 million in revenue—200 days. Games like Clash of Clans and Puzzle & Dragons took over 400 days.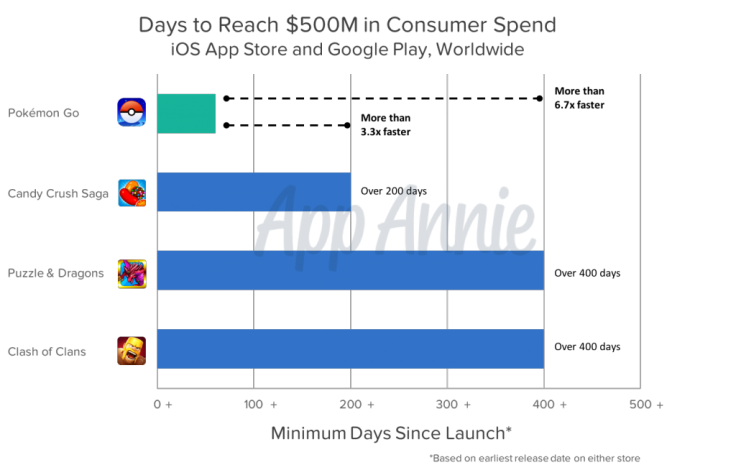 The game's journey to the one billion mark may be slower, as its growth rate is slowing down. In the U.S. Google Play store, the Pokémon Go app went from number one to tenth place while the app has fallen to 36th place in the U.S. iOS store, according to App Annie data. That's not to say the app is losing popularity overall—it still ranks as one of the top games—but its growth, measured in daily downloads, has slowed. The number of Daily Active Users is also down from a July peak of over 40 million, hitting about 30 million in late August, according to research firm Apptopia.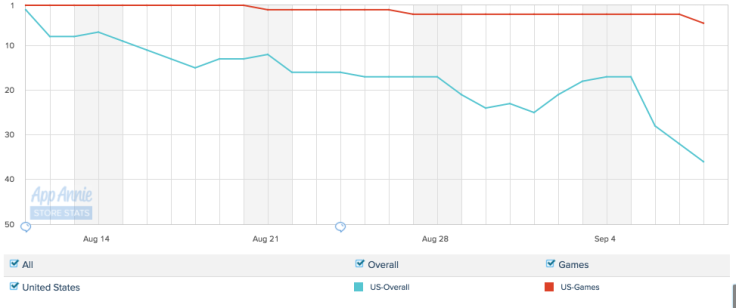 App Annie points out that iOS and Android in-app purchases are not the game's sole source of revenue. "In addition to McDonald's Japan, SoftBank announced a partnership with Niantic at the start of September," writes App Annie. "Under this alliance, the company's 3,700 stores will be categorized as either PokéStops or gyms."
© Copyright IBTimes 2023. All rights reserved.
FOLLOW MORE IBT NEWS ON THE BELOW CHANNELS