'Pokémon Go' Update: Pokémon Trading With Friends Will Arrive Later This Week
Niantic has announced that "Pokémon Go" will soon allow players to trade Pokémon with their friends. The developer said that the update will go live this week and the highly requested feature will be available to all players.
"We're excited to share brand-new ways to interact with your friends in 'Pokémon Go'," Niantic said in a blog post. "The Friends feature will start rolling out to Trainers later this week, allowing you to connect with your real-life friends and keep track of their adventures in Pokémon Go. You'll be able to send them items, earn bonuses—and even trade Pokémon!"
Friends In "Pokémon Go"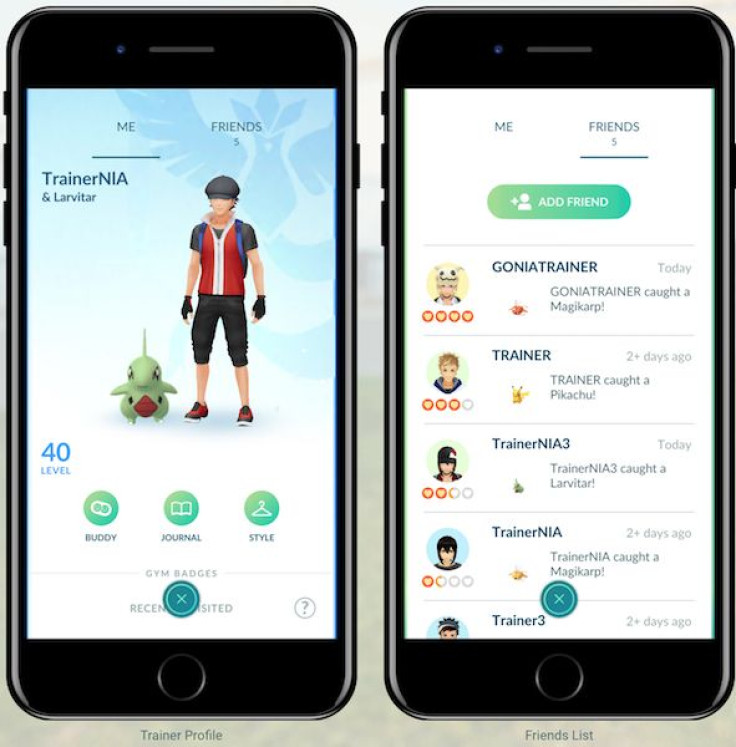 To add a friend in "Pokémon Go," players must first ask their friend to share their Trainer Code with them. A Trainer Code is a lot like Nintendo's Friend Code system for the Switch and the 3DS handheld system. Players can send a friend request by entering their friend's Trainer Code. Once the request has been accepted, players will be able to look up their friend's stats on the app's main profile screen.
Friends will be able to send each other gifts online. Gifts that can be sent to friends can only be found in PokéStops or Gyms. Gifts may include helpful items or even exclusive Pokémon eggs like the yellow egg. Sending gifts is not only a neat feature, but it's also needed to increase players' Friendship Level. The more they interact, the higher the Friendship Level. Friendship Level has four tiers: Good Friend, Great Friend, Ultra Friend and Best Friend. Each level has specific bonuses when friends battle together in a Gym, according to Polygon.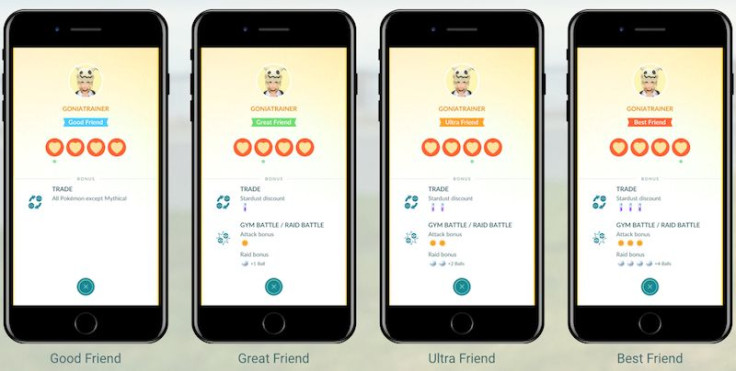 Trading In "Pokémon Go"
The first thing that players need to know about trading Pokémon in "Pokémon Go" is that the feature only works locally. This means that friends must be physically near each other in real life. Friends must be at least 100 meters from each other in order to work. Also, players must be at least Trainer Level 10 if they want to start trading in "Pokémon Go," according to Engadget.
If all those requirements are met, players will be able to trade whichever Pokémon they want. However, there is a catch: Each time players trade Pokémon, it will cost them Stardust — the in-game resource in "Pokémon Go."
"Completing a trade earns a bonus Candy for the Pokémon you've traded away, and that bonus can increase if the Pokémon you traded were caught in locations far apart from each other," Niantic said. "All trades are powered by Stardust, and some trades require more Stardust than others. As you build your Friendship Level with the friend you are trading with, you'll find that you can complete the trade with much less Stardust."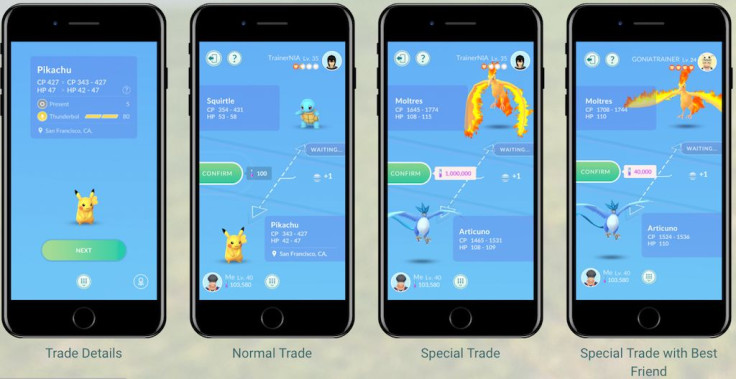 There's also what's called a Special Trade. This will be required for certain Pokémon like Legendary Pokémon, Shiny Pokémon or a Pokémon that's not in the player's Pokédex. Special Trades are only allowed once a day and is reserved for Great Friends and Best Friends. Special Trades will also require more Stardust, so players should really stock up and be prepared.
All these new features are expected to start rolling out later this week, but no specific date was given by both The Pokémon Company and Niantic. It's probably best that players keep checking if the app update to "Pokémon Go" is available to them in the next few days.
It took Niantic two years to bring trading to "Pokémon Go." The developer explained that it took a long time because they wanted it to be safe for its younger players. "We believe this is the best way to be fair, safe, and fun for users," Niantic's Kento Suga said, according to The Verge. "It took two years for us to build that feature — that's how hard it was."
© Copyright IBTimes 2023. All rights reserved.