Poland Election Results 2015: Will Euroskeptic Law And Justice Come To Power After Years Of Economic Growth?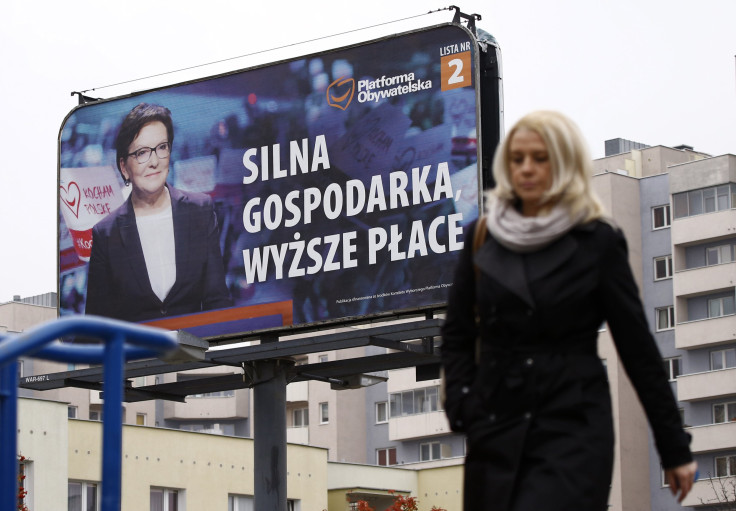 Jan Żurawski, 23, will be closely watching Poland's parliamentary election Sunday, but he won't be doing so from his native Warsaw. He will be in London, where he has lived and studied for the past five years because he feels he has better professional opportunities in the United Kingdom than in his homeland.
Poland's economy has experienced staggering growth since joining the European Union in 2004, but the post-Soviet country still trails far behind economic powerhouses such as Germany and the U.K., fueling voter dissatisfaction that could sweep the ruling party out of office this weekend. The rival Law and Justice Party, an anti-Europe, economically left-leaning coalition, is leading in the polls and has promised to increase social spending, lower the retirement age and increase taxes on foreign banks. The looming political shift has prompted concerns that Poland's recent economic gains could be lost as the country moves to separate itself from Europe.
"On one side, the Polish economy was quite successful concerning economic growth," said Anton Pelinka, a professor of political science at Central European University in Budapest, Hungary. But Pelinka said many economic gains have yet to reach average citizens in Eastern Europe's biggest economy. Since the mid-2000s, over 2 million people have left Poland looking for job opportunities within Europe.
Poland's GDP (current USD) | FindTheData
While unemployment was over 20 percent before Poland joined the EU, it has now fallen to around 7 percent, according to Eurostat. However, the post-Communist state has only reached 65 percent of the income levels seen in Western Europe and saw a paltry GDP growth of 3.4 percent last year.
Civic Platform's image was further damaged last year after secret tape recordings of politicians describing political alliances in vulgar terms while dining in expensive Warsaw restaurants were made public. The scandal led to the dismissal of several politicians and the resignation of the parliament's speaker.
"There's a strong underlying feeling that the political establishment is at best very complacent and at worst self-serving and possibly corrupt," Aleks Szczerbiak, a professor of politics and specialist in Eastern Europe at the University of Sussex in the United Kingdom.
Should Law and Justice come to power, experts say dynamics with the EU would be likely to change, with Poland taking a more assertive approach with both Brussels and Berlin that could potentially hurt economic ties. Law and Justice has pushed for protecting Polish industries, including grocery stores and coal.
"It's (Poland) a big player that will potentially loosen it's alignments…at a time when there is a lot in flux in Europe," said Szczerbiak. He pointed to Russian aggression in bordering Ukraine, the U.K.'s debate on whether to remain in the EU and a refugee crisis that has sent thousands of Africans and Syrians into Europe in recent months.
Law and Justice's prime minister candidate Beata Szydlo has criticized Germany's plan to relocate refugees throughout the European Union. Civic Platform leaders have agreed to accept 7,000 refugees under the proposal.
"We can't accept blackmail and succumb to political correctness by accepting quotas that are being imposed on us," Szydlo said in September. "The priority for us is the security of Polish citizens." Law and Justice's party leader Jaroslaw Kaczynski, meanwhile, accused Muslim refugees of bringing diseases into Europe.
Banking officials expressed concern this week that Law and Justice's plan for a $91 billion central bank stimulus program and an uptick in public spending would bring instability to Poland's economy. "The observed escalation of promises made in the campaign would bring a catastrophe upon public finances, if they were to be fulfilled," policymakers Andrzej Rzonca, Jan Winiecki and Anna Zielinska-Glebocka said in an open letter. "These irresponsible promises have been joined now by a announcement to turn the independence of the National Bank of Poland into only a facade."
While younger voters supported the ruling Civic Platform party eight years ago, experts say many young people have experienced difficulties finding jobs that match their education levels and are now looking for political change.
Żurawski, who recently received a master's degree at the London School of Economics, said he decided to stay in the U.K. to look for a job that will give him greater experience and a leg up when he decides to return back home. He supported Civic Platform in the last election but now plans to vote for the Modern (Nowoczesna) Party hoping to see new and better political management following the tape scandal.
"They (Civic Platform) have done a decent job but I'm happy to see change. But I'm unhappy that the Law and Justice party is likely to be the winner," he said, explaining that he disagrees with Law and Justice's economic policies including wanting to lower the pension age and the party's rhetoric on migration.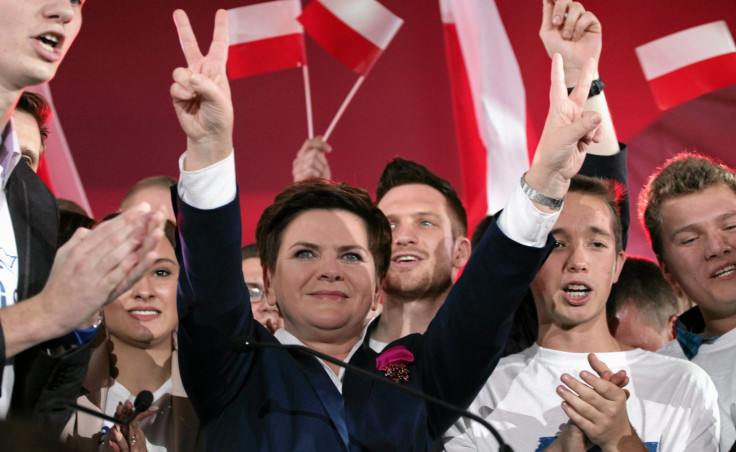 Whatever the election results Sunday, Poland is expected to see another female prime minister with Szydlo, Civic Platform incumbent Ewa Kopacz and left-wing coalition head Barbara Nowacka all campaigning. Law and Justice will likely be the biggest victor at the polls Sunday, but it remains unclear whether party officials will gain enough support to govern on their own or if they will be forced to form alliances.
"It (Law and Justice) is a party that will shake things up...there's no doubt about it," said Szczerbiak.
© Copyright IBTimes 2023. All rights reserved.
FOLLOW MORE IBT NEWS ON THE BELOW CHANNELS