Betsy DeVos Invested In Military Tech Contractor Run By Son-In-Law, While Brother Shaped Afghan War Policy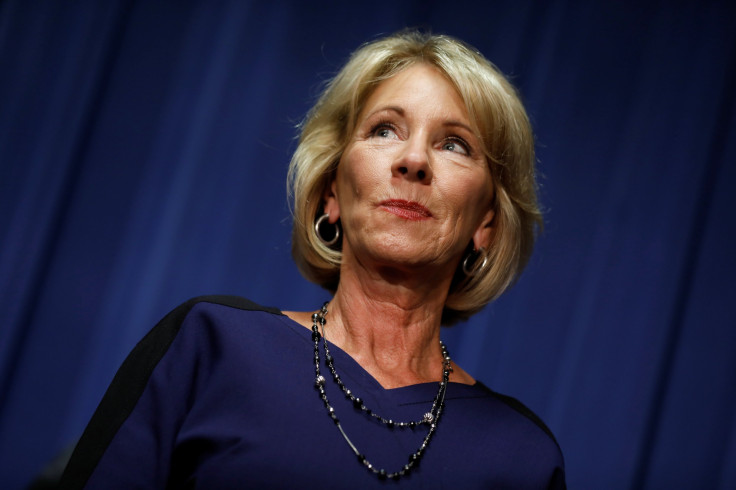 Department of Education Secretary and billionaire heiress Betsy DeVos invested in a defense contracting firm owned by her son-in-law at the same time her brother was helping the Trump administration craft a new Afghan war strategy — one that called on the military to use more private contractors.
Betsy DeVos invested between $100,000 and $250,000 in LexTM3, LLC in May according to U.S. Office of Government Ethics (OGE) disclosure reviewed by the International Business Times. (Disclosure forms give only a range for the value of purchases.) LexTM3 is a defense contractor led by CEO and co-founder Nate Lowery, DeVos' son-in-law. The company has received 70 contracts worth $1,425,248 from the Defense Department since the company formed from the merger of Lex Products Corp and TM3 Systems Inc. in September 2015.
Read: Major Defense Contractors On Panel That Will Direct Billion-Dollar Defense Decisions
DeVos has invested repeatedly in LexTM3 since Donald Trump became president. Disclosure forms show she invested between $250,001 and $500,000 in LexTM3 in February and in March, and between $100,001 and $250,000 in April. This is all after she disclosed that she owned a total of between $1,000,001 and $5,000,000 worth of the company in an initial disclosure form submitted the day before Trump took office in January.
But DeVos' most recent investment was filed with the OGE on May 30, the day before her brother Erik Prince published an op-ed in the Wall Street Journal calling for a new approach to the Afghan war and urging the U.S. military to use "cheaper private solutions."
Prince, who founded the security firm Blackwater Worldwide and now leads Frontier Resource Group, wasn't just using the pages of the Wall Street Journal to call for the U.S. to employ more private contractors. He was spreading the same message in the White House, according to a report Monday in the New York Times.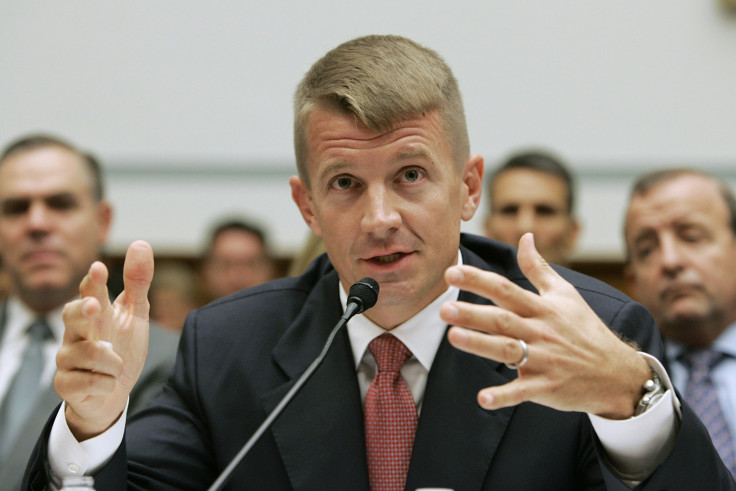 The Times reported that Prince and Stephen Feinberg, owner of the military contractor DynCorp International, developed proposals to increase the use of contractors in Afghanistan at the request of White House strategist Steve Bannon and senior adviser (and Trump son-in-law) Jared Kushner. Prince briefed "several White House officials" on the plans, the Times reported, including National Security Adviser H.R. McMaster. Defense Secretary Jim Mattis heard the proposals from Bannon on Saturday, the Times reported, but ultimately declined to include them in the Afghanistan policy review he is leading with McMaster.
The plans Prince presented to White House officials mirrored the strategy he laid out in his Journal op-ed, according to a former American official anonymously quoted in the Times. If that's true, those plans could have benefited Lowery's company and investors like DeVos.
Prince's Journal op-ed called for "cheaper private solutions to fill the gaps that plague the Afghan security forces, including reliable logistics and aviation support." A sampling of LexTM3's contracts with the DoD shows that's precisely the kind of support the company provides the U.S. military.
In May, LexTM3 was awarded a $132,000 subcontract with the Air Force to work on a power supply project. In 2015, LexTM3 inked a $90,000 deal to provide the Air Force with "electronic power and distribution equipment." (In his op-ed, Prince noted that "barely 40% of Afghanistan's U.S.-provided fixed- and rotary-wing aircraft are functional.")
In addition to its work with the Air Force, the company has provided the DoD with logistics support. In 2016, the company signed a $89,090 deal with the DoD's Defense Logistics Agency for "electronics and communication equipment" and another $125,920 contract with the Defense Logistics Agency for "electrical control equipment."
The company's largest contract, worth $770,035, was a September 2015 deal with the Department of the Navy's Space and Naval Warfare Systems Office. Lowery declined to comment for this story. The White House directed questions to the Department of Education, which did not respond to inquiries. An email sent to an address on Prince's Frontier Resource Group's website did not receive a response.
DeVos' holdings in LexTM3 were not part of the more than 100 items that the secretary said she would divest from in her ethics agreement, and given that the company didn't have any contracts with the Education Department, it's not hard to see why. But the ehtics agreement Devos signed on Jan. 19 did say she would "remain vigilant in indentifying any particular matters affecting the interests of these entities and their holdings."
Prince has been connected to both the Trump administration and the Trump campaign. In January, the United Arab Emirates arranged a secret meeting in the Seychelles Islands between Prince and a Putin confidant, the Washington Post reported in April. Prince, who presented himself as an "unofficial envoy for Trump," attended the meeting to see if the Russians could be persuaded to weaken their support for Iran, the Post reported.
DeVos family members have been major Republican donors for decades. In her confirmation hearing, DeVos admitted it was "possible" that her family had contributed more than $200 million to the Republican party. Last year, Erik Prince contributed $150,000 to the pro-Trump super PAC run by Republican megadonors Rebekah and Robert Mercer.
Lowery has donated small amounts to local Democrats, according to records at the Center for Responsive Politics. He married Betsy DeVos' daughter Elissa in 2012.
FOR FREE to continue reading
✔️ Unlock the full content of International Business Times UK for free
offer available for a limited time only
✔️ Easily manage your Newsletters subscriptions and save your favourite articles
✔️ No payment method required
Already have an account?
Log in
© Copyright IBTimes 2023. All rights reserved.