Who Is Betsy DeVos' Brother? Erik Prince's Involvement In Blackwater, Chinese Money Laundering Explained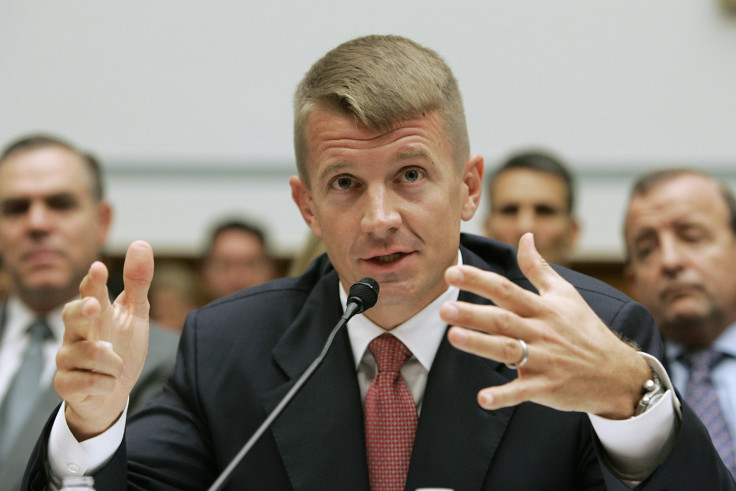 Newly-minted Education Secretary Betsy DeVos' brother, former Navy SEAL Erik Prince, may be breaking federal law by providing military training services to Chinese paramilitary forces, BuzzFeed reported Thursday night. But his mercenary activities have a two-decade history, much of which involves his scandalized private security firm, Blackwater.
Prince — a frequent guest on the radio show of Breitbart, the alt-right site formerly run by President Donald Trump's chief strategist Stephen Bannon — started Blackwater in 1997 out of anger regarding the 1994 Rwandan genocide, and what he saw as a lack of necessary intervention by developed nations.
"It really bothered me," he reportedly said in a 2010 speech in Holland. "It made me realize you can't sit back and pontificate. You have to act."
Ten years and hundreds of millions of dollars in secretive Central Intelligence Agency and U.S. military contracts later, Blackwater made headlines when its paid guards, who provided protection for U.S. officials in Iraq, fatally shot 17 Iraqi civilians in Nisour Square and injured 20. Iraq's government quickly banned the security contractor from working in the country. Four former guards involved in the massacre received sentences of at least 30 years — with one of them getting a life sentence — after they were convicted in 2015 on multiple counts of manslaughter and attempted manslaughter.
In 2010, following a $42 million settlement with the State Department, Prince sold Blackwater, which changed its name in 2009 to Xe Services and then in 2011 to Academi, its latest iteration.
But his association with the firm has plagued him since. In 2014, reports surfaced that just before the Nisour Square shooting, the State Department had been investigating Blackwater, but it dropped the inquiry when a person the New York Times described as "a top manager" threatened to kill investigators. A spokesman for Prince told the Times the company founder hadn't been aware of the incident.
More recently, Prince, 46, now the chairman of Frontier Services Group, which he founded in 2014 with the help of state-owned Chinese investment firm Citic Group Corp., faced money laundering allegations from the Justice Department for his use of the Chinese bank, an investigation that began with an examination of his weapons deals in Libya, the Intercept reported in March.
As BuzzFeed revealed Thursday, Prince has been working on supplying security for a Chinese state development project, including through the construction of "a forward operating base" in the Yunnan province, as well as another in the Xinjiang region. These actions may be violating restrictions against supplying military aid to Beijing.
On top of his contract work, Prince has reportedly been quietly serving as an adviser to Trump, whose PAC he funded with $150,000 in 2016. While Prince's friendly relationship with China contrasts with Trump's adversarial stance, his views on national security and defense mirror those of many in Trump's cabinet. In June, he told Bannon on Breitbart's radio show that the U.S. was "in a war against Islamic fascism."
© Copyright IBTimes 2023. All rights reserved.