Election 2016: Donald Trump Campaign Discloses Only Small Payments To Social Media Guru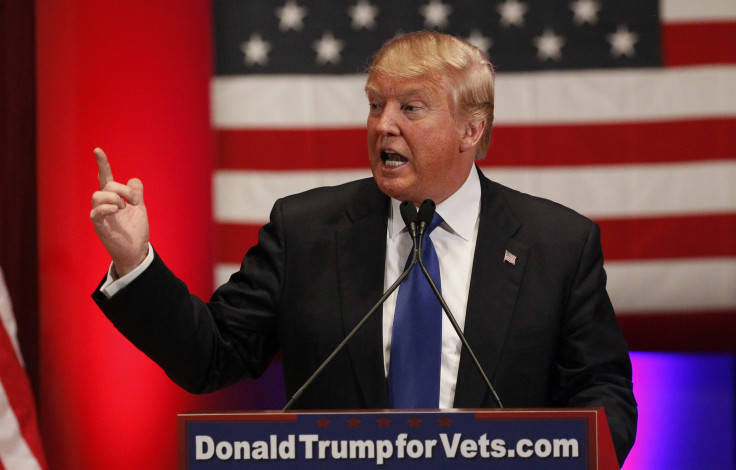 Justin McConney has been called "the man who makes Donald Trump go viral," as well as one of the "top tech insiders defining the 2016 campaign." But for all of McConney's success in helping the Republican real estate mogul and White House hopeful dominate the airwaves, Trump's presidential campaign reported paying McConney only $2,241 between August and September.
The figure paid to McConney is the latest example of the built-in political advantages that come with being a billionaire businessman with a famous brand. In terms of personnel, McConney is one of at least seven individuals assisting Trump's campaign while working for his business empire — a setup that lets Trump's presidential campaign operate on the cheap. Likewise, Trump's campaign has made extensive use of his private aircraft, saving on travel costs while "in effect reimbursing himself," according to the Wall Street Journal. And while he has routinely boasted of self-funding his campaign, Trump has managed to control the press and primary polls while spending considerably less than most of his competitors on advertising.
That's in part a feature of Trump's longtime press strategy — to be sensational — but also a testament to his mastery of social media, which has kept Trump's costs low while amplifying his message louder than his opponents. According to Politico, McConney played a key role in helping Trump grow his list of followers on Twitter to more than 1 million people. On the 2016 campaign trail, McConney has pioneered a social media innovation — the Instagram attack ad. McConney is responsible for the Trump campaign's highly shareable 15-second videos panning his Republican primary opponents, most notably former Florida Gov. Jeb Bush.
Campaign finance experts told International Business Times that the relatively small sums Trump's campaign has paid McConney — three installments of $747 between August and September — raise red flags about whether the campaign is paying fair market value for his services as required under federal election laws.
"If he's working for under-market rates, then that raises the suspicion that he's being subsidized by the company to do the work," said Craig Holman, an ethics expert at the watchdog group Public Citizen. If the Trump Organization "is subsidizing this person to do campaign work, that would be an illegal corporate contribution to the campaign," Holman said.
"In the past, regulators have looked at whether a campaign reimburses the employer and if services to a campaign caused an employee to spend less time on matters for their employer, among other things," Anna Massoglia, a researcher at the Center for Responsive Politics, told IBT. "In this case, the difference is that the lines are a lot blurrier. It's especially difficult to differentiate between McConney's job at the Trump Organization and any services he provides to the campaign because social media for the man, the brand and the candidate inherently have some overlap."
A Trump representative did not respond to IBT's questions about the extent of McConney's work for the campaign.
Until recently, there was no record of McConney having been paid at all. The expenditures were first disclosed last month, when the Trump campaign amended its most recent filing with the Federal Election Commission. In previous reports, Trump's campaign had not itemized payments to Trump Organization employees, and had instead recorded those disbursements in bulk as expenditures for "pre-paid payroll" made to Trump-brand payroll companies.
In November, the commission directed Trump's campaign to itemize those payments and provide the "name and address of the individual receiving the salary, as well as the date, amount, and purpose of the original disbursement." According to the amended filing, Trump's campaign appears to be borrowing time from at least seven Trump Organization employees — including those responsible for handling the campaign's media relations and personal security. The new report shows Trump's campaign paid those staffers roughly $55,000 between July and September.
"Having staff from his private business working on his campaign is problematic as it can blur the line banning corporate contributions," said Jordan Libowitz, the communications director at Citizens for Responsibility and Ethics in Washington. "There is a way that it can be done legally, but it requires a strict separation of duties by time and place and very detailed bookkeeping. Without a very thorough audit — something not required since Trump is not taking matching funds — it may be impossible to know who is truly getting paid for what and whether rules are being followed."
© Copyright IBTimes 2023. All rights reserved.
FOLLOW MORE IBT NEWS ON THE BELOW CHANNELS