Election 2016: Elizabeth Warren Defends Bernie Sanders From Goldman Sachs Criticism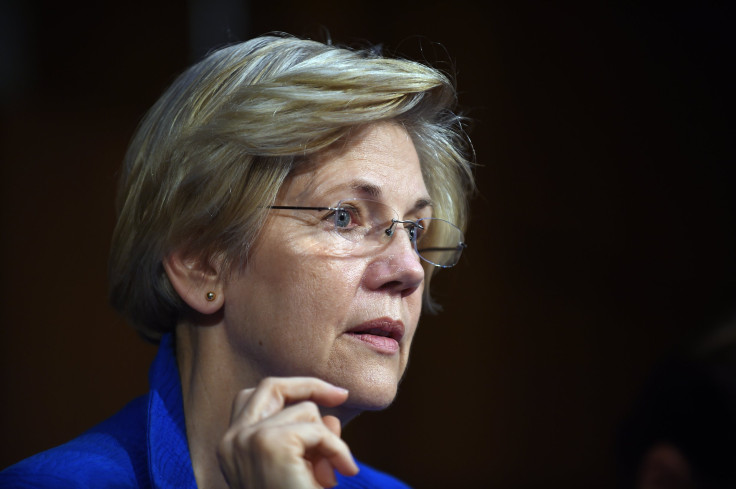 Elizabeth Warren entered the intensifying battle for the Democratic presidential nomination, defending Vermont Sen. Bernie Sanders from a new attack by the head of Goldman Sachs — a Wall Street behemoth whose executives have delivered hundreds of thousands of dollars to Hillary Clinton, her presidential campaign and her family's foundation.
In an interview with International Business Times hours before Wednesday night's Democratic town hall in New Hampshire, the Massachusetts senator — whose endorsement is coveted by both Democratic candidates — slammed Goldman Sachs CEO Lloyd Blankfein for asserting earlier in the day that Sanders' criticism of Wall Street had created a dangerous environment in America.
"He thinks it's fine to prosecute small business owners, it's fine to go hard after individuals who have no real resources, but don't criticize companies like Goldman Sachs and their very, very important CEO — that's what he's really saying," Warren told IBT.
In January, Sanders pointed to billionaire Blankfein as a prime example of the corporate greed he says is harming the United States. Sanders also released a television ad in which he slammed Goldman Sachs by name, and he has criticized Clinton, a former senator and secretary of state, for accepting $675,000 of speaking fees and $930,000 of campaign contributions from the firm and its executives during her career. Goldman Sachs has donated at least $250,000 to her family's foundation — which in 2014 held a donor meeting at the company's Manhattan headquarters.
Blankfein responded to Sanders' criticism on Wednesday in an appearance on CNBC, saying the intensity of the criticism created an environment that "has the potential to be a dangerous moment — not just for Wall Street, not just for the people who are particularly targeted, but for anybody who is a little bit out of line."
Warren, a Democrat, disputed that notion in harsh terms, telling IBT that such statements show why American voters should focus on Wall Street's power during the 2016 election.
"When Blankfein says that criticizing those who break the rules is dangerous to the economy, then he's just repeating another variation of 'too big to fail,' 'too big to jail,' 'too big even to prosecute,'" she said. "That tells you here we are, seven years after the crisis and these guys still don't get it. Seven years. That crisis cost an estimated $14 trillion, it cost jobs, it cost homes, it cost retirement funds. And Lloyd Blankfein stands up and says 'Don't even criticize me, I ran a company that was right at the heart of some of the biggest financial frauds in history and made money off it, but don't you dare criticize me.' That's his position? That's why we need voters to get really engaged."
Warren this week has been touting a new report from her office identifying 20 criminal and civil lawsuits from 2015 which, she said, showed that the Obama administration "failed to require meaningful accountability from either large corporations or their executives involved in wrongdoing." She told IBT that while the president had appointed strong regulators at some agencies, his financial regulators and law enforcement officials at agencies such as the Securities and Exchange Commission and Department of Justice have fallen down on the job.
"This is about who he put in charge, who he chose to head up those agencies," she said. "Over at the Department of Labor or the Consumer Financial Protection Bureau, there have been really strong people who have leaned forward. In enforcement, it hasn't been that way. On the enforcement side, it's been very different."
The result, she asserted, is a two-tiered justice system.
"In a time when literally thousands of people are being locked up every year for non-violent drug offenses or stealing a car, the CEO of a giant bank can help engineer the theft of hundreds of millions of dollars — and he gets a raise," she said. "The executives of another bank can help organize the money laundering for drug cartels, and they don't even get charged with a crime, while an addict [who] buys a few pills can land in jail for a year. This is two criminal justice systems."
Under Barack Obama, prosecution of white collar crime has hit a two-decade low, according to Justice Department records. In the years since the financial crisis of 2008, some top Obama officials suggested that while Wall Street firms may have engaged in excessive risk taking, their individual executives' actions may not have constituted criminal activity.
Warren told IBT she was "going to blow the BS whistle" on that line of argument.
"In the financial crisis of 2008, it was fraud right down at the heart of that crisis, and yet not one major bank executive was even charged, much less prosecuted and taken to trial — not one," she said. Noting that the federal government prosecuted hundreds of Wall Street executives after the Savings and Loan scandal a few decades ago, she said, "You're telling me that something changed between the 1980s, when more than a thousand people got prosecuted in the Savings and Loan crisis, but by 2008, a far bigger financial crisis involving far bigger and bolder frauds, that no one was legally responsible for that? That's just not possible."
Warren, a law professor by training, laid out the case for prosecuting financial executives.
"Under the law, if a corporation violates the law, then of necessity one or more of the employees at a corporation must also have violated the law — that's the way the law works," she said. "It's not possible that the corporation broke the law, but there was no individual who broke the law. And yet look at what happened. These giant banks have signed off on huge settlements and in some cases have admitted to wrongdoing, and yet not a single executive is held responsible."
The Deutsche Bank settlement is one of a number of Justice Department cases during Obama's tenure in which financial firms have admitted wrongdoing, but their executives were not prosecuted. Regulators found 29 of the financial institution's employees were involved in the scheme to manipulate the so-called Libor benchmark that is used to set global interest rates, Warren's report said, but none were prosecuted.
"Look at the whole Libor scandal. Those guys broke the law," she said.
Warren's report also highlights the Justice Department's $900 million settlement deal with General Motors over allegations the automobile manufacturer covered up issues with its vehicles' ignition switches, which resulted in the deaths of 124 people. As part of the agreement, GM admitted it had failed to disclose "a potentially lethal safety defect" — and still, no individuals were prosecuted.
UPDATE, Feb. 3, 10:00 pm: This story originally said a Goldman Sachs employee had given $100,000 to a super PAC supporting Clinton's 2016 campaign. While the group's filing with the Federal Election Commission lists the donor as working at Goldman Sachs, a company spokesperson told IBT he has left the firm.
© Copyright IBTimes 2023. All rights reserved.