US Prosecution of White Collar Crime Hits 20-Year Low: Report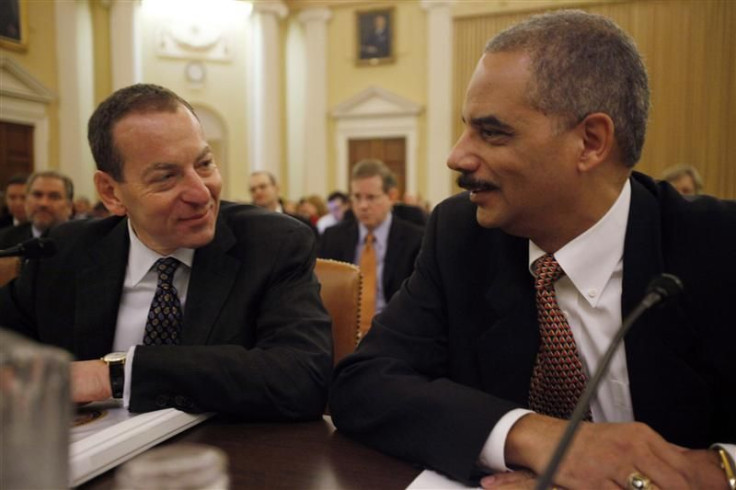 Federal prosecution of white-collar crime has hit a 20-year low, according to a new report on Department of Justice data. The analysis of thousands of records by Syracuse University shows a more than 36 percent decline in such prosecutions since the middle of the Clinton administration, when the decline first began.
In the aftermath of the 2008 financial crisis, prosecutions ticked up slightly, but then dropped. Landing amid calls from Democratic presidential candidates for more Wall Street prosecutions, the report notes that the projected number of prosecutions this year is 12 percent less than last year and 29 percent less than five years ago.
"The decline in federal white-collar crime prosecutions does not necessarily indicate there has been a decline in white-collar crime," Syracuse researchers note. "Rather, it may reflect shifting enforcement policies by each of the administrations and the various agencies."
Underscoring that assertion is a recent study by researchers at George Mason University tracking the increased use of special Justice Department agreements that allow corporations -- and often their executives -- to avoid being prosecuted. Before 2003, researchers found, the Justice Department offered "almost no" such deals. The researchers report that from 2007 to 2011, 44 percent of cases were resolved through the deals -- known as deferred prosecution agreements and non-prosecution agreements.
In 2012, President Obama pledged to "hold Wall Street accountable" for financial misdeeds related to the financial crisis. But as financial industry donations flooded into Obama's reelection campaign, his Justice Department officials promoted policies that critics say embodied a "too big to jail" doctrine for financial crime.
In a 2012 speech, for example, the head of the Justice Department's criminal division, Lanny Breuer, said "collateral consequences of an indictment" such as layoffs, losses for corporate shareholders and the health of an industry factor into Obama administration decisions about whether to prosecute white-collar crime.
"In reaching every charging decision, we must take into account the effect of an indictment on innocent employees and shareholders," said Breuer, who served as a white-collar defense attorney before and after being appointed by Obama to the Justice Department position.
Similarly, in 2013, Obama's Attorney General, Eric Holder, told congressional lawmakers that when it comes to banks, "I am concerned that the size of some of these institutions becomes so large that it does become difficult to prosecute them." He said there is an "inhibiting impact" on the Obama Justice Department's willingness to prosecute a bank when bringing a criminal charge "[would] have a negative impact on the national economy."
Holder's 2013 comments were foreshadowed by a 1999 memo he wrote as Deputy Attorney General during the Clinton Administration. In it, Holder recommended that prosecutors consider "[c]ollateral consequences, including disproportionate harm to shareholders and employees not proven personally culpable" before attempting to convict corporations for wrongdoing. Holder's recommendations to career prosecutors were rewritten in 2003 by the Bush Justice Department, which viewed Holder's memo as too friendly towards corporate cultures of misconduct.
In May, the House Financial Services Committee subpoenaed the Justice Department about the policy. A press release from committee chairman Jeb Hensarling, R-Texas, asserted that the Obama administration was "stonewalling" in providing more details about "whether decisions are being made to prosecute or not prosecute financial institutions based upon their size."
Prior to serving in the Obama Justice Department, both Breuer and Holder worked at white-collar defense firm Covington & Burling. Both of them went back to work for the firm again immediately after leaving their government posts. Holder has defended the administration's record of not prosecuting any individual financial executive involved in the financial crisis, saying the Obama administration's prosecution decisions have changed the culture of banking.
In recent years, budget cuts at the Justice Department may also have played a role in reducing prosecutions of white-collar crime.
According to the department's budget statements, the division that oversees white-collar crime had 1,566 employees in 2011, but by 2015, the division had just 1,325 -- a loss of over 15 percent. Cuts have also occurred for travel, consultants and overtime -- all crucial for the department to be able to navigate often-complex white-collar litigation. Additionally, governmentwide budget cuts known as sequestration led Holder to shift $150 million away from other Justice Department functions toward the Bureau of Prisons.
© Copyright IBTimes 2023. All rights reserved.