Elizabeth Warren Warns: Navient Deal A Danger To Student Loan Borrowers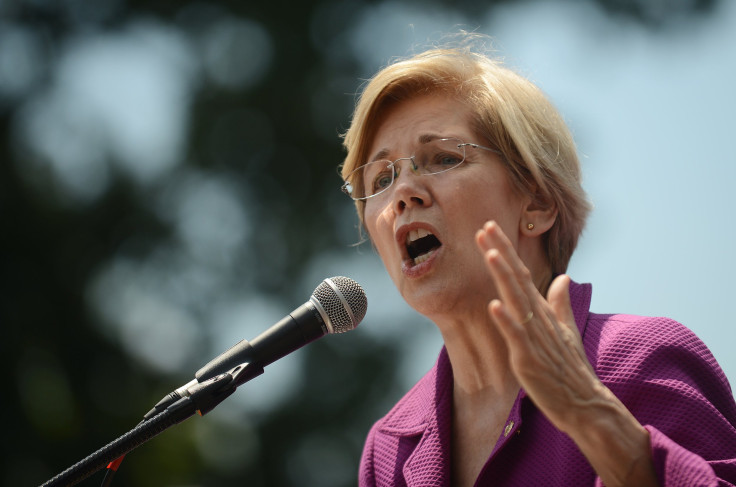 U.S. Sen. Elizabeth Warren warned Wednesday that the nation's largest student loan servicer has positioned itself to stealthily strip consumer protections from unwitting borrowers across the country. In an interview with International Business Times, she also said the loan servicer, Navient, should not be permitted to be a government contractor handling student loans on behalf of the U.S. Department of Education.
The Massachusetts Democrat was sounding an alarm about Navient's recent acquisition of online lender Earnest. She said the transaction opened up the possibility that the company will try to boost its profits by selling debtors on refinancing their current federal student loans with the company's own private loans — the kind that she said to do not necessarily permit income-based repayment options.
"The fear is that Navient will do this because Navient can make money off it, but the difficulty for the people who have been shifted over is that they lose many of the protections that federal law gives to them on federal loans," said Warren, who has sponsored legislation to let borrowers refinance their federal student loans. "So long as a student holds a loan that is a federal student loan, there is a public service loan forgiveness loan program available, there are income driven repayment options, there is a borrower defense if the college cheated the student — there are protections put in place. But those critical federal protections disappear if the loan is refinanced and taken private. That could matter to many students whose loans, if Navient is successful, are shifted from being federal loans to loans that are held privately."
Navient fired back at Warren, asserting that the lawmaker was distorting its record.
"This continues a pattern that misrepresents the good work we do to help borrowers navigate a complex system and avoid default," said Navient spokeswoman Patricia Christel in a statement to IBT. "Under contract rules, we may not use Department of Education customer data for any marketing purpose whatsoever. We have built compliance routines to ensure strict adherence to this requirement."
As a contractor for the Department of Education, Navient services $300 billion worth of student loans for roughly 12 million Americans. In recent weeks, the company has been unabashed about the potential upside of moving beyond just servicing loans, and into originating private student loans.
"We will add over $1 billion in new refi loans to our balance sheet this year, and I expect we will add more than $1.5 billion in new loans in 2018," Navient CEO Jack Remondi told investors last month. "With Earnest, we'll be a dominant originator of refi loans."
In a letter to Remondi, Warren said the situation presents "a potentially serious conflict of interest: the company could be collecting monthly payments from federal student loan borrowers with one hand, and trying to get some of those same borrowers to trade in their federal loans for Navient/Earnest's private refinanced loans with the other hand."
Navient — which had previously been part of Sallie Mae — has been under intensifying scrutiny after the Consumer Financial Protection Bureau filed a lawsuit earlier this year against the company. The agency asserted that Navient "created obstacles to repayment by providing bad information, processing payments incorrectly, and failing to act when borrowers complained." The suit was followed up by separate state suits filed by attorneys general — including one in Pennsylvania, where the company employs roughly 1,000 people.
"They were charging people excessively high interest rates…and they failed to put struggling borrowers into repayment plans that that borrower could afford," Pennsylvania's Democratic Attorney General Josh Shapiro told IBT. "[They've] taken millions of people across our country, and made it harder for them to buy a home, made it harder for them to invest in their startup business, made it harder for them to go to the grocery store, go to the mall, and purchase goods and services and things in their area that they need. These are things that ultimately harmed all of us as Americans, held all of us back, because of the corporate malfeasance that we witnessed here from Navient."
Navient has denied those allegations, declaring that they are "unfounded and are designed to get headlines rather than help student loan borrowers." The company's website asserts that "53 percent of student loan balances Navient services for the government are enrolled in income-driven repayment — more than any comparable servicer." Christel told IBT that "we lead the way" in enrolling borrowers into income-driven repayment plans, and she said government data show that federal student loans serviced by the company "produce 37 percent lower default rates."
In her letter to Navient's CEO, Warren challenged that statistic.
"The allegations in the CFPB's lawsuit raise questions about whether the company has managed default rates by simply encouraging borrowers to postpone payments by railroading them into forbearance periods that delay repayment in exchange for the accrual of interest," she wrote.
Amid the CFPB suit, Navient has in recent months boosted its lobbying spending in Washington. An IBT review of federal records show that during the first three quarters of the year — as Republican lawmakers have sought to defang the CFPB — the company has spent more than $1.9 million on lobbying, which is a 21 percent increase over the same time period in 2016. Federal records show Navient has sought to influence the policies governing the CFPB.
During the CFPB litigation, Navient said that its top priority is not necessarily safeguarding borrowers.
"The servicer acts in the lender's interest," the company declared in court filings. "There is no expectation that the servicer will 'act in the interest of the consumer.'"
Warren cited that statement — and Navient being fined $97 million for overcharging service members on student loans — as reasons lawmakers should be concerned about the potential for abuse in the company's acquisition of a private lender.
"In my view a company like that should not have hundreds of millions of dollars in federal contracts to handle student loans," she told IBT.
Correction: This story has been corrected to note that Navient has spent $1.9 million in 2017, which is a 21 percent increase over 2016.
FOR FREE to continue reading
✔️ Unlock the full content of International Business Times UK for free
offer available for a limited time only
✔️ Easily manage your Newsletters subscriptions and save your favourite articles
✔️ No payment method required
Already have an account?
Log in
© Copyright IBTimes 2023. All rights reserved.