Taxpayers Subsidized Wells Fargo Executive Pay Amid Bank's Fraud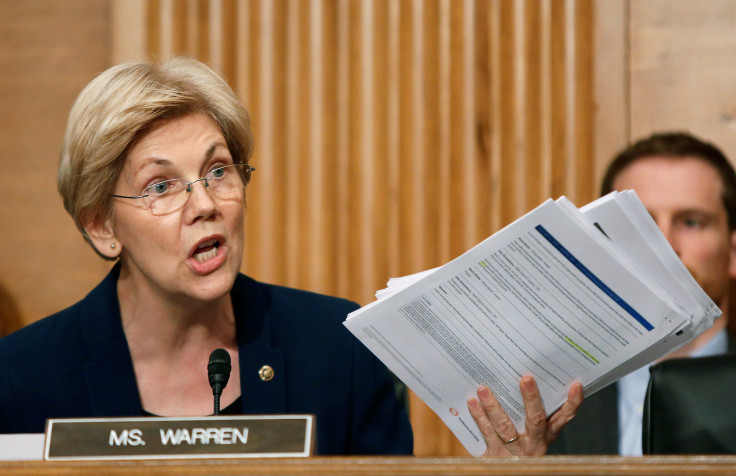 As lawmakers grilled Wells Fargo's CEO at a Capital Hill hearing, a Washington-based think tank crunched company data. Their findings? If you paid federal taxes, you essentially subsidized the multimillion dollar payouts given to Wells Fargo executives who oversaw a massive consumer fraud.
On Tuesday, the Senate Banking Committee detailed how Wells Fargo opened millions of accounts and credit cards without customers' permission— a move that last week drew a $185 million fine from the Consumer Financial Protection Bureau and local regulators. Meanwhile, Carrie Tolstedt, an executive who oversaw Wells Fargo's Community Banking group — where much of the fraud occurred — pocketed millions in "performance pay," including stock and equity, between 2012-2015.
Under a 1993 law, corporations can deduct no more than $1 million of executive compensation from their taxes. But that law made an exception for pay linked to performance. Consequently, because Wells Fargo structured Tolstedt's payout as a bonus — rather than wages — the bank could deduct the $78 million from its taxes, effectively giving itself a $27 million tax boost, according to economist Sarah Anderson, who directs the Global Economy Project at the Institute for Policy Studies. In all, Andersen said, Wells Fargo's Securities and Exchange Commission filings show that in the last four years, its bonus pay packages for top executives effectively gave the bank a nearly $160 million taxpayer subsidy.
"This is just one more example of how the notion of 'performance pay' is a total hoax," Anderson told International Business Times. Anderson is the author of a recent study which documented how the exemption translated into a $725 million subsidy for the top 20 U.S. banks over the past four years.
Banks continue to use these subsidies even as government regulators charged them with breaking rules. Between 2012-2015, Wells Fargo cashed in on $54 million in tax subsidies for CEO John Stumpf's compensation, according to the IPS report. Over that same period, regulators extracted $10.4 billion in misconduct penalties from the bank.
Tolstedt was paid $850,000 in 2015 as a bonus for "increasing online and mobile banking customers." But two years earlier, the Los Angeles Times revealed that Wells Fargo was boosting these sales by opening accounts without their customer's permission.
Stumpf testified before the Senate Banking committee on Tuesday, facing questions about the fake accounts Wells Fargo opened and the compensation paid to Tolstedt.
"I do want to make it clear that there was no orchestrated effort, or scheme as some have called it, by the company," he told lawmakers. Wells Fargo has already fired more than 5,000 employees in connection with the fraud — but more than 90 percent of those fired were ranked lower than branch manager.
Many committee members spoke out in fury.
"This isn't the work of 5,300 bad apples, this is the work of sowing seeds that poisoned the orchard," said Sen. Robert Menendez, a New Jersey Democrat. "You and your executives created an environment that allowed for this behavior."
Massachusetts Senator Elizabeth Warren, a Democrat, called on Stumpf to resign and said he should be "criminally investigated." Her office released a letter from Wells Fargo responding to earlier questions from Warren, Menendez and three other Democratic senators. The letter indicated that Wells Fargo's board and top executives knew about the fraud in Tolstedt's office when she announced her retirement — and that despite the misconduct, Tolstedt was paid millions.
"The Wells Fargo response raises as many questions as it answers. It remains unclear how and why Ms. Tolstedt will be allowed to walk away with millions of dollars in salary and bonuses from Wells Fargo despite the rampant misconduct that occurred under her watch. We will have additional questions about this issue for Mr. Stumpf," said the senators in response to the letter.
© Copyright IBTimes 2023. All rights reserved.