Senator Elizabeth Warren Requests Formal Investigation About Why The Obama Administration Did Not Prosecute Wall Street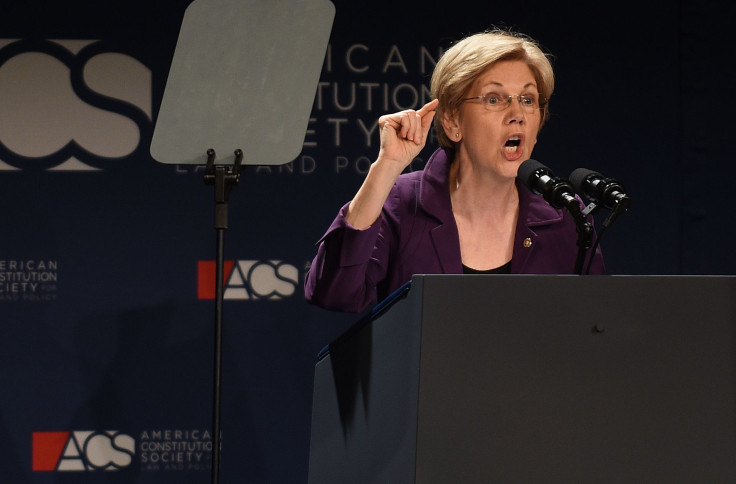 Massachusetts Senator Elizabeth Warren on Thursday requested a formal investigation into why the Obama administration did not bring criminal charges individuals and corporation involved in the 2007-2008 financial crisis.
In a letter sent Thursday to Michael E. Horowitz, the Inspector General of the Department of Justice, Warren said her staff had found that members of the Financial Crisis Inquiry Commission (FCIC) had referred 25 cases to the Justice Department for potential prosecution. None of those referrals were pursued.
"The Department has failed to hold the individuals and companies... accountable," Warren wrote. "This failure requires an explanation." Warren also wrote to the head of the FBI, James Comey, and asked him to release records of FBI investigations into financial misdeeds in the wake of the crisis, to further illuminate why the Obama administration decided not to prosecute firms linked to the financial crisis.
The FCIC was a 10 member investigatory body tasked by Congress in 2009 to look into the root causes of the economic collapse. In 2011, the FCIC turned over a mountain of evidence to the Justice Department -- including whistleblower testimony, and internal bank documents.
Though the FCIC wasn't allowed to launch criminal investigations, it did make prosecutorial suggestions to the Department of Justice.
Phil Angelides, who chaired the FCIC, applauded Warren's demand for an investigation into why the referrals were not followed up.
"This is in the public interest," he told International Business Times. "We need to see if there was a fair investigation into what was happening on Wall Street."
In her letter, Warren said her U.S. Senate staff reviewed thousands of documents from the FCIC and found that the Justice Department failed to pursue criminal charges against both individual executives, and corporation -- even in cases where the Commission found "serious indications of violation[s]" of the law. The cases flagged by Warren include: potential fraud in loan underwriting at UBS, accounting fraud at Fannie Mae, mortgage fraud at Citigroup, and securities fraud at Goldman Sachs.
Warren also singled out the Justice Department's failure to hold individual Wall Street executives criminally accountable for the corporate wrongdoing -- even though the FCIC found strong evidence for prosecutions.
"Nine individuals were implicated in these referrals," Warren wrote. "The DOJ has not filed any criminal prosecutions against any of the nine individuals. Not one of the nine has gone to prison or been convicted of a criminal offense. Not a single one has even been indicted or brought to trial."
Though it was not in his mandate to pursue criminal charges, Angelides called the Justice Department's refusal to more aggressively prosecute financial crimes "mysterious," and said it "defied common sense." Since the financial crisis, the Justice Department has secured over $40 billion in fines from corporations involved in the crash, but failed to put any executives behind bars. That's strong evidence, Angelides said, that the DOJ wasn't prioritizing criminal prosecutions.
"It was my expectation that the DOJ would marshal the resources for a fair investigation of the potential violations we referred to them," he said. "But stunningly the DOJ yet to hold one single Wall street executive responsible, or name one in a civil or criminal action -- how is it possible that a bank could engage in massive misconduct with no bankers involved?"
Last year, researchers at Syracuse University found that prosecution of white-collar crime had hit a 20 year low, as prosecutors opted for financial settlements and deferred prosecutions agreements instead of pursuing criminal cases. In 2015, federal law enforcement officials publicly pledged to target individuals in their prosecutions of corporate crime. That year, Assistant Attorney General Sally Yates order prosecutors to go after individual from the very beginning of an investigations.
That more aggressive posture may not affect individuals involved in the financial crash, because the statute of limitations on various securities laws has already run out.
"I've never understood why they never tried anyone in those years right after the financial crisis" said Richard Bowen, a former executive-turned-whistleblower at Citigroup who testified in front of the FCIC in 2010. Bowen turned over thousands of pages to the Obama administration to help build a fraud case against Citigroup executives that resulted in a $7 billion fine -- but not in prosecutions against individual executives at the bank.
Warren's letters requesting a formal probe explicitly mention Bowen's testimony. He told IBT the renewed scrutiny is long overdue.
"It should come to light the significant amount of evidence the DOJ ignored," he said.
© Copyright IBTimes 2023. All rights reserved.