While Lobbying Against Safety Rules, Arkema Warned Its Investors Of Chemical Storage Explosion Risks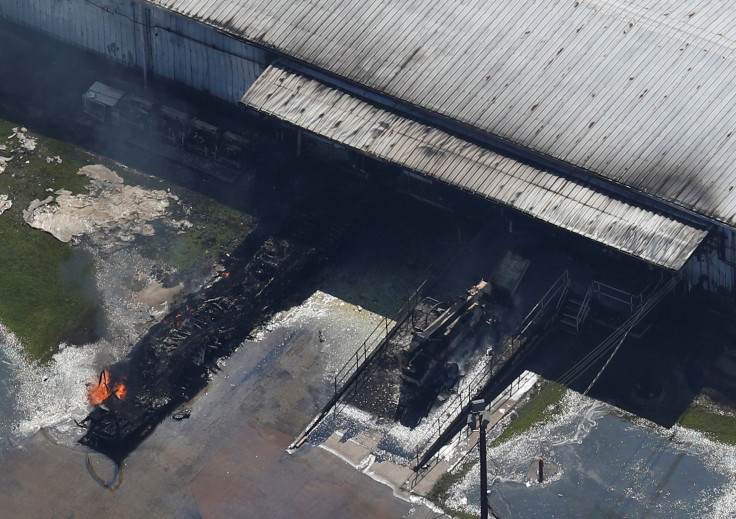 Arkema, the specialty chemicals company whose chemical storage facility in Crosby, Texas, exploded Thursday morning and is currently spewing noxious smoke near Houston, warned its investors earlier this year about the dangers of possible explosions and public health risks from the chemicals it stores. At the same time, the French-based company lobbied the U.S. Congress and the Environmental Protection Agency to delay implementing new chemical facilities safety rules, as International Business Times previously reported. Two more chemical storage trailers exploded Friday evening and more explosions from the remaining trailers are expected in the coming days.
"The Group's facilities may be subject to risks of accidents, fires, explosions and pollution due to the very nature of their operations and to the level of hazard, toxicity or flammability of certain raw materials," Arkema wrote to investors in March, in the company's annual report for 2016.
Arkema's backup generators failed on Thursday, which meant that volatile chemicals were unable to be stored cooly enough, causing them to burn and explode. Speaking to the Houston Chronicle, an Arkema safety official declined to say whether its backup generators were elevated, a common-sense precaution in case of flooding. However, the company was well aware of the potential dangers of floods at its plants, as it warned its investors that "exceptional flooding" could lead to the shutdown of its facilities.
Furthermore, Arkema's 2014 Risk Management Plan for the Crosby facility specifically noted the risk of equipment failure due to flooding. Facilities regulated as a "Program 3" facility by the EPA, such as the one in Crosby, are required to create and submit Risk Management Plans. The 2014 plan is the latest filed with the EPA. However, those documents are not publicly accessible online and can only be viewed by visiting federal reading rooms in person. The watchdog group Environmental Defense Fund did so on Thursday, finding that a hazard process analysis filed by Arkema specifically for the Crosby facility "identified concerns, including: equipment failure; loss of cooling, heating, electricity; floods (flood plain); hurricane; other major failure identified: power failure or power surge."
A flood causing a power failure that lead to a loss of cooling is the exact scenario that has caused the recent explosions and current fires in Crosby.
After initially promising to provide its inventory of chemicals, Arkema has since backtracked that promise only offering a list of chemicals on site but not their quantities or how they are stored, making it difficult to assess public health risks from the smoke overhead in Crosby. In the 2016 annual report to investors, the company noted as a risk to investors that it uses "toxic or hazardous substances to manufacture its products," but does not specify at which locations certain chemicals are stored or how toxic they may be. On Thursday, the company's president, Richard Rennard, declined to tell reporters whether chemicals burning at the Crosby facility were potentially toxic.
At the same time that Arkema warned investors of these health and safety risks, the company and its trade association, the American Chemistry Council, was lobbying the Trump administration to delay implementing new EPA safety rules for chemical facilities. IBT's review of federal lobbying records found that Trump's EPA administrator Scott Pruitt blocked the new rules following that extensive lobbying campaign.
The rules that Pruitt blocked would have gone into effect on March 14. Arkema's annual report for 2016, which noted the risk of explosions at its facility, was filed on March 30.
In that annual report, Arkema warned investors that increased regulations could jeopardize its business, requiring it to, for instance, "institute costly emissions control or reduction systems."
"The Group's business activities are subject to frequently changing international and national laws and regulations in the areas of environmental protection and health and safety," the 2016 annual report noted. "These laws and regulations impose increasingly strict obligations."
In Arkema's 2015 annual report, the company similarly warned investors about the risk of "increased safety costs" endangering profit margins.
"The Group's business and financial results are likely to be directly or indirectly impacted by any adverse changes to the economic and political environment in the countries in which the Group operates," read the 2015 annual report.
That year's annual report did, however, reassure investors that the company carries an environmental insurance policy that will cover up to $50 million of liability within the U.S.
© Copyright IBTimes 2023. All rights reserved.