Would Trump's CFPB Pick Mulvaney Back Consumers Or Payday Lenders?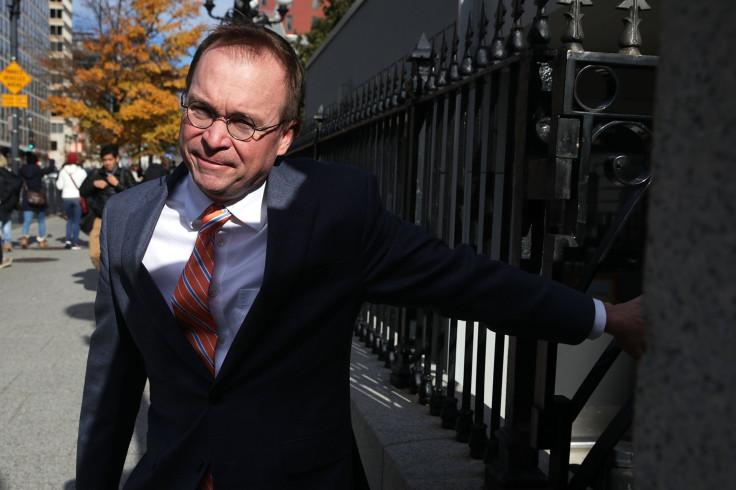 Update: A federal judge denied a request for an emergency restraining order from Consumer Financial Protection Bureau (CFPB) deputy director Leandra English on Monday. The order would have kept Mick Mulvaney from serving as the active director of the CFPB. Judge Timothy Kelly made the ruling, just two months after joining the federal bench as an appointee of President Donald Trump.
Original story:
Demonstrators gathered outside the Consumer Financial Protection Bureau (CFPB) in Washington D.C. Wednesday to protest President Trump's decision to appoint White House budget director Mick Mulvaney to director of the agency. Critics of Mulvaney's appointment, including Sen. Elizabeth Warren, D-MA, who attended the rally, argue that legally, the deputy director automatically takes over if the director leaves, so that deputy director Leandra English is the agency's rightful chief. The procedural issue has become so contentious because Mulvaney opponents fear he's aligned with the financial services industry, which is vigorously opposed to new CFPB rules governing payday lending the agency instituted last month.
The CFPB was formed to protect consumers as part of the wide-ranging Dodd-Frank legislation that implemented new regulations on Wall Street after the financial crisis. One of the industries the CFPB has sought to protect consumers from is the payday loan industry, whose members issue short term loans to consumers at exorbitant interest rates. Mulvaney's record with the industry, including his comments at a 2014 Congressional hearing, shows a concern for lenders often described as predatory.
As a Congressman, Mulvaney accepted $55,500 in contributions from payday lenders during his four successful runs for Congress, including $26,600 during the 2016 election cycle, according to the National Institute on Money in State Politics. Before he was tapped to lead President Donald Trump's Office of Budget Management, Mulvaney took $115,200 from the securities and investment industry, and another $96,564 from the insurance industry in the 2016 cycle, both more than any other industry, according to the Center for Responsive Politics. This record, along with comments Mulvaney made indicating he would shutter the agency if given the opportunity, has led critics to question whether Mulvaney's priority will be consumers — or the companies the agency is responsible for regulating.
In a 2014 hearing, then congressman Mulvaney submitted on-the-record comments for CFPB director Richard Cordray, who recently resigned to run for governor of Ohio as a Democrat. Prefacing a question to Cordray on "payday loans" and "certain types of installment loans," Mulvaney's comments suggest a deference to payday lenders.
"I share your understanding that small-dollar lending serves an important function for many borrowers, especially those who may not utilize traditional banking services, and hope the Bureau will work to ensure the continued viability and availability of these products," Mulvaney said.
Citing a Philadelphia Federal Reserve Bank working paper on payday lenders, Mulvaney also asked Cordray how the CFPB would "ensure that there is a balance between strong consumer protection and creditor rights?"
The comments came just two months before a CFPB report found four out of five payday loans are rolled over or renewed after two weeks, and that the majority of payday loans are renewed so many times that borrowers pay more in fees than the loan was originally worth.
"We are concerned that too many borrowers slide into the debt traps that payday loans can become," said Cordray at the time.
Payday lenders appear to want Mulvaney to lead the CFPB. The Intercept reported Monday that the Office of Legal Counsel memo arguing for the legality of installing Mulvaney as acting director was written by Steve A. Engel, an attorney who represented a Canadian payday lender before the CFPB in 2015. Engel was one of two lead counsels defending NDG Financial against charges that the company ran a nine-year scheme to illegally offer U.S. customer high-cost loans. The case is still active in federal court.
Although Mulvaney's political views make him naturally inclined toward deregulation — he was a member of the Republican Freedom Caucus — geography may play a part in his concern for payday lenders. The South Carolina congressional district he represented from 2011 to 2017 is located just a 30-minute drive from the national headquarters of Advance America, the "largest non-bank provider of cash advance services in the United States" according to SEC filings.
At least two of Mulvaney's former staffers have left government jobs and now represent companies that offer consumer financial products. As International Business Times first reported Monday, Mulvaney's longtime staffer and former chief of staff Natalee Binkholder left his office this year to become a registered lobbyist for Santander Bank, which agreed to pay a $10 million fine to the CFPB in 2016 for "illegal overdraft service practices," and is currently under a consent order from the agency, which Mulvaney will be responsible for enforcing. Last week, Reuters reported that the CFPB was preparing to sue the bank over its auto loan practices. In 2015, Santander came to an agreement with the Massachusetts attorney general to pay $5.4 million for charging excessive interest rates on its subprime auto loans.
Greg Thomas, another former Mulvaney staffer, is now a lobbyist for Primerica Life Insurance Company. In 2015, Sen. Warren dressed down the company's CEO Peter Schneider during a Senate hearing over the company's decision to encourage workers near retirement age to move their money from government pensions to risky investment vehicles.
© Copyright IBTimes 2023. All rights reserved.
FOLLOW MORE IBT NEWS ON THE BELOW CHANNELS