Pope Benedict XVI in Benin, Where Modernity and Catholicism Rise Together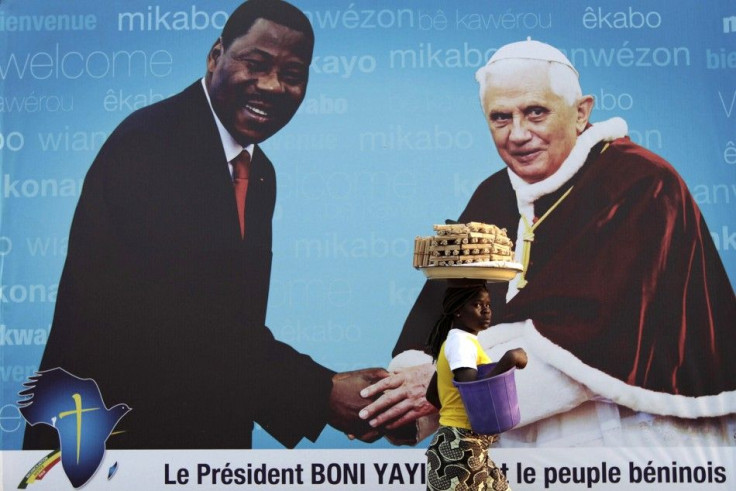 Pope Benedict XVI arrived in Benin on Friday, starting a three day visit to the West African country.
Benedict XVI has a number of scheduled stops in Benin, including meetings with the President Yayi Boni, Prime Minister Pascal Koupaki and other diplomats and members of the government. He will also visit 200 sick and disabled children in Catholic missionaries.
The trip caps a busy week for the pontiff, in which he met with new Italian Prime Minister Mario Monti and had a Benetton ad taken down.
It is Benedict's second trip to Africa since becoming pope in 2005. In the past 50 years, the Catholic Church has been growing more rapidly in Africa than in any place on the world. The continent could be the home to more future clergymen than Europe, where people are leaving the church at an unprecedented pace, according to the BBC.
In Benin, which is the birthplace of Vodun (Voodoo), the Christian population has soared, becoming the majority religion. Around 42 percent of people practice Christianity, with 30 percent of the country observing Catholicism.
Notably, the pope landed in Benin's Cardinal Bernardin Gantin International Airport, named after a Beninese Roman Catholic cardinal who worked with Popes Pope John XXIII, John Paul I, John Paul II and even Benedict XVI.
Cardinal Gantin won the respect and the affection of many. So it seemed right that I should come to his country of origin, to pray before his tomb, and to thank Benin for having given the church such a distinguished son, Benedict said.
During his first speech in the country, Benedict XVI spoke about Benin's transition to modernity, which must be guided by sure criteria based on recognized virtues ... firmly rooted in the dignity of the person, the importance of the family and respect for life.
It needs to be accompanied by prudence for the good of all in order to avoid the pitfalls which exist on the African continent and elsewhere, such as unconditional surrender to the law of the market or that of finance, nationalism or exaggerated and sterile tribalism which can become destructive, he added.
The Pope's first trip to Africa in 2009 became controversial after he condemned the use of condoms, even for preventing HIV and AIDS. The Church will likely steer away from similarly contentious topics this time around. One of the items on the pope's agenda is the signing of a document to promote peace and justice in Africa.
As always, the Pope's trip will end with a public mass. It will be held at a stadium in Cotonou, Benin's largest city and economic capital.
© Copyright IBTimes 2023. All rights reserved.