Pope Endorses Use Of Force, US Airstrikes To Stop ISIS Amid Plans To Visit Iraq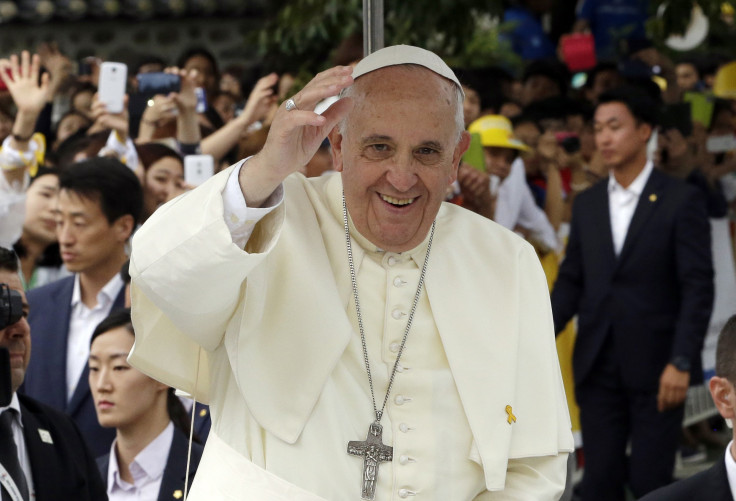 Pope Francis has endorsed the use of force to help eliminate Islamic State militant attacks against religious minorities in Iraq during an airborne press conference en route from Seoul, South Korea, to Rome Monday, the Associated Press reports. When asked his opinion of the U.S. airstrikes against the Islamic State, formerly known as the Islamic State of Iraq and Syria or ISIS, Francis said the use of force was justified.
"In these cases, where there is unjust aggression, I can only say that it is licit to stop the unjust aggressor," Francis said. "I underscore the verb 'stop.' I'm not saying 'bomb' or 'make war,' just 'stop.'"
"One nation alone cannot judge how you stop this, how you stop an unjust aggressor," Francis continued, presumably referring to the United States. "After World War II, the idea of the United Nations came about: It's there that you must discuss 'Is there an unjust aggression? It seems so. How should we stop it?' Just this. Nothing more."
While the Vatican has been known to condemn military intervention in the past, the AP reports the Vatican is becoming involved in the Iraq crisis due to the targeting of Christians. Francis said he is considering plans to visit northern Iraq to show "solidarity" with persecuted Christians, many of whom have been forced to convert to Islam or forced to leave their homes.
President Barack Obama authorized the use of U.S. airstrikes against the Islamic militants and the delivery of relief supplies to refugees in northern Iraq Aug. 7.
© Copyright IBTimes 2023. All rights reserved.