Pope Francis To Confer Sainthood On 2 Palestinian Nuns; Celebrations In West Bank, Israel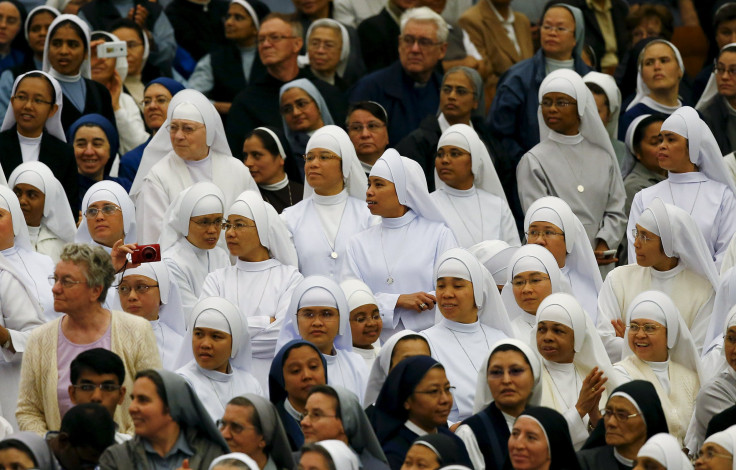 This story has been updated.
Update, 5:23 a.m. EDT: Pope Francis canonized two Palestinian nuns in Vatican City Sunday for their work in helping the poor and needy in 19th century Ottoman Empire-era Palestine, the Associated Press reported.
Mariam Bawardy and Marie Alphonsine Ghattas were among the four nuns declared saints at a Mass in St. Peter's Square, AP said. It added that Palestinian President Mahmoud Abbas and thousands of pilgrims attended the historic event marking the first time that any people from Palestine were canonized.
"Their luminous example challenges us in our lives as Christians," AP quoted the pope as saying in reference to Bawardy and Ghattas, as well as Jeanne Emilie de Villeneuve from France and Maria Cristina of the Immaculate Conception from Italy, who also were canonized.
Original Article Appears Below
Pope Francis will confer sainthood on two Palestinian nuns at a Vatican ceremony Sunday in a move that is also being viewed as the Roman Catholic Church's effort to express support for the small and shrinking population of Christians in the birthplace of the religion. The nuns, who lived in 19th century Palestine, will be the first Arabic-speaking Catholic saints, according to reports.
Mariam Bawardy was born in Galilee (in present-day northern Israel) to Greek Catholic parents from Syria and Lebanon, and she is believed to have performed several miracles. Marie Alphonsine Ghattas was born to a Palestinian family in Jerusalem and co-founded the Congregation of the Rosary Sisters, which now runs kindergartens and schools, as BBC News reported. Both women reportedly lived selfless lives, helping others while enduring poverty and a male-dominated Ottoman Empire society. Celebrations and prayers took place in the West Bank and Israel ahead of the nuns' canonization, Al Jazeera reported. Bawardy and Ghattas will be among four people canonized Sunday.
"This was like a wedding for us, for all the students irrespective of their religion. We have 20 students and faculty members going to Italy to be part of the upcoming celebrations," Sister Horntace Nakhleh, headmistress of the Beit Hanina Rosary Sisters school founded by Ghattas, reportedly said.
The ceremony at St. Peter's Square will reportedly be attended by Palestinian President Mahmoud Abbas, who the pope described as an "angel of peace" on Saturday. The Vatican announced Wednesday it had signed a treaty to formally recognize Palestine as a state, a move sparking criticism by Israel, which argued that it would hinder the peace process.
The new treaty formalizes the Holy See's diplomatic recognition of the state. "Yes, it's a recognition that the state exists," the Rev. Federico Lombardi said Wednesday.
According to BBC News, Christians in Israel and the Palestinian territories now represent less than 2 percent of the overall population, as many have fled growing religious persecution in the region while others have left seeking opportunities abroad.
"[This shows] that he's consistent with his message that the Holy Land is a land of peace, not a land of war, and this land should be where people build bridges, not walls," said Issa Kassissieh, the Palestinian ambassador to the Vatican, according to Al Jazeera.
© Copyright IBTimes 2023. All rights reserved.