Pope Francis Provides Food At Vatican Epiphany Picnic To Homeless People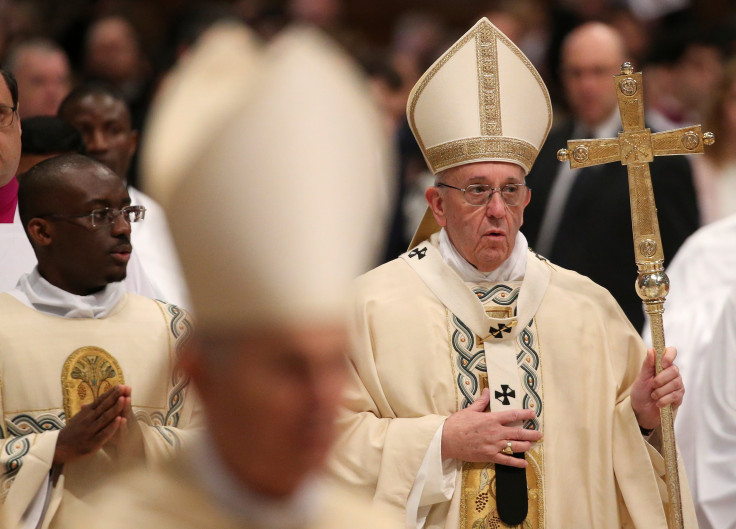 Pope Francis offered Friday a special picnic providing food and drink for hundreds of homeless and refugees during the Catholic feast of the Epiphany at the Vatican.
Francis hosted a mass coinciding with the Catholic Epiphany feast, which is also known as Three Kings' Day and celebrates the encounter between the three Magi's and the infant Jesus Christ as recounted in the Bible, and announced the gesture as gratitude for some 300 homeless and refugees who helped him hand out religious reading material. The pontiff made an analogy between the gifts brought by the three Magi's to the baby Jesus and the pamphlets handed out to around 35,000 people at St. Peter's Square.
"I thought I would give you a little gift too. The camels are missing but I will give you the gift," he said. "I wish you a year of justice, forgiveness, serenity, but above all mercy. Reading this book will help - it fits in your pocket!"
Francis, who was born Jorge Mario Bergoglio and grew up in a modest, Italian immigrant family in Argentina, spent most of his priesthood preaching to the poor and oppressed before becoming the first Latin American pope in the Catholic church's history. He ordered public bathrooms including showers be erected in St. Peter's Square for the homeless in 2015 and invited 1,500 homeless people out for Neapolitan pizza following September's canonization of Mother Teresa.
Since becoming pope after his predecessor's resignation in 2013, Francis has pushed sweeping reforms of the Holy See. Last month, he dedicated his annual Christmas address to the Vatican administration, known as the Roman Curia, to criticizing church hardliners who resisted the changes to the bureaucracy, which has been criticized for widespread corruption and covering up scandals. Francis has opted for a more transparent system and has attempted to expand the church's outreach, taking more progressive stances on homosexuality, contraception and divorce.
© Copyright IBTimes 2023. All rights reserved.
FOLLOW MORE IBT NEWS ON THE BELOW CHANNELS