Pope Francis Washes Muslim Woman's Feet; Did He Violate Catholic Church Canon?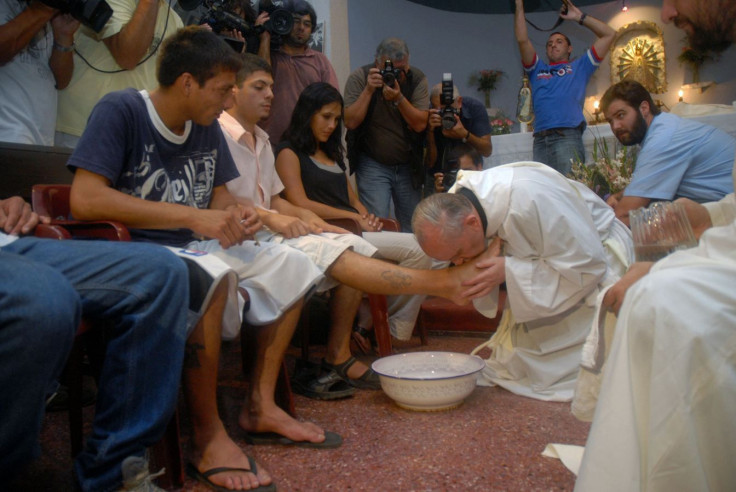 In yet another break with Catholic tradition, Pope Francis washed and kissed the feet of two women, one of whom was a Muslim, during a Maundy Thursday ritual that has never before included either.
According to the Associated Press, Pope Francis' unorthodox move angered many traditionalists in the Catholic Church who called the decision a "questionable example." Liberals, however, reportedly welcomed it as a sign that the church is becoming more inclusive.
Pope Francis performed the ritual, which commemorates Christ's Last Supper, on 12 inmates between the ages of 14 and 21 at a juvenile detention center outside of Rome, instead of performing it on Catholic priests at one of Rome's basilicas as previous Popes have done.
"This is a symbol, it is a sign. Washing your feet means I am at your service," Francis told selected participants at the Casal del Marmo facility.
"Help one another. This is what Jesus teaches us," he said. "This is what I do. And I do it with my heart. I do this with my heart because it is my duty. As a priest and bishop, I must be at your service."
Although Pope Francis performed the rite on women more than once while serving as Cardinal Jorge Bergoglio and archbishop of Buenos Aires, religious experts say that his inclusion of women in the ceremony as Pope marked a groundbreaking move for the church.
Edward Peters, a canon lawyer, wrote in a blog post that the Congregation for Divine Worship stipulated in a 1988 letter to bishops that "the washing of the feet of chosen men ... represents the service and charity of Christ, who came 'not to be served, but to serve.'"
"By disregarding his own law in this matter, Francis violates, of course, no divine directive," Peters wrote, according to the AP. "What he does do, I fear, is set a questionable example."
Chris Gillibrand, whose blog CathCon covers Catholic news, also disagreed with the pope's act. "Given his active support for the charismatic movement in his Diocese, one can only be concerned that he could be prepared to ordain women," Gillibrand wrote. "How can the Pope maintain discipline in the Church if he himself does not conform himself to prevailing ecclesiastical legislation? [sic]" Rev. Federico Lombardi, the Vatican's spokesman, defended the Pope's actios, saying that the ceremony took place in "a small, unique community made up also of women," and that "excluding the girls would have been inopportune in light of the simple aim of communicating a message of love to all."
© Copyright IBTimes 2022. All rights reserved.
FOLLOW MORE IBT NEWS ON THE BELOW CHANNELS