In A Post-Recession US Job Market, Employers Take Months To Make Hiring Decisions
If the job numbers have rebounded, why is it still so hard to get a job?
Five years after the end of the Great Recession, the U.S. economy has recovered the millions of jobs lost in the downturn, but employers are still cautious when it comes to filling the growing number of positions available right now.
Employers that survived the recession learned how to keep their businesses going with fewer workers, and they're scrutinizing every candidate that comes to them far more carefully than before, looking for workers who need the least amount of training.
"Companies are taking a lot longer to hire. If they hire someone, they want to be sure that person is right on target," said Faith Casler, founder of staffing and placement agency Faith Casler Associates Inc. of South Natick, Massachusetts. "Before the recession, we would pick up the phone and get someone placed in a day or two. Now it can take four to eight weeks. We've had positions open for six months."
Employers have been hiring an average of 214,000 people a month since the start of the year, the longest stretch of robust monthly hiring since the economic collapse of late 2007. The latest survey by the National Association for Business Economists (NABE), released Monday, predicts about the same level of monthly growth for the rest of the year as small businesses begin to see more work.
Michael Conte, general manager of family-owned property renovator Conte Remodelers of Waldo, Ohio, says he's optimistic about this summer, as homeowners take the plunge on home-improvement projects that they've put off in recent years. But in keeping with Casler's observations, Conte says he's taking his time in making hiring decisions, in part because he has so many candidate to choose from.
"I'm being pickier with who is available, because the flow of inquiries is constant," Conte said. "I would say the difference is that before the recession we would make decisions within a couple of weeks. And now I think that's turned into a couple of months."
Jobs are not only taking longer to fill, the 2 percent pace of hourly wage growth is barely keeping up with inflation. So typical workers don't have more money in their pockets to fuel consumption, which makes up about a third of U.S. economic activity. The recovery of the last of the 8.7 million jobs lost in the recession as of May was heralded by the financial media and economists as a major accomplishment, but anemic wage growth, thanks to the diminished quality of jobs compared to pre-recession levels is holding back the recovery. And the biggest concern right now is that labor participation rate (the number of people who are employed or actively looking for work) is lower than it has been in decades.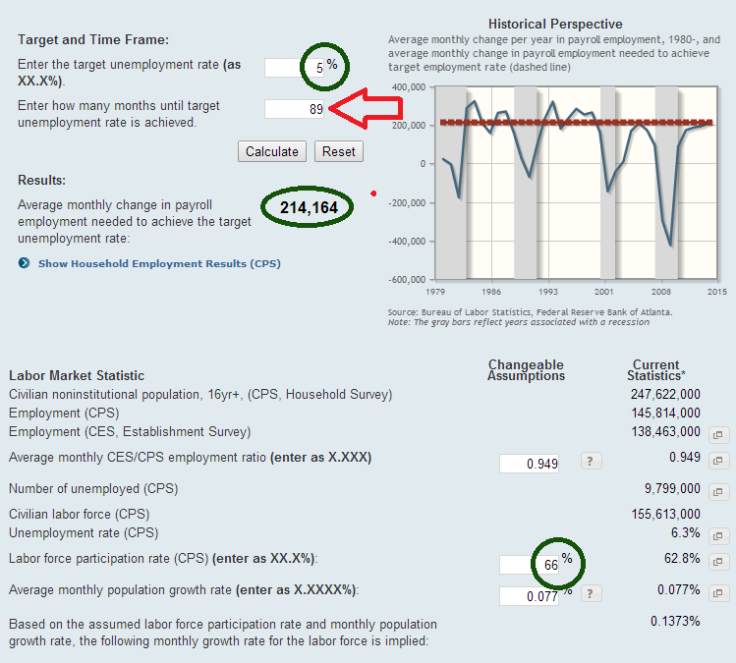 If that labor participation rate is taken into consideration along with the unemployment rate, it could take seven more years to get both metrics back to pre-recession levels, according to the Federal Reserve Bank of Atlanta's Jobs Calculator.
There's a fundamental shift in how businesses are managing their workforces now, said Kip Wright, senior vice president of ManpowerGroup Inc. (NYSE:MAN), the Milwaukee, Wisconsin-based global workforce recruiter.
"The recession forced companies to look at their work model in a very different way," Wright said. "It's not that businesses don't want to hire. It's that businesses have to be hyper-efficient to provide returns that shareholders are asking for."
Wright also said that business want employees that are "work-ready": they don't want to spend time or money on training.
In the 1980s, U.S. companies were adopting the Japanese supply chain management system known as JIT (just-in-time). JIT greatly streamlined supply chains so that companies could receive raw materials, parts or retail goods only as needed. This increased efficiency and profits because it reduced the cost of storing inventory. A similar process is happening now with the labor force, says Wright, which would help explain why employers are posting positions but filling them only when absolutely necessary. Consider it JIT for human resources.
Like the NABE survey, the latest Manpower Employment Outlook Survey by Wright's company estimates that hiring will be relatively stable for the rest of the year, with a fifth of the 18,000 employers surveyed saying they will increase staff levels by the fall. Four percent of employers are planning staff reductions by the third quarter. Read the full results of the survey here.
FOR FREE to continue reading
✔️ Unlock the full content of International Business Times UK for free
offer available for a limited time only
✔️ Easily manage your Newsletters subscriptions and save your favourite articles
✔️ No payment method required
Already have an account?
Log in
© Copyright IBTimes 2023. All rights reserved.