'Potentially Catastrophic' Hurricane Patricia Nears Mexico's Pacific Coast, Could Make Situation In Texas 'Worse'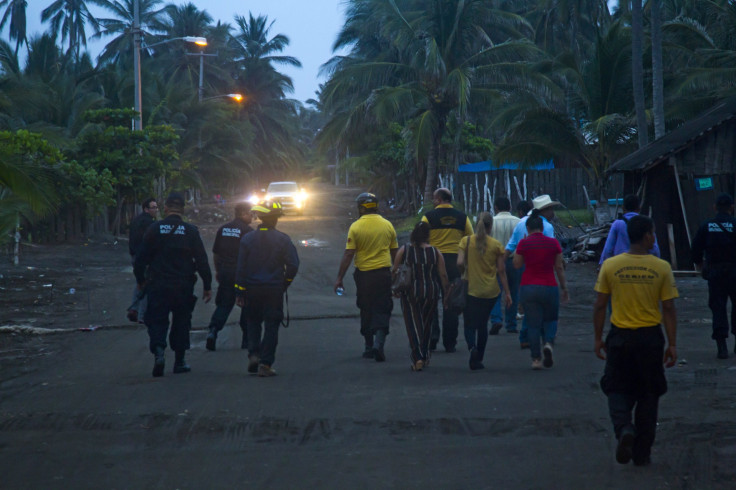 Hurricane Patricia, a Category 5 storm, moved toward Mexico's Pacific coast late Thursday, while the U.S. National Hurricane Center described the storm as "potentially catastrophic." The hurricane is expected to bring heavy rainfall, destructive waves and powerful winds, CNN reported, citing forecasters.
"Satellite images indicate that maximum sustained winds have increased to near 160 mph with higher gusts," the National Hurricane Center said, according to CNN, adding: "Preparations to protect life and property should be rushed to completion today."
Mexican officials have declared a state of emergency and have distributed sandbags as a precaution for flooding, the Associated Press (AP) reported Friday. Manzanillo, a key port in Colima state, witnessed steady rain, before an expected landfall on Friday. Luis Felipe Puente, Mexico's civil defense coordinator, said that schools in the region would be closed.
"We are calm," said Gabriel Lopez, a worker at Las Hadas Hotel in Manzanillo, said, according to the AP, adding: "We don't know what direction [the storm] will take, but apparently it's headed this way. ... If there is an emergency we will take care of the people. There are rooms that are not exposed to wind or glass."
The hurricane gained maximum sustained winds of up to 160 mph by late Thursday to become a Category 5 storm, the highest designation calculated on the Saffir-Simpson scale, which is used to measure wind strength. The center for Patricia was estimated to be about 200 miles south-southwest of Mazanillo, where it is expected to reach by Friday afternoon or evening. The storm was moving northwest at a speed of 13 mph.
Forecasters expect the hurricane to bring 6 to 12 inches of rainfall, while at some places this could go up to 20 inches.
Center meteorologist Dennis Feltgen said, according to the Associated Press (AP): "This is an extremely dangerous, potentially catastrophic hurricane." Feltgen added that Patricia may be more disastrous for Texas, which is already reeling under heavy rains independently of the hurricane.
He expects that after the storm breaks, the remnants of its tropical moisture will contribute to the heavy rains. "It's only going to make a bad situation worse," Feltgen said, according to the AP.
© Copyright IBTimes 2023. All rights reserved.